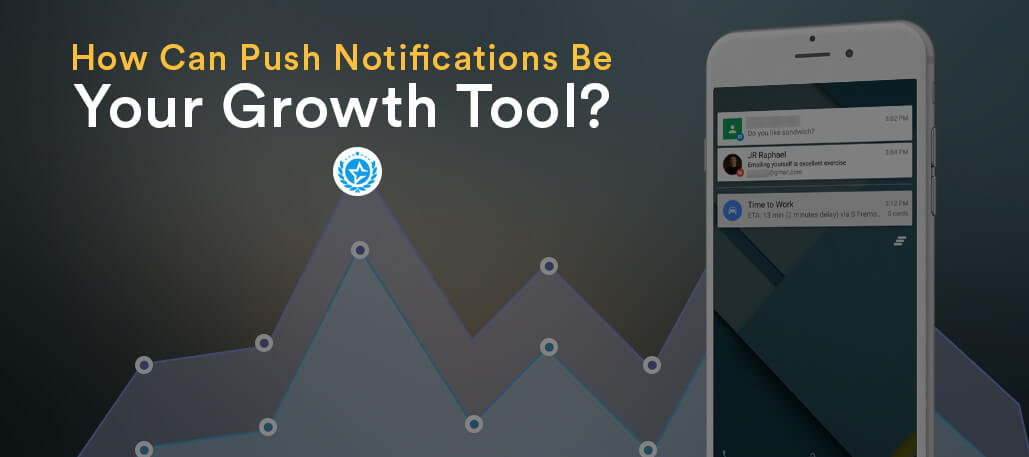 How Can Push Notifications Be Your Growth Tool?
Treating push notifications as another medium of message delivery can hurt you in future. They are way beyond that. The capabilities offered by push notifications are still unknown to many. Being a hot favorite lately, this tool can guide you to success shores in absolutely no time- given that the execution is done correctly because an irrational step forward can also invite reverse results.
It is an ideal way to increase user engagement and make them open your app several more times than usual. Also, it aids in increasing app downloads. In addition to this, it can be a perfect guide when defining marketing goals, strategies and target audience. Basically, a growth tool that can dictate future of your business with respect to effective marketing and targeting. Post push notification integration, businesses have registered jaw-dropping numbers stating their growth and clout in the market.
Nothing in this tech world is worth until the roots are unknown, so we start with the basics and know push notifications better.
Push Notifications- Definition and Purpose
At first, it seems like a simple message notifying users time and again, but it holds the potential to gaining interest and boosting engagement. Targeting a wide range of audience at once, push notifications allow app owners and marketers to reach their desired audience, regardless of their location, smartphone possession or anything of that sort.
It allows notifying users through a simple pop-up about your product, new offers, trending news or any type of content that adds value. It is simple and effective, but only if done- the right way.
Misuse of this feature can agitate your users forcing them to uninstall the app from the word go. So, a careful and planned strategy work good in a situation like this.
Push notifications can be of any sort including reminders, emergency alerts, newly added app feature, app update and more. They can uplift user engagement by alerting users to use the app if they haven't in some time or asking them to avail a deal that's prominent.
Conversions see a new high with effective utilization of push messages, hence to educate you on the same we present you myriad ways of making it count.
How can push notifications act as a growth tool?
There are certain aspects, which you as a business owner need to consider if you wish to extract the best results from the devised push notification strategy. Here's how you can achieve fruitful numbers.
Opt-in
The basic need to satisfy here is- convincing your users to opt-in for your push notifications. Before you could push a message, you are required to have the necessary permission from the users, which is a regular practice in the case of iOS app development while Android app owners are free to send push notifications anytime.
What you need to do is develop appealing and convincing content for users to enable the push notifications for your business app. Also, you need to grant them control of what notifications can be sent to them. The invitation of enabling push notifications should be pleasing and not in an orderly fashion.
Remember, this will be your first interaction with your customers, hence make sure the user experience is extraordinary.
Personalization
Study the user habits post app install. This reveals their interest, behavior and other necessary details that are useful in devising an effective marketing strategy. Personal push messages are likely to open more often than those which don't possess a personal touch.
The open rate of the app also elevates with personal notifications as users can connect with the pop-up received right away. A tailored message make users feel special and entice them to open the app.
Limited-time offers
Users tend to click on notifications which say, 'the offer ends tonight' or something that shows the validity is not for long. This type of push messages work only if the sent messages are tailored, interest-specific and looks viable for users to explore. An adequate balance is required between the content, tone and time of the push notification that'll eventually encourage users to open the app.
Enticing deals and discounts
You, as a marketer must know that discounts get users marching in the store whether it's online or offline. Push notifications with personalized deals and offers also invite more users than usual. Hence, harness its power and target users accordingly with specialized offers- making more revenues.
App update
Users tend to have the automatic app update option disabled. Therefore, notifying them with a push message that contains a link to your app page in the app store along with a list of benefits they can reap after updating, can work wonders.
Suggestions
The content relevancy is extremely important as you push a message to your users. Learn about their interests, their past purchases and what they left in the bag last time they visited. Do this on a regular basis to get a clear idea of what your users look for and how often they look to shop. Accordingly, plan your future marketing content sheet and campaigns. Based on the data gathered, push suggestions to your users.
Think different and add value
The most crucial aspect that'll help you drive more traffic to your app is your out-of-the box thinking. Pushing offers daily or a lucrative offer for their abandoned cart don't perform consistently. You got to be proactive in identifying the industry trends, creative in devising content strategy and be informative with your push notifications. Unless, you add value to users' lives you won't be able to outperform.
Final thoughts
Push notifications are new, effective and cheap. Use them to diminish your app abandonment rate and enhance user engagement. All you require is a deep understanding of the concept in devising effective marketing plans. You can also consult a mobile app development company that is experienced and holds significant expertise in the same domain.