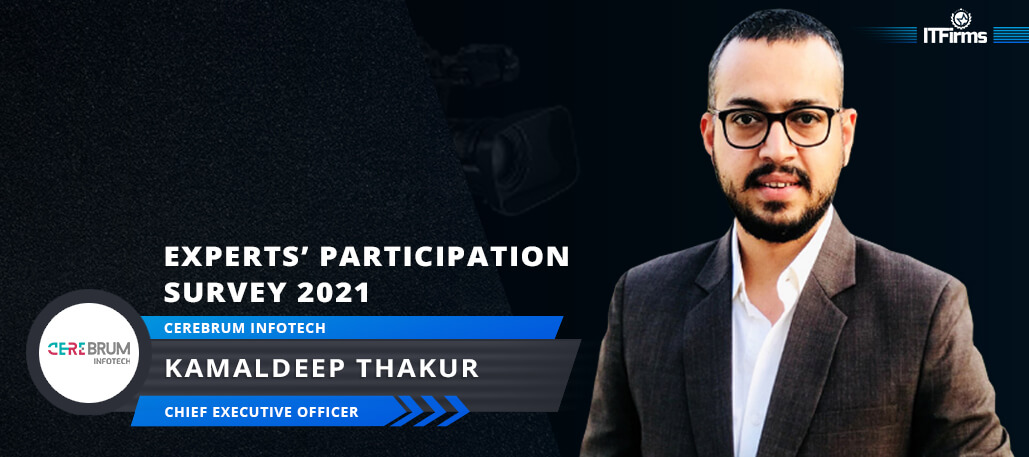 Interview with Kamaldeep Thakur – CEO, Cerebrum Infotech
Here is the exclusive interview of Kamaldeep Thakur – CEO, Cerebrum Infotech only on ITFirms. He shared his insights on upcoming technology trends for 2021 and many more things in this interview.
Let's check his success story and thoughts.
1. Tell us in brief about your company and the leadership.
Cerebrum Infotech is a software product-based company known for providing solutions that are scalable and use cutting-edge technology. We are in the business for over a decade; the time in the industry has helped us understand the changing trends and how to adapt them for the benefit of both the company and its clients. We make custom software products, and we have ready-to-use products- Education management software, fleet management software, conference management system, on-demand delivery apps, online consultation apps, ride, and rental apps, etc.
I am Kamal Thakur, CEO of Cerebrum Infotech. My responsibility is to build the brand, interact with stakeholders, and execute marketing strategies to reach a wider audience.
2. How would you describe your growth trajectory in 2020? Any particular achievement? Any disappointment?
The year 2020 has been really good for us. In 2020, we launched two of our products, namely, CereKart, an online ordering and delivery system for food, grocery, laundry, medicine, cake, and flower businesses. Our second product, CereHome, caters to the needs of home service businesses. One thing that 2020 has taught is that change is the only constant, and we should be prepared well for situations like these. Our team of experts developers, testers, designers, and marketers was quick to adapt to work from home option.
3. Please describe the operational structure of your company- from the moment a client walks in, to the product deployment.
We ensure that the client has a positive experience with us, and I believe listening attentively to the client's requirements is a crucial step that Cerebrum Infotech never takes lightly. We have an open communication process and inform clients of every milestone. We appoint a client advocate whose task is to ensure that all the needs of the client are met.
4. What engagement models do you offer? How should a client choose?
We have different client engagement models that clients can choose from- pay per feature, pay per milestone, and fixed price. Pricing is a crucial yet last thing that we decide.
5. What do you as a leader prioritize: – the vertical expansion of your business or the horizontal expansion of your expertise and services? How do you balance both?
Carrier advancement is not a straight line. Right now, we are concentrating equally on the vertical and horizontal expansion of our business. At Cerebrum, we are always excited to enhance our skill set and offer something of value.
6. What is your outlook for 2021?
In 2021, we are incorporating technologies such as AI/ML, IoT, BigData into our products. Also, we are paying on customer convenience more than ever. In tough times of COVID-19, we are also trying to humanize our brand and get rid of the image of strictness associated with corporates.
7. Any particular technology or industry you would be targeting? How do you plan to prepare your workforce for the upcoming technology upgrade?
Yes, as I said that we would be focusing on new-age technologies, especially AI/ML. The industry is undergoing profound changes, and we are not going to slow down. We are very excited about the new projects that we have in the pipeline. We are conducting regular sessions and training programs for our workforce to prepare them for the upcoming technology upgrade.
8. With technologies like Machine Learning and Artificial Intelligence (AI) that can be used for both web applications and mobile apps, how do you envision the development methodology to be in the future?
By the year 2025, the global artificial intelligence market is expected to be almost $60 billion; in the year 2016, it was $1.4 billion. AI helps in making search even faster and provides more relevant customer interaction and experience. AI is going to have a special place in the web and mobile app development in the future.
9. Other than technical expertise, what traits you believe are essential for any app development firm to succeed in this rapidly evolving industry?
Other than technical expertise, it's important to provide a great client experience. I emphasize creating a seamless experience for clients. We make it a point to actively involve the client in the development process by providing him/her details of every small milestone achieved. Also, the after-sales experience of clients with you plays a huge role in creating a positive brand image.
10. How do you assess the role of research agencies like ITFirms in bridging the gap between clients and service providers?
I believe agencies like ITFirms help clients find the best service providers for their requirements. Also, ITFirms is a great way for clients to find service providers that are reliable and have a good reputation in the market.
---
  Cerebrum Infotech
  https://www.cerebruminfotech.com
  [email protected]