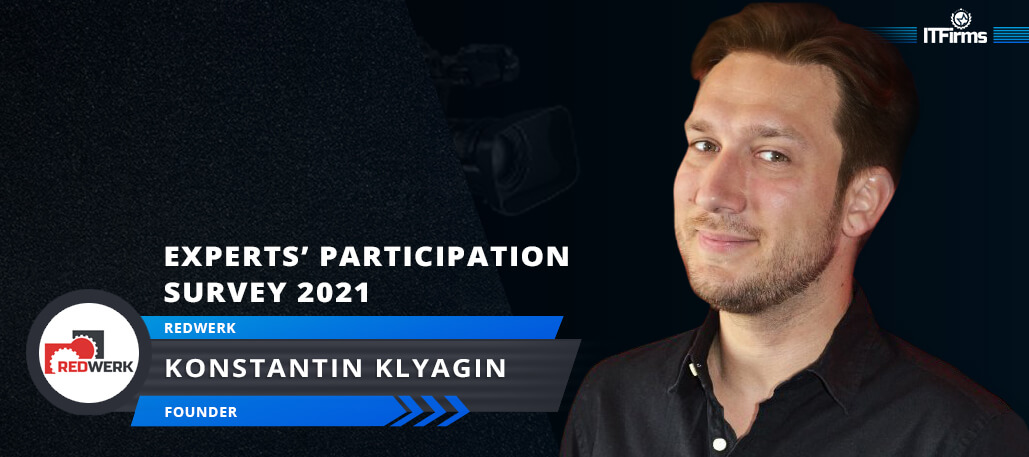 Interview with Konstantin Klyagin – Founder, Redwerk
Here is the exclusive interview of Konstantin Klyagin – Founder, Redwerk only on ITFirms. He shared his insights on upcoming technology trends for 2021 and many more things in this interview.
Let's check his success story and thoughts.
1. Tell us in brief about your company and the leadership.
I founded Redwerk in 2005 when I was still a software engineer at Nokia. With only three of us in the team, Redwerk has grown to an independent software development agency with two R&D offices in Ukraine, now home to over 70 IT experts.
We started off pretty big, closing deals with big names like Siemens, Universal Music, and Merrimac. The latter company used to produce the hardware for NASA rovers.
Over the years, we've narrowed down our vision, and now we specialize in SaaS development and maintenance. Our latest big client win is the acquisition of Mass Movement, for whom we developed custom ERP, IMS, and two enterprise apps, by J.B.Hunt, an absolute leader in transportation and logistics across North America.
As for leadership, our structure is horizontal, meaning we have very few bosses and nurture accountability, initiativeness, and a sense of independence in every single employee.
2. How would you describe your growth trajectory in 2020? Any particular achievement? Any disappointment?
Being a digital and remote-first agency has definitely helped to survive the turbulent 2020 without heavy losses. Even the most conservative of businesses have finally started thinking of reducing their technical debt, speeding up their digital transformation, and migrating to the cloud.
On the other hand, as a service agency, our success is often determined by the success of our clients, and here it all boils down to the industries that were hit by the COVID-19 pandemic most.
For example, if you're a fashion brand offering only a lookbook and selling through brick and mortar retailers, you may have suffered tremendous losses during quarantine restrictions. We work with a client who faced a similar fate and reduced our workload to optimize costs, so that was a loss for us, even though temporary.
On the bright side, we have Kooky, a startup whose concept perfectly matches the post-pandemic world, people's new habits and needs. As a result, our team has only grown and we're busy more than ever.
3. Please describe the operational structure of your company- from the moment a client walks in, to the product deployment.
We advocate for transparency and trust when it comes to building rapport with clients. Therefore, we've strived to simplify our workflows and make them as efficient as possible. At the end of the day, no one wants to waste their time.
So here is how it goes:
Discovery Call with Redwerk Sales Representative. At this moment, we ask a series of questions to understand the prospect's needs and match them with our expertise and capabilities. We also inform the client about the services we provide, team availability, and our engagement model. If, for some reason, we're not able to help, we inform the client right away. We always sign an NDA for the prospect to be able to talk freely and feel safe.
Requirements Clarification. It takes about 3 to 5 business days to estimate the project scope and prepare a rough proposal. Before that, we'll also arrange a second call with a PM/BA clarifying the requirements and managing client expectations. Having understood their immediate and long-term needs, we start putting together a delivery team accountable for the project's success. We'll also calculate how much it costs to sustain this high-performance team per month and reflect that in our offer.
Master Service Agreement. If both of us are on the same page, we'll proceed with signing a master service agreement and on-boarding the assigned tech experts.
Project Planning & Communication. We want to deliver value from day one, so PMs at Redwerk will take all the managerial burden on their shoulders by prioritizing tasks, assigning them to the right people, and setting up communication channels based on the client's preference.
First Tangible Results. In a month, our clients clearly understand what deliverables we have shipped and how fast we're progressing. We'll send a succinct report, outlining our wins, possible risks (if any) and our solutions to eliminate them, as well as suggestions on how to enhance a certain functionality.
One of our distinctive qualities is working with non-technical clients and helping them translate their domain expertise into quality software that will secure their position as the industry leader. One such example is cooperation with KB&G, who delegated all the development effort to us, trusting our engineering choices and working on the growth strategies for their business in the meantime.
4. What engagement models do you offer? How should a client choose?
Software development is a complex process, and for all the pieces to come together in a puzzle, the right business model is a must. Having operated in the software development market for over 16 years, we've come to a conclusion that value-based pricing is a win-win approach for agencies and their clients. Here is why.
The value-based model allows focusing on driving value rather than calculating person-hours spent. It provides the maximum extent of flexibility when it comes to the project scope and budget.
While project estimates, often used as the major price determinant in Time & Material, are helpful in project planning, they are never 100% accurate. This means any unexpected changes will ensue additional costs. And software development is the industry where the status quo can change overnight and immediate response is required.
What the valued-based model does differently is that it covers all of the mentioned risks partially or in full, depending on the chosen pricing plan. In this case, clients know the agency has their back in the moment of crisis, and they won't need to spend a fortune on that.
The value-based model is also perfect for long-term engagements where the agency ICT professionals become part of the client's internal team, actively contributing to product discussions, suggesting new features, and sharing the same level of commitment as in-house developers.
5. What do you as a leader prioritize: – the vertical expansion of your business or the horizontal expansion of your expertise and services? How do you balance both?
We do both. The nature of an IT services agency presupposes catering to diverse client needs across industries. The export of Ukrainian IT services is growing exponentially, reaching a whopping $5 billion in 2020, so the only way to beat the competition this high is to increase your expertise vertically and horizontally.
At the dawn of our operations, we delivered a couple of successful e-government solutions, and that's how our first major vertical was established. For example, we built YouTown, a platform connecting local governments with their citizens, recognized by the White House, and a decision-making automation solution for councils in the Netherlands and Belgium, used by 50% of clerks in these countries.
With more projects coming, we've significantly grown our vertical market, and now we serve businesses from Media & Entertainment, E-Commerce, E-Learning, FinTech, Healthcare, and Game Dev industries.
As for horizontal expansion, we also did a solid chunk of work here. We know that hiring multiple vendors to complete a single project is not a cost-effective or time-efficient approach. Therefore, our Redwerk team has experts in blockchain, DevOps, UI/UX design, PM/BA, marketing, and SEO, which allows us to take over the entire project and build software from the ground up.
Another crucial factor to keep in mind is that software development is impossible without comprehensive and professional testing. Since we always test the solutions we deliver, we've accumulated enough knowledge and hands-on experience to tap into a new market. That's how QAwerk, an independent software testing and QA agency, was born.
6. What is your outlook for 2021?
I feel pretty positive about 2021: the pandemic has uncovered an array of issues that require new solutions. What has worked in the pre-pandemic times may no longer be relevant. So we're thrilled at the thought of helping newly emerged startups develop their products and successfully take them to market.
Another milestone we'd love to achieve is growing our team to 100 ICT professionals by the end of 2021. Again, the pandemic has created a lot of uncertainty in the job market, with hasty downsizing happening at the very start of the outbreak. We, on the other hand, used that opportunity to hire new talent to implement our business growth strategies and be able to serve more clients.
Redwerk's clients come from multiple geographies – from North America and Europe to Australia and New Zealand. Therefore, we'd like QAwerk to grow its market share to new destinations too.
7. Any particular technology or industry you would be targeting? How do you plan to prepare your workforce for the upcoming technology upgrade?
Even though we are a one-stop-shop kind of agency, capable of supporting clients at any stage of the SDLC, I'm always on the lookout for new opportunities and promising technologies.
As for Redwerk, we hope to secure new partnerships with open source sponsors who choose to contribute to open source through a tech agency. There are multiple reasons and benefits as to why someone would want an intermediary and an advisor while working with open core development teams. Here we explain why.
Another technology in high demand is blockchain. We're currently working on a couple of projects using blockchain, and we'll keep investing in enhancing our expertise in this domain.
QAwerk, on the other hand, is progressing quite well too. Our primary areas of focus now are test automation and penetration testing. A living example of how businesses can leverage test automation is Evolv, an AI-driven digital growth optimization platform based in the US. With our help, they managed to increase their regression testing speed by 50%, which fully justifies the initial investment.
Speaking of penetration testing, we provide it for some of our existing clients; however, we'd also like to expand our client base to new businesses globally.
The way we prepare for tapping into a new niche is pretty straightforward: we hire only seasoned specialists who have years of hands-on experience under the belt relevant to our prospects' needs. It all starts with the right people in the team. We also do a bunch of internal knowledge sharing and reconsider our workflows with new hires joining Redwerk and QAwerk.
8. With technologies like React and Node that can be used for both web applications and mobile apps, how do you envision the development methodology to be in the future?
When choosing the right tech stack, it's crucial to consider the business needs, what issues the product solves, and what consumers it targets, among other factors. Of course, React and Node are now top technologies for cross-platform development, and we understand why.
Cross-platform apps are faster and cheaper to build, and you can easily update both iOS and Android versions simultaneously. The drawbacks, though – slower speed, limited functionality, template-like UI – are also apparent.
At the moment, we still advocate for native development as it's more secure and scalable and overall more beneficial in the long term.
However, with the rapid development of web technologies we observe now, it's "never say never"; things can change, so our stance on that matter.
9. Other than technical expertise, what traits you believe are essential for any app development firm to succeed in this rapidly evolving industry?
It takes a couple of things. First off, have a look at your leadership approach and re-evaluate your organizational structure.
As a founder or CEO, you need to find a way to translate your work ethic, your passion, and high commitment to your employees. You certainly don't want to be that unapproachable boss whom employees only fear and try to appease. Despite your mad-busy schedule, stay involved, talk to your employees, observe their progress, share your expertise, and show that you trust them.
At Redwerk, we've managed to achieve all of the above with one decision – we chose the horizontal management style to encourage free idea sharing and create an environment where every employee knows their opinion matters.
Another game-changer for me was becoming an advocate for my team. As a service agency, we are customer-centered, going above and beyond to make our clients happy. The biggest mistake you can make here is forgetting about the well-being of people making it possible.
Don't let a toxic client take advantage of your good-natured people and set clear boundaries to prevent overtimes and eventual burnout. Work-life balance is no joke; that's why we made it a priority and an integral part of our corporate culture.
Lastly, invest in some quality education. Let your teammates learn together with you, enable access to high-end courses, and turn theory into action.
10. How do you assess the role of research agencies like ITFirms in bridging the gap between clients and service providers?
Well, it cannot be underestimated. Research agencies like ITFirms have served for years as a link between clients and service providers, and they are still in demand more than ever.
As a service company, you want more visibility for your brand, you want to share your story, and even more, something a prospect won't notice from browsing your website.
It's always good to know who stands behind the IT services agency and what their morals & values are. Research agencies like ITFirms help to get to know the leaders, albeit virtually.
Moreover, it's easier to trust a software development agency whose expertise is recognized by third parties. It provides the reassurance and social proof the prospect seeks online.
---
Redwerk
https://redwerk.com
[email protected]