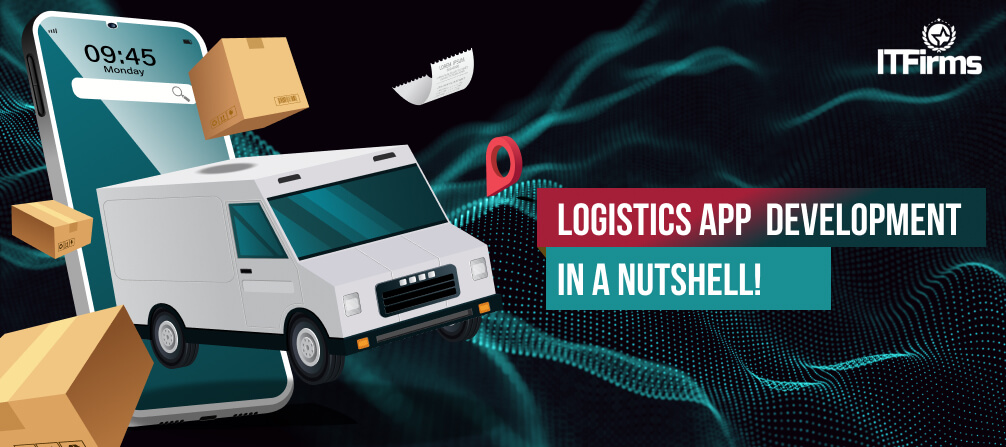 Logistics App Development, in a Nutshell!
"Proclaim the features, steps, types, business models, challenges, and benefits of logistics business applications!"
Warehousing, Shipping, Logistics and Transportation disport the manufacturers to ship the products, without involving the third parties. As the businesses swell to territories of their native places and national peripheries, it necessitates a random requirement to increase the logistics services. It requires rendering a broader range of activities, encompassing a strategic set of activities.
Logistics & Transport App Features
General Features
Supply Chain Management – To manage inventory and supply chain through the application.
Easy Tracking – To easily track goods and services
Asset Tracking – To track physical assets by scanning barcodes
Route Management – To manage the routes for faster transfer through the application
Distribution Management – To manage all the information through the app
Manufacturing Management – Has features that are beneficial for manufacturers
Mobility Solutions – To add flexibility in the complexity
Integrated Efforts – It integrates various systems to make it simpler.
Flexible delivery – To change the delivery schedules and routes
Advanced Features
Vehicle Dashboard
Driver Information
Tracking Tool
Mileage Log
Google Map Integration
Build-in messaging
Digitized documentation
Changeable shipping order status
Digital gallery with freight images
History of completed shipments
Real-time inspections submissions
Barcode scanning API integration
Third-party payment gateway
Logistics optimization software
Easy Navigation
Roadside Assistance
Consignment Tracking
GPS Vehicle Tracking
Planning Vehicles in Real Time
How can I develop a logistics app?
The Logistics industry requires 24 hours to track all ongoing – continuous deliveries. Follow these steps as you start Logistics App Development:
Have an idea to form a transportation app
Identify the target audience
Approach the client and receive a rough tough app estimate
Sign a non-disclosure agreement (NDA)
Design a prototype
Start with Code creation
Bring in quality assurance team and incorporate feedback
Include analytics tool, capture metrics
What types of mobile apps can be developed for a logistics company?
Fleet Management Mobile Apps (Real-time inspections submissions (DVIR) and issues reports, Barcode scanning, Digital gallery (photos, docs, and comments), Integrated GPS to track vehicles, Work Order Submission)
Logistics On-Demand Mobile Apps (GPS tracker, offers section, order page, built-in messaging, digitized documentation)
Warehouse Mobile Apps (Barcode scanner, integration with enterprise resource planning (ERP), shipment tracking, geolocation, speed, times of arrival and departure, navigation status, ETA))
More Choices:
Transportation Management System
Location Tracking Application
Fleet Management app
Shipment tracking apps
On-demand logistics apps
Warehouse mobile apps
Tracking and forwarding applications
Why do transportation and logistics companies require a Mobile App?
Mobile apps are a better and more advanced alternative to the traditional ways of maintaining the supply chain. It helps companies and individuals track their orders anytime through integrated GPS technology. Mobile applications reduce desk work, increase visibility, manage shipments, ease warehousing, invoicing and dispatching delivery.
Logistics App Development Services
Logistics App Consultancy
Full-cycle logistics app development
Integration and implementation
Training and support
Logistic App Business Models
Business Models for Transportation and Logistics are divided into 1st party logistics (1PL), 2nd Party Logistics (2PL), and so on until 10PL.
1PL involves a manufacturer or a company that has freight, and cargo, for the transportation of goods from one place to another. These companies are capable of taking care of their own transportation.
2PL companies are traditional transportation providers who act as an intermediary between buyers and sellers. They are the carriers who take care of all transactions between buyers and seller.
3PL companies are the logistics service providers that involve the transportation and administration of all the services like inventory management, warehousing, labelling, packaging, customs brokerage, tracking, checking delivery status, and offshore warehousing.
4PL companies are the supply chain overseers that carry out an array of services including operation handling and administering the entire supply chain.
5PL includes solution optimization services for companies or traders who wish to switch from the supply chain to the supply network. They are also called logistics aggregators.
Other business models to follow up in logistics and transportation include – 6PL (AI-based logistics), 7PL (asset carriers), and 8PL till 10PL (when the supply chain incorporates AI at every step).
Technology Stack
Logistics Technologies – Android Studio, Android SDK, XML, Kotlin, Java
UX/UI – XD, Photoshop, Illustrator, Figma, InVision, Zeplin, Sketch
Web and Frontend – HTML5/CSS3, MEAN, VUE.JS, Backbone.JS, AngularJS, React.js, React Native, Node.js, Laravel, CodeIgniter
Backend and Database – Firebase realtime Database, Firestore, AWS Amplify, Room DB, MongoDB, Microsoft SQL, PostgreSQL
3rd Party Library – Chatbot, Face detection, Network Calling, Image Processing, Integrate Payment, InApp Purchase, Custom Views, Firebase, Firebase Chat, Socket, Databinding, Dependency
Payment Gateway – Apple Pay, Google Pay, Stripe, PayPal
PM Tools – Jira, Trello, Slack
Advantages of Logistics App Development for Transportation Industry
It is highly cost-effective
Logistics Apps offer supply chain visibility, enabling enterprises to track fleets, and record driver behaviour.
The logistics process can be automated through mobility solutions in real-time.
Examples of Best Companies in Logistics
Best Logistics Companies In India
Best Logistics Companies (Global)
Stockarea
Aegis Logistics Ltd
Allcargo Logistics Ltd
Apollo LogiSolutions Ltd
Blue Dart Express Ltd
Container Corporation Of India
Mahindra Logistics Ltd
TCI Express Ltd
VRL Logistics Ltd
Gati Limited
United Parcel Service (UPS)
Deutsche Post
FedEx
CSX Transportation
XPO Logistics
C.H. Robinson
Canadian National Railway
Expeditors International
Ryder Supply Chain Solutions
J.B. Hunt
DHL Supply Chain & Global Forwarding
Burris Logistics
Agility
Ryder Supply Chain Solutions
Hub Group
Transplace
SAIC Anji Logistics**
Penske Logistics
Hellmann Worldwide Logistics
Schneider
NFI
Echo Global Logistics
Sankyu
Mainfreight
Imperial Logistics
Ingram Micro Commerce & Lifecycle Services
Kuehne + Nagel
DB Schenker
Nippon Express
DSV Panalpina
C.H. Robinson
Sinotrans
XPO Logistics
UPS Supply Chain Solutions
Expeditors
GEODIS
CEVA Logistics
Toll Group
CJ Logistics
Maersk Logistics
Kerry Logistics
DACHSER
Hitachi Transport System
Kintetsu World Express
Bolloré Logistics
GEFCO
FedEx Logistics
MODE Transportation
Groupe CAT
Americold
ID Logistics Group
Fiege Logistik
Coyote Logistics
Transportation Insight, LLC/Nolan Transportation Group
Yusen Logistics
Total Quality Logistics
Apex Logistics International
Landstar
CTS International
Challenges: Points To Consider While Creating Apps For Logistics
Logistic apps connect the drivers with riders and customers with service providers by involving third-parties. They need to follow up with NDA and ensure logistics labelling regulations to avoid the risk of falling out.
Cost to Build a Logistics App in 2022
In short, it comes to around USD 30K – 50K (scalable).
Mopping Up
Custom Logistics app development companies can introduce incentives/discounts for users, and develop an app that overcomes hurdles in managing vehicles, optimizing routes, ensuring timely deliveries, managing dispatch, tracking inventory, and offering lucrative vendor management. Best logistics app development companies can sketch out a fully customized logistics app within 8 weeks, follow up with best app development companies and discuss your requirements!