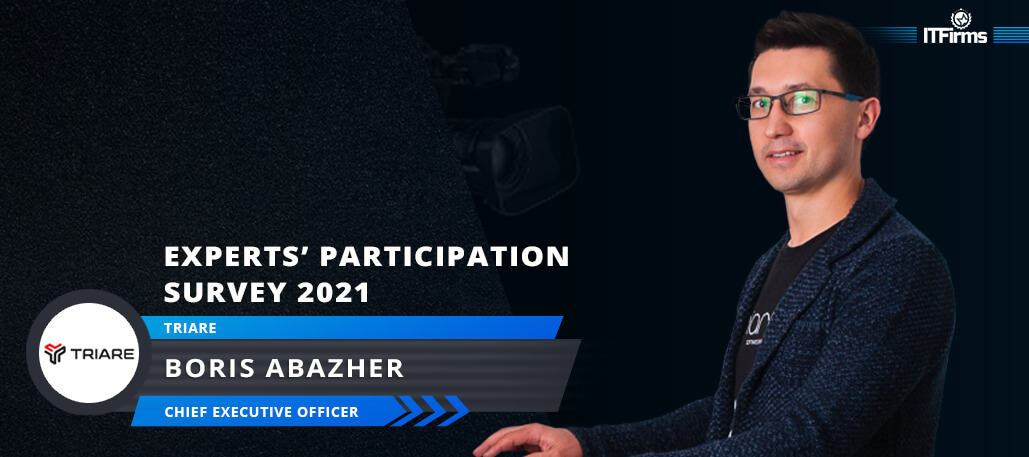 Exclusive Interview with Boris Abazher – CEO, TRIARE
Here is the exclusive interview of Boris Abazher
–

CEO, TRIARE only on ITFirms. In this exclusive interview, he shared his

insights on upcoming tech trends for 2021 

and many more things.
Let's check his success story and thoughts.
1. Tell us in brief about your company and the leadership.
We transform your ideas into accomplished solutions. TRIARE has 48 employees and a diverse tech stack (iOS, Android, React.js, Ruby on Rails, Node.js, PHP). Our approach and experience let us solve almost any business and technical challenge for startups and mid-sized businesses.
We started 6 years ago by positioning ourselves as a company that writes quality code. Along the way, we realised that the greatest value is our approach to each project. When we analyze the needs of a startup or business, we are able to offer them a technical solution that can be implemented using a relevant web and mobile technology.
We deliver a range of Services for Startups (including rapid MVP) and build Web and Mobile Apps for companies in the following industries: education, transportation, entertainment, healthcare, sport, and personal/corporate websites.
2. How would you describe your growth trajectory in 2020? Any particular achievement? Any disappointment?
Since we started the company, we grew to half a hundred employees. The demand for IT specialists has only grown, too. Furthermore, Ukraine has established itself as a reliable partner among foreign companies. However, the requirements and expectations for team outstaffing have increased significantly as well.
3. Please describe the operational structure of your company- from the moment a client walks in, to the product deployment.
Discovery. At first, we dive into the business processes and gather the information that will be the basis for the next steps. As an outcome, we provide business case description, user definition, and flow diagrams; architecture documentation.
Planning. Next, we prepare reliable SOW documents, wireframes and work breakdown structure. This process includes an accurate estimate for time and budget.
Design. We analyze product requirements and prepare a vivid concept. We design and create stunning UI/UX according to popular patterns and iOS/Android style guides.
Development. At this stage, all the pieces come together under a well-managed mobile or web development. We work with the Scrum methodology that allows having a team that is focused and collaborative and doesn't require babysitting.
Launch. Our Quality Assurance team catches any bug before deploying the product and lets us focus on high quality during each development cycle.
Support. Finally, we remain a technical partner for as long as the client needs us. TRIARE introduces cost savings, stable infrastructure, and reliable DevOps to secure one's business operations.
4. What engagement models do you offer? How should a client choose?
Flexible working models allow us to meet clients' needs. They can choose between a Fixed Price model, Time & Material model, or a Dedicated Team model. Depending on the term and scale of the project, each model proved to be efficient in particular situations.
5. What do you as a leader prioritizes – vertical expansion of your business or the horizontal expansion of your expertise and services? How do you balance both?
What do we want to achieve as a company? Growing profits by 10 times over the next four years. Meanwhile, it is crucial for us to keep the bar of high quality that we deliver to our clients. How will we achieve this? We made a list of what we will not do while focusing on our strengths. Thus, we continue to do our job perfectly, which is technical solutions for businesses and startups.
We also adapt to market needs and are flexible in adopting new technologies. We follow long-term trends, such as full automation and no-code solutions. And we measure a change in everything that can be measured. Why do we balance vertical and horizontal expertise? As we mentioned earlier, one of the key values of TRIARE is relationships. Lasting relationships with our clients unleash synergy. Importantly, it is enough to make incremental changes on a daily basis to become a truly sustainable business.
6. What is your outlook for 2021?
We envision LOTS of potential for business workflow automation and digitalization of traditional industries. While core internal operations such as back-office, production, and R&D are digitilized consistently, customer-facing changes are most evident in healthcare, education, and transportation. The same industries are most likely to continue changing at a faster pace in 2021.
7. Any particular technology or industry you would be targeting? How do you plan to prepare your workforce for the upcoming technology upgrade?
Our research shows that entertainment is going to be a big hit. Niche social networks, a vast range of streaming services, and diversified monetization are in their full bloom.
8. With technologies like Machine Learning and Artificial Intelligence (AI) that can be used for both web applications and mobile apps, how do you envision the development methodology to be in the future?
We've already featured common trends for low-code and no-code solutions for web applications and mobile apps. However, chatbots and AI automation continues to penetrate the market. We know a few web development partners who specialize in this. Moreover, we've made a bet on machine learning by partnering with the AISI – AI start-up incubator.
9. Other than technical expertise, what traits you believe are essential for any app development firm to succeed in this rapidly evolving industry?
When you go to an HR conference, you would inevitably hear about soft skills being the leading (and lacking) factor in teams of developers. We understand this well. It is why our clients don't experience any discomfort in terms of cultural or language barriers. Our TRIARE team works hard to eliminate these differences and be a more reliable supplier of software development, every day.
10. How do you assess the role of research agencies like ITFirms in bridging the gap between clients and service providers?
We believe that it is impossible to underestimate the role of platforms like ITFirms. There is so much global talent out there, and yet clients go for the most familiar options, often costly and insufficient. Thank you for making the market more transparent and efficient.
---