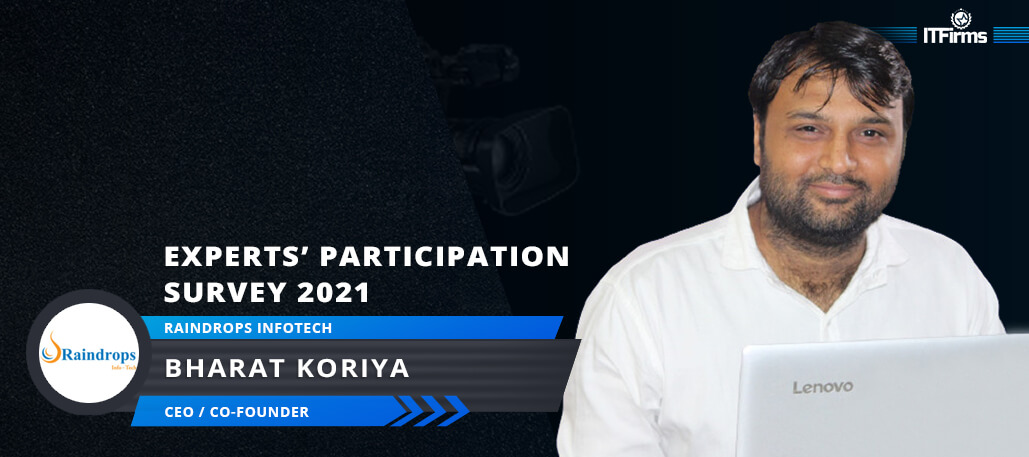 Exclusive Interview with Bharat Koriya – CEO/Co-Founder, Raindrops Infotech
Here is the exclusive interview of Bharat Koriya
–

CEO/Co-Founder, Raindrops InfoTech only on ITFirms. In this exclusive interview, he shared his

insights on upcoming tech trends for 2021 

and many more things.
Let's check his success story and thoughts.
1. Tell us in brief about your company and the leadership.
Raindrops Infotech is a preeminent and end to end information technology solutions provider based in Ahmedabad, India. The agency is known for a glorious journey, proven track record and happy clientele. As a highly acclaimed web and mobile app development company since our inception in 2012. A co-founder Bharat Koriya got experience of almost 12 years and Ankit Rathod is been into designing for 12 years too.
2. How would you describe your growth trajectory in 2020? Any particular achievement? Any disappointment?
We must say we have sustained greatly in 2020 because of the Pandemic although it was a bit tough year luckily we have managed salary of our staffs and was able to solve the complaints of our clients, so no special disappointment from this year, a small thing that it took good profit of firm :).
3. Please describe the operational structure of your company- from the moment a client walks in, to the product deployment.
We are a small firm with having a staff of 17 developers & designers along with the dedicated project manager so whenever there will be a new client, a business person used to take the whole requirement and in the second phase, project manager, business person, and client all three went through the analysis done by the project manager and on approval of that we will start UI designing and then to development, actually we are following agile methodology to develop any products or software.
4. What engagement models do you offer? How should a client choose?
We are pretty much flexible to that, the client can either go with the hourly method, can hire dedicated resource or we can give them a fixed budget for the project but its depend on the project nature, for e.g. if a certain project requires in depth R&D then we must follow the dedicated arrangement of resources where it will give lesser cost to the end client. So yes we are much flexible during the project development cycle.
5. What do you as a leader prioritizes – vertical expansion of your business or the horizontal expansion of your expertise and services? How do you balance both?
Honestly, at this stage, we haven't thought on vertical or horizontal expansion, rather we want to be a company with great talent who can serve their client peacefully.
6. What is your outlook for 2021?
I would like to increase my present strength by 70% and would love to explore the field of Python and Flutter in which we are working a small scale.
7. Any particular technology or industry you would be targeting? How do you plan to prepare your workforce for the upcoming technology upgrade?
Yes, am more positive about Flutter, as said in the previous question, we have started investing in Flutter and into Python too, so its wait and watch time for us to measure our success into those fields.
8. With technologies like Machine Learning and Artificial Intelligence (AI) that can be used for both web applications and mobile apps, how do you envision the development methodology to be in the future?
I am more inclined toward Python this is a pretty easy language to learn and can better use in the Artificial Intelligence, but as of now I haven't taken any major project into the python so can't give you a concrete answer over methodology but then also I will surely stick with Agile way of development.
9. Other than technical expertise, what traits you believe are essential for any app development firm to succeed in this rapidly evolving industry?
A most important factor is its usability because normally 80% out of 100% of applications is been used by non-technical people and if app is more complex then it's not worth using that for sure.
10. How do you assess the role of research agencies like ITFirms in bridging the gap between clients and service providers?
Nowadays reviews and ratings are key to generate new business let me gave you a small example if I have to go to any doctors, I used to search their reviews over Google, a firm like you (ITFirms) provide a great platform for end-user to understand what is what? So indeed it will help them who are in need of good products and need right talent for that.
---
  Raindrops InfoTech
  https://www.raindropsinfotech.com
  [email protected]