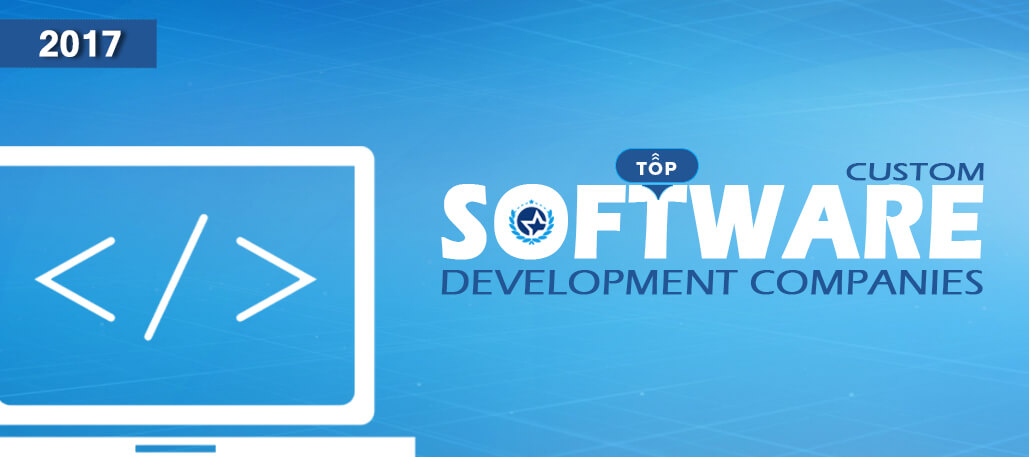 Top Custom Software Development Companies & Developers – 2017
As users thrive for personalization when they interact with websites and mobile apps, startups, enterprises and innovative brands look for custom software application services that can match up to their requirements and   Companies that provide custom software development aim at addressing the business needs of organizations and businesses precisely against the traditional, off-the-shelf software. Custom software entails the development of a software product tailored to a specific purpose and targeted audience- be it users outside or employees within the organization. Designing a software with organization's needs in consideration is indeed a promise of improving productivity and more number of people using your products and services.
Here is the rundown of 10 custom software developers for a wide range of industries that just don't create a software but bring forth a real-time solution to cater to the changing business requirements. Make the right choice for your startup software development from among the handpicked custom software development companies offering top-quality services worldwide.
Top Custom Software Development Companies & Developers
1. Kanda Software:
Spanning two decades in the industry, Kanda Software has become a popular choice of many business groups and individuals for custom software development services for Cloud and SaaS. The company has served clients ranging from dynamic startups to Fortune 500. Having the right technical expertise and an extensive track record in software development, the team at Kanda provides cost-effective solutions.
Services provided by Kanda Software:
Managing both complex and small-scale projects, Kanda Software offers quality services in web development, quality assurance, project management, assessment and roadmap, team augmentation, software support and maintenance and software security services.
2. Radixweb:
As the name suggests, each one at Radixweb understand the importance of simplicity and develop solutions putting themselves in user's shoes. Every expectation of client is fulfilled with world-class, strategic project management- be it a software, a web project, an enterprise-grade project or a mobile app. They provide future-ready solutions tailored to client's business requirements and user expectations.
Services provided by Radixweb:
Bespoke software development, web application development, cloud computing and consulting, application modernization, enterprise mobility, software maintenance are the services they offer.
3. Four Kitchens:
Software that work on virtually any device, Four Kitchen is a team of exceptional coders and designers that are passionate about only one thing and that's technology. Viewing the client's requirements as their own, they always strive for a solution that is the exact picture in the client's mind. This is why they achieve the next-level of customization- be it an enterprise software or a customer-centric application. The latest technologies they are adept in include Drupal 8, JavaScript, HTML5., react Native, Internet of Things and more.
Services provided by Four Kitchens:
Few of the services Four Kitchens excel in are web development, custom Drupal, team augmentation, UI/UX design, Content and Publishing, CMS, Content strategy, software and application support and improvement.
4. MentorMate:
MentorMate is recognized for its software development services by many ranking and review firms. It is one of the preferred choices of several startups and brands worldwide. With a 16-year long history of developing robust experiences on all digital platforms and devices available today, businesses trust MentorMate for the cost-effective solutions. It has seven offices in Sweden, Bulgaria and Minnesota, their services extend to multiple industries including healthcare, education, finance, lifestyle, real estate, industrial.
Services provided by MentorMate:
UI/UX design, rapid prototyping, customized development, web development, mobile app development, enterprise-grade solutions.
5. Intridea:
Recently acquired by Mobomo, a top-performing DC-based software design and engineering firm, Intridea is a team of strategists, designers, developers and creators building the perfect solution for every industry. They have the passion for transforming business for the good such that clients can extend their reach in the market. When it comes to software development and management, they are the startup specialists.
Services provided by Intridea:
Along with custom software development, Intridea has hands-on experience in custom solutions for web and mobile, enterprise-scaled software, responsive interfaces, Ruby on Rails applications, Data Visualization with D3.js, Big Data Dashboards, Robust APIs with Node.js.
6. DCSL Software:
Developing powerful solutions for companies of all sizes, DSCL has created a number of fool-proof software products and operational systems across industries. They are ready to assist you at every stage of development cycle. Nothing like average is delivered by the team; every project is unique and exceptional.
Services provided by DCSL Software:
Together with custom software development, the company provides excellent solutions in web app development, mobile app development, white label software development, bespoke CRM databases, software consulting, hosting, source code recovery and software maintenance and support.
7. Prismetric:
Prismetric is a mobile application and custom software development company providing competent solutions to business issues that help the organizations to increase their productivity and overall work efficiency. Ready to transform any innovative idea into a viable end-product, the team at Prismetric go that extra mile to ensure 100% client satisfaction. Expert services from skilled professionals, the agile development methodology at Prismetric guarantees quality delivery.
Services provided by Prismetric:
The various solutions and services they offer include mobile application development, gaming development, wearable device app development, content management system, eCommerce, CRM customization, Enterprise solutions, Business Intelligence. We also provide highly comprehensive services in iPhone & iPad App development along with exclusive Android Application development.
8. Exadel:
Masters in designing and developing enterprise applications, Exadel is a top-notch software development company. They develop few of the most thoughtful and innovative technology solutions helping companies and organizations achieve greater productivity and revenue opportunities. For each client, they work with a different approach and give the client a comfort zone to communicate their business needs so that the project matches their expectations.
Services provided by Exadel:
They specialize in enterprise development, mobile app development, Big Data analytics, project outsourcing and innovative tech.
9. R-Style Lab:
Among the various custom software development companies, R-Style Lap stands in the top for its strong and well-balanced in-house team. Helping startups pitching their ideas and providing cost-effective pricing model for development services, this software development company has trained and certified Bas and Project managers who assist the developers and designers in developing amazing experiences at enterprise and customer level.
Services provided by R-Style Lab:
Choose them for IT integration services, mobile app development, web development, eCommerce development, IoT app development, social media app development and social networking web development.
10. Itransition:
Itransition is a top-level custom software development company that consists of a comprehensive team of IT professionals who understand programming languages and software tools. They deliver software projects worldwide to customers from startups to SMBs to Fortune 500. Itransition has a proven track record of offering result-driven software services that further result in improved business efficiency, high ROI and improved productivity. Whilst, the tam here is flexible to meet the varying needs of clients.
Services provided by Itransition:
The software development firm provides smart customization of pre-developed products as well as full-cycle custom software development. Additionally, the team is skilled in enterprise app development, advanced web development, mobile app development, technology consulting, application security, omnichannel commerce
More Industry Leaders:
11. Segue Technologies:
Catering to both government and commercial clients, Segue Technologies fully understand your business needs and provide solutions that bring value for money to the organizations and meaningful operations for users. Delving deep into the project, the team here communicates with the client to gain a thorough understanding of what they want to develop for their employees, their customers.  They are flexible to changes if any during the project development. Their outstanding custom software projects reflect their experience and expertise since 1997.
Services provided by Segue Technologies:
A range of custom IT services provided by Segue Technologies include application development, enterprise mobility, data management.
12. ScienceSoft:
Professional software development company catering to a range of industries like banking, healthcare, retail, telecom, real estate, life sciences, marketing, ScienceSoft is a perfect choice for startups, SMBs and brands. Having served the industry for over 28 years now, they are veterans in custom software development. They have a strong clientele and partnerships with leading IT brands including Microsoft, IBM, Oracle, Salesforce.
Services provided by ScienceSoft:
Being the eldest of all, ScienceSoft has hands-on experience and expertise in outsourced product development, mobile application development, web development, software QA and testing, Cloud and network services.
13. N-iX:
Based out of Ukraine and Poland, N-iX is a software development partner since 2002. They provide end-to-end digital transformation services on the latest devices across all platforms. The team focuses on delivering scalable, secure and manageable solutions that are aesthetically appealing and render smooth UX. Developers at N-iX are well-versed with trending technologies including Big Data, Virtual Reality (VR), Machine Learning and AI, Blockchain, Data Science.
Services provided by N-iX:
Experts in software product development, game development, mobile application development, OpenText Profesisonal services, technical support, QA and testing, game art production.
14. FrogSlayer:
FrogSlayer is one of the finest custom software development companies that develop solutions to last. They are the coding ninjas that have a single aim- to streamline business processes and work towards developing profit-generating solutions. One thing that makes them stand out in the list is their dedication to every client's long-term success as each of the software developed by FrogSlayer experts is user-centric, delivering meaningful and value-driven experiences.
Services provided by FrogSlayer:
Since 2005, they have been evolving as a development expert. From basic IT services to mobile app development to AI/chatbots, they are the one-stop destination for all your offshore development needs.
15. CDN Solutions Group:
Established in 2000, CDN Solutions Group is a leading software development company, offering a wide
range of web and mobile technology solutions across the globe. The company has a team of 270+ highly
qualified and experienced IT professionals who can deliver best of technology solutions and consulting
services across diverse business needs.
CDN Solutions Group always try to enhance customer experience and for that they provide the major
factors in their development strategy such as Quality, Speed, Responsiveness, Cost Effective, Risk
Elimination, Scalable, Consistent and Value Addition.
Services Provided by CDN Solutions Group:
CDN Solutions Group has developed more than 1400+ innovative apps for all web and mobile platforms.
CDN team has the vision to turn client's dream into reality. Key services of CDN are web development,
mobile app development, CRM and ecommerce development and IT outsourcing and consulting.
16. QArea Inc.:
QArea was founded in 2001 and has grown ever since towards success and innovation. We have nailed 800+ projects by now, encouraging flexibility and aiming at long and lasting relationships with customers and partners.
QArea unites 250 truly talented developers and testers. We deliver wide range of premium services to any company with our rates starting at $15.
We value our customers; hence our primary goal is the establishment of long-term relationships with clients. Certainly, we understand that constant improvements in delivered quality and value must be in place. Today this process is one of QArea's clearest guidelines and our unspoken motto states: "Deliver more within less, that's the way to success!".
Services provided by QArea:
The various services QArea offer are Custom software development, Testing & QA with a dedicated QA Lab, which currently consists of 100+ software testing engineers, IT consulting for startup, MVP, tech consulting and projects from scratch and support & maintenance.
17. Elinext:
Elinext is an IT consulting company combining more than 20 years of experience, client-oriented approach and highly skilled professionals with strong expertise in Document and IT Infrastructure management, eCommerce, eLearning, Video streaming, Internet of things, GIS, Big Data and BI or Performance optimization. Being service and not a product company we still invest in developing ready-to-use mobile and web solutions, namely CRM system, social connection modules, helpdesk and survey management software, messaging applications that could be instantly integrated in the existing product.
Also as a Dedicated Development Services provider we hire talents from top technology universities and proven field experts, and smoothly integrate them in the customer's development process.
We are represented globally – USA, Ireland, France, Germany, Belarus, Singapore, Vietnam or Hong Kong – to be closer to the final customers and their software end users.
Services provided by Elinext:
Native: iOS, Android and Windows Phone Applications > Cross-platform App Development: React Native, Cordova, Xamarin > Native and Cross-platform TV Applications > Location-based and GIS App Development > eCommerce > Web Application Development: .Net, PHP, Java, Node.js, Ruby, Python, Latest JS Frameworks > Corporate Web Portals > SaaS and Desktop App Development > CRM and ECM systems.