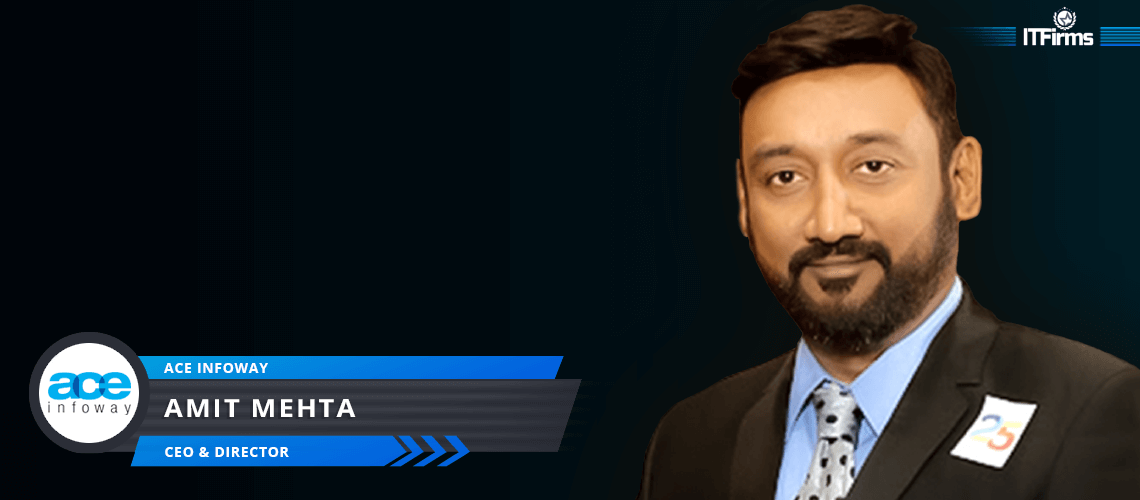 Interview with Amit Mehta – CEO & Director, ACE Infoway
Here is the exclusive interview of Amit Mehta – CEO & Director, Ace Infoway only on ITFirms. He shared his insights on upcoming technology trends for 2022-23 and many more things in this interview.
Let's check his success story and views.
1. Tell us in brief about your company and the leadership.
Ace Infoway is an expert technology & growth partner that helps organizations navigate complex digital business transformations and change, through innovative technology solutions. We have been in business for 22 years and have seen the changing landscape of technology and have built a team with a wealth of professional experience, and accumulated best practices along with young and passionate developers. Our fluid & agile approach has helped us in on-boarding contrast clientele globally of both enterprise and start-up levels. We have built our niche in diverse industries namely publishing, e-commerce, promotional products, architecture & construction. We have worked alongside some of the world's leading publishers and brands. We're constantly working to stay ahead of the curve so that we can provide our clients with the best solutions delivered with a delightful experience.
2. How would you describe your growth trajectory in 2021? Any particular achievement? Any disappointment?
We had a great year in 2021 thanks to the growth of e-commerce, web & mobile, and CAD services. Demand for these services saw a huge surge, and we were able to keep up with it by expanding our team and investing in new technology. The results were far more impressive if I compare them with the last 3 to 4 years, and we're looking forward to seeing even more growth in the years ahead. Thanks to our continued growth, we're well-positioned to take on even more challenging projects in the near future.
The biggest challenge rather than disappointment triggered by the pandemic of which we can still see the repercussions is the great resignation that took over the world, especially it hit hard to the IT sector. The industry was swamped by attrition and employee turnover however, we were able to modulate this phenomenon with alternative measures and engagement models and registered a growth of more than 40-50%.
3. Please describe the operational structure of your company- from the moment a client walks in, to the product deployment.
Our organization has had a flat operational structure for years now which has always worked for us since authority and decision-making functions are placed among the workforce. The biggest value that comes out of it is that the customer requirement is expedited and the TAT is shortened remarkably.
Any client on-boarding kick starts with getting a grasp of the client's business and a deeper understanding by gaining a 360-degree view of various factors such as industry, competitors, business needs, challenges, and more. Based on this analysis project needs are defined and a detailed scope of work is documented.
Next comes identifying the required skill set to deliver on the needs and finalize the right engagement model. The project then moves to the development phase along with a timeline and schedule for delivery.
Now here at the heart of the entire onboarding and delivery process is one special ingredient as we call it – customer experience. We put a lot of emphasis on this critical success factor throughout our organization. Proactive updates about the progress until the final release are provided to the client on a regular basis. This helps build trust and transparency forging long-term partnerships.
4. What engagement models do you offer? How should a client choose?
We offer 3 engagement models:
Fixed price project – The client can choose this model when he has a predetermined budget and a plan. Moreover, it works well for small and medium-scope projects which run on fixed timelines and schedules with minimum risk.
Long-term FTE /dedicated – is suitable when the client is looking for a large team or specific skill sets which includes, developers, project managers, quality analysts, DevOps, and more. The primary benefit of this model is the client can easily scale up and down the team size as per requirement.
Monthly packages – is for our digital services which call for long-term engagement in order to drive results or deliver on the objectives defined while onboarding a client. Here the service is delivered over a period of time and always tied with objectives, KPIs, and goals.
5. What do you as a leader prioritizes- vertical expansion of your business or the horizontal expansion of your expertise and services? How do you balance both?
We started with web and mobile development and gradually our service portfolio branched out to eCommerce & Architectural CAD services which formed our 3 major verticals. From there we have been continuously focused on increasing our presence in existing markets and hence vertical expansion is probably a better bet for us. This involves diversifying our service & product offerings, expanding into related services, or becoming a one-stop-shop for all our customers' needs.
As we continue to grow and profit vertically, horizontal expansion becomes consequential to enhance our position within the industry and get an edge over the competition.
6. What is your outlook for 2022-23?
2022-23 is shaping up to be a challenging year for many businesses. Money flow is expected to tighten as major economies grapple with inflation, interest rate hike, and stoppage of VC funding. But there are still opportunities out there for genuine, savvy, and experienced entrepreneurs. Those who are able to weather the storm and adapt to the changes will find that there are still plenty of opportunities for growth and expansion. The key is to identify those areas where you can cut costs without compromising on quality and focus on your core strengths.
For many businesses, that might mean downsizing in certain areas or streamlining operations. Others may need to invest in new technologies or processes to stay ahead of the competition.
So, my outlook for 2022-23 is cautiously optimistic. While it may be a challenge, I believe there will be opportunities for those who are prepared. Those with nimble business models and strong balance sheets should be able to weather the storm relatively well.
7. Any particular technology or industry you would be targeting? How do you plan to prepare your workforce for the upcoming technology upgrade?
Machine Learning, Artificial Intelligence, Voice recognition, and their applications are the future and are advancing at a breakneck speed. The only method to be ready for that future is through constant learning and development.
1. In-house training: Develop internal training materials and programs that employees can use to brush up on new technologies as needed. This could include things like e-learning modules, video tutorials, practice tests, and so on.
2. External training: Take advantage of external education resources, such as online courses, conferences, and webinars. Make sure employees are aware of these opportunities and encourage them to grow in their roles and enhance their skills.
3. Finally, we get them involved in customer projects as much as possible. This works really well as it creates concrete learning opportunities so that they can gain first-hand experience with the new technologies.
8. With technologies like NFT, Crypto, Machine Learning and Artificial Intelligence (AI) that can be used for both web applications and mobile apps, how do you envision the development methodology to be in the future?
Technologies like NFT, Crypto, Machine Learning, and Artificial Intelligence (AI) will continue to foster the growth of the web & mobile app industry.
These technologies will play one of the key roles when it comes to a new approach to solving old problems and will change the way websites and mobile apps are created.
One possibility is that development will become more streamlined and focused on meeting user needs and ensuring functionality. Another possibility is that development will become more decentralized, with different developers working on different aspects of the technology. It's also possible that a hybrid approach will emerge, with some elements of centralization and some elements of decentralization. Basically, it's hard to predict exactly how development will progress, but it will likely be dictated by the demands of users and the overall direction of the industry.
9. Other than technical expertise, what traits you believe are essential for any software development firm to succeed in this rapidly evolving industry?
There are a few key traits that we believe are essential for success. First, speed is key. In today's fast-paced world, businesses need to be able to move quickly in order to stay ahead of the competition. Second, strong processes are essential in ensuring that tasks are completed efficiently and effectively. Third, flexibility is important in being able to adapt to changing conditions or unforeseen circumstances and quickly adjust to shifting requirements in a fast-paced and constantly changing market. Finally, customer responsiveness is critical because your customers expect timely service and attention.
Of course, technical expertise is still important and will continue to be so. But these other traits will become increasingly important as we move into the future. Building a strong foundation with these traits will help you succeed no matter what the challenges may be.
10. How do you assess the role of research agencies like IT Firms in bridging the gap between clients and service providers?
Research agencies like ITFirms definitely play a critical and important role in facilitating communication and collaboration between clients and service providers. Business partnerships go through a lot of due diligence and rating and reviews have a huge impact on the vetting process. Our presence on ITFirms has helped us in gaining that trust from clients before they come to the discussion table.
---
Ace Infoway
https://www.aceinfoway.com
[email protected]