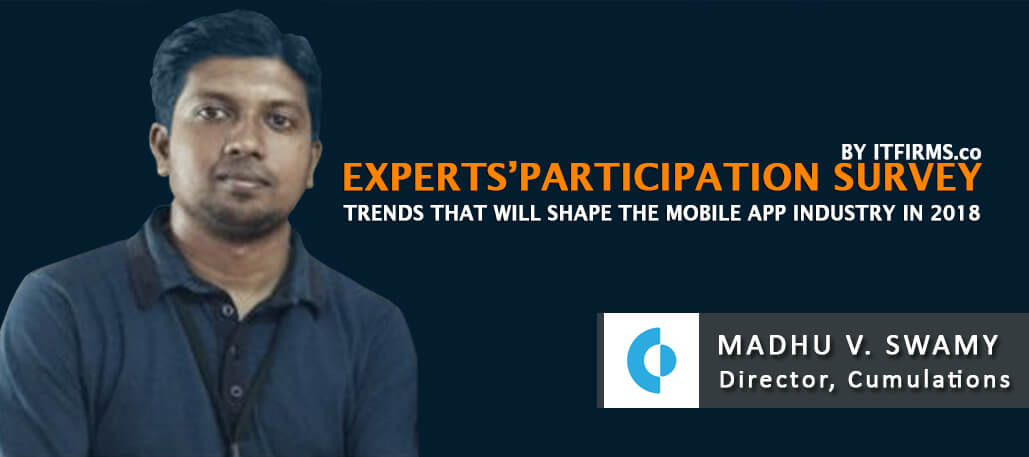 Interview with Madhu V Swamy – Co-Founder & Director, Cumulations Technologies
Experts' Participation Survey – Trends That Will Shape The Mobile App Industry In 2018
Few lines about Madhu V Swamy – Co-Founder & Director of Cumulations Technologies
We started Cumulations with a goal to provide exceptional software solutions to our customers. When I was working with Infosys in senior development roles I learnt the values of quality, hand holding the customers and attention to detail. At Cumulations we follow the philosophy of being with the customer, come what may, and lead them to success. Our team's expertise has helped us to achieve this for half a decade and I'm confident of Cumulations playing a pivotal role in adding value to our customers.
1. Tell us about your company in brief.
Cumulations Technologies is a Mobile App Development and IoT solutions development company. We have a Successful track record of launching Android and iOS apps for small Startups to big enterprise business.We are offering our wide range of web and mobile app development services across the globe since 2012, With the mission to develop most user-friendly and quality applications. With a belief of giving the best quality apps in the industry, Cumulations Technologies is providing complete mobile app development solution including Android App Development, iOS App Development, and IoT App Development. We deliver acute applications with the purpose of making customers delightfull by completing their app development needs.
2. How do you describe your mobile app development team in terms of experience and expertise?
Cumulations has been in the business of mobile apps development for the past 6 years and successfully delivered solutions from ideation stage to delivery with sustainable usage for the apps.
3. How would you drive your team to meet technology demands of 2018?
Our team members are very active in following up articles from sources like Medium and Twitter where they follow domain experts. Also as a company inclined towards working in IoT, we provide platform for teams to try and experiment with technologies. We also conduct regular talks on trends and interesting updates of the industry.
4. How do you help your clients in choosing the right yet profitable platform for app development?
We advise clients on choosing the platforms of development to start with,based on their target market. If the client is in early stage of product building, we encourage them to take up development in one platform and enable them to iterate and take up the best features to the other platform.
As a company which understands working with IoT hardware, in many occasions we have coordinated with device firmware team to change/modify few aspects such that the mobile applications work with hardwares seamlessly in an optimized battery usage.
5. What all services do you think you would add to your offerings in 2018? 
We believe 2018 will see the surge of AI in all walks of software development and we already enabled solutions with Alexa Skill extensibility. We have built apps using Lex, DialogFlow and we are actively working with other ML frameworks like TensorFlow to train models.
We also extend our service offerings in new platforms like Flutter, React Native which provides effective cost advantage
6. How are you going to differ in processing solutions and applying methods in the coming future?
We are experimenting with bringing clients one level closer to our project management system. This could be as simple as providing access to task management tools with team members to check the progress and communicate feedback.
We are also increasing our testing strength by bringing in more automated tools and systems to ensure the good quality of the deliverable.
7. How do you scheme your pricing model? How do you fix your budget?
The the pricing model predominantly depends on the estimated effort involved to suffice the project completion. Our Pricing model includes Design,Testing and Deployment headings and an optional support phase along with core development phase.
8. Define your future prospective and vision regarding new technologies like Artificial Intelligence, Chatbots, IoT apps, Augmented Reality apps and Virtual Reality apps?
We believe that the best way to embrace new technology is to start working with it. We strongly feel  2018 will see the surge of AI in all walks of software development. Good thing is we are already in prototype building phase in all the important trending topics of AI like Alexa, Lex and TensorFlow. We would love to work on these prototype projects and make them evolve beyond their beta phase.
9. What are your favorite industry verticals for 2018 and why?
IoT, AI, Serverless development and Platform agnostic development tools are our favorite industry verticals.
10. What product/service and in which category you would like to build/offer to establish or redefine your authenticity and expertise in your operational domain?
IoT will continue as our favorite vertical in 2018 as well, while we would also like to add AI into our service offerings. Apart from this, we are also keenly following serverless architecture,AWS data pipeline and platforms like Flutter and we hope to adopt these into practical solutions.
  Cumulations Technologies
  www.cumulations.com
  [email protected]