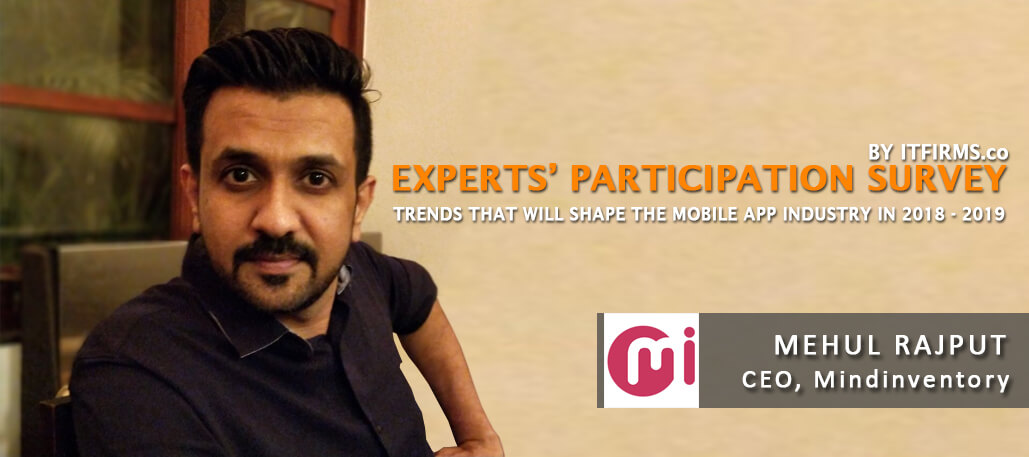 Interview with Mehul Rajput – CEO, Mindinventory
Experts' Participation Survey – Trends That Will Shape The Mobile App Industry In 2018 – 2019
Few lines about Mehul Rajput –  CEO of Mindinventory
Mr. Rajput is a Strategic Business Expert with more than 13 years of collective domestic and Global experience in IT & financial market. His current broad IT skill sets, and knowledge of business practices that always contribute to the company's success.
It was under his adept leadership that several companies categorically drove to their target destinations with a sheer collaboration an efficient team of associates focusing on partnering plan, development and refining the company's vision and mission.
1. Tell us about your company in brief.
Mindinventory is a top-notch mobile app, web development, and software development company with rich expertise in building the Enterprise level solutions for the organizations like CRM & ERP. We also are the major exponents of Blockchain development including a cryptocurrency and wallet development apart from graphic designing to suit all requisites. Some of our esteemed clientele include Panasonic, MAERSK and Patch Media giving us the proud moment to add their great testimony to our services.
With a cumulative experience of 8+ years, and a highly-dedicated team of 110+ engineers as real assets, Mindinventory has become the first-rate choice as an outsourcing firm based in Ahmedabad, a western part of India.
2. How do you describe your mobile app development team in terms of experience and expertise?
Mindinventory carries over 8 years of experience in building Mobile applications implementing all upgraded technologies, including Objective C, Swift, Java, Kotlin along with cross platform technologies like React native, IONIC and Cordova. We have been working on all types of domains to building user-centric mobile apps with in-house team of design, development and QA experts, experienced in scrum masters.
3. How would you drive your team to meet technology demands of 2018 – 2019?
We are always one step ahead in terms of updated technology, having a specialized team to focus on learning futuristic techniques, building highly value products as well as preparing the unit for each upcoming trend, which is or which may boom the market.
4. How do you help your clients in choosing the right yet profitable platform for app development?
We are one of the few companies who focuses more on success of the client project, rather than personal growth. Giving the right direction of marketing, applying the proper revenue model or choosing the correct domain/ market and type of product to build; our experts always help customer to provide accurate data in choosing the correct product to launch and making it a successful venture.
5. What all services do you think you would add to your offerings in 2018 – 2019? 
With the intention to further expand our venerable services, we have added a few more fire powers into our arsenal. It includes an experienced and knowledgeable team for programming languages like React Native, ReactJS, VueJS, Ruby on Rails, advanced technologies such as Blockchain, IoT along with traditional practices including Node, Angular, PHP and Mobile app development languages.
6. How are you going to differ in processing solutions and applying methods in the coming future?
Mindinventory always work as solution providing company and carry a great insight in applying suitable technology, identifying the correct domain/ area/ age group to target along with providing special marketing tricks to customer to make their product successful.
7. How do you scheme your pricing model? How do you fix your budget?
While determining the cost for a fixed cost project; we ensure that we are crystal-clear with the project scope, deliverables and efforts required to deploy the seamless solution. Based on that, and the defined technology stack, we add the final variation to the cost. For the fixed cost project, we have defined the milestones and get it mutually agreed for the payment. Each project starts with certain amount of upfront payment, followed by next milestone, which are paid only when piece of work is approved by client. In case of hourly or the dedicated business model, the payment terms are mutually agreed to be paid.
8. Define your future prospective and vision regarding new technologies like Artificial Intelligence, Chatbots, IoT apps, Augmented Reality apps and Virtual Reality apps?
We have already started working IoT and Chatbots, and commenced with targeting the Augmented Reality market, applying these practices in existing solutions. That is what we are planning to carry over in the next year 2019.
9. What are your favorite industry verticals for 2018 – 2019 and why?
Practically speaking each of the industry domains we have served so far is exciting and challenging to work, but on a personal note I do feel that the finance, health, and online food delivery are the key verticals to watch out for. The reason because the demand and supply ratio would escalate further and integration of newer technologies would simplify our lives even more.
10. What product/service and in which category you would like to build/offer to establish or redefine your authenticity and expertise in your operational domain?
Mindinventory is already a successful brand in services it offers. However, the next year target would be applying Augmented reality solutions to establish the brand in that domain too.
  Mindinventory
  www.mindinventory.com
  [email protected]