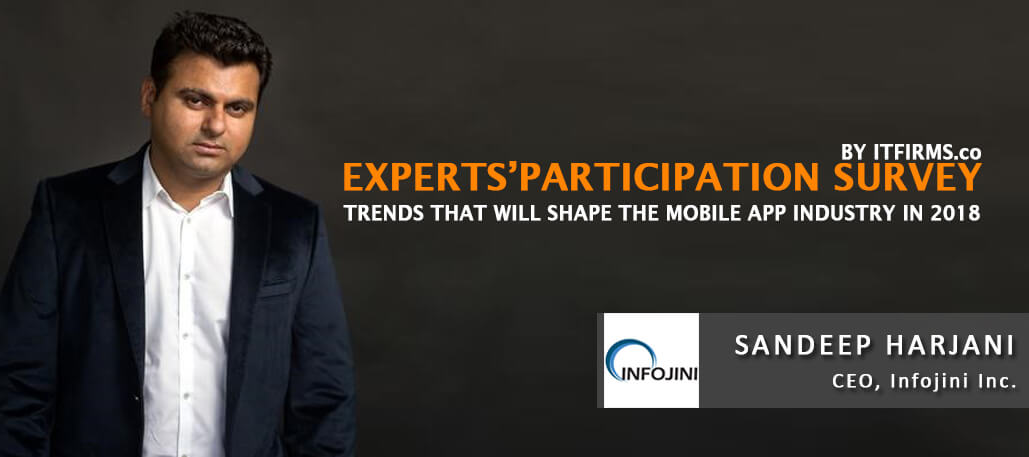 Interview with Sandeep Harjani – CEO, Infojini Inc.
Experts' Participation Survey – Trends That Will Shape The Mobile App Industry In 2018
Few lines about Sandeep Harjani –  CEO of Infojini Inc.
Infojini's CEO, Sandeep Harjani, he was forced to start the company in a friend's basement because his own apartment was too small. Infojini has come a long way since then. Harjani's ultimate vision for his company is to achieve global IT services leadership by combining technology skills, domain expertise, process focus and a commitment to long-term client relationships.
1. Tell us about your company in brief.
Founded in 2006, Infojini drives digital engagement and business value for clients through staff augmentation, software development, website & mobile app design and development, application support & maintenance, cloud, cyber security, systems integration and technology consulting.
Operating for over 12 years, we have successfully guided various Government Agencies and Fortune 500 clients globally through exceptional technology outcomes for their organizations. A technology-driven company, Infojini is incessantly recognized for thought leadership and growth as established by industry awards and recognition.
2. How do you describe your mobile app development team in terms of experience and expertise?
We have experienced resources in our mobile app development team and average experience of developers is above 5 years. They have developed mobile apps in native platforms like iOS and android as well as cross platform technologies like React Native.
3. How would you drive your team to meet technology demands of 2018?
We encourage our employees to spend some of their time to explore the new technologies that gets released, so that those technologies can be applied in the app development. With this approach, our team remains up to date with new trends and hence ready to meet the current technology demands.
4. How do you help your clients in choosing the right yet profitable platform for app development?
We understand their needs, importance of their data storage from security and performance angle and accordingly suggest the server platform (cloud (shared or dedicated or private) and technology (native or cross platform).
5. What all services do you think you would add to your offerings in 2018? 
Besides iPhone App Development and Android App Development, we will be adding following 2 services in our offerings:
> Cross Platform App Development
> Game Development
6. How are you going to differ in processing solutions and applying methods in the coming future?
We are going to use cross platform technology like React to reduce the time and cost of the solutions. Over the years we have developed many APIs which will be reused to make app development faster.
7. How do you scheme your pricing model? How do you fix your budget?
Our pricing is purely decided based on the efforts estimated. Most of our projects are fixed based pricing.
8. Define your future prospective and vision regarding new technologies like Artificial Intelligence, Chatbots, IoT apps, Augmented Reality apps and Virtual Reality apps?
Artificial Intelligence : Develop apps for Data analysis and reporting
Chatbots : App for the Support chat
Augmented Reality Apps : App to enable wayfinding within Parks, University Campus
9. What are your favorite industry verticals for 2018 and why?
Education : We have expertise in this domain and we are expanding our portfolio of products
Government : We have been working with government for different types of services and we want to utilize our experience to serve them better
10. What product/service and in which category you would like to build/offer to establish or redefine your authenticity and expertise in your operational domain?
Products for Education for Parents engagement and student engagement
Custom plug-ins for University and Government websites
  Infojini Inc.
  www.infojiniconsulting.com
  [email protected]