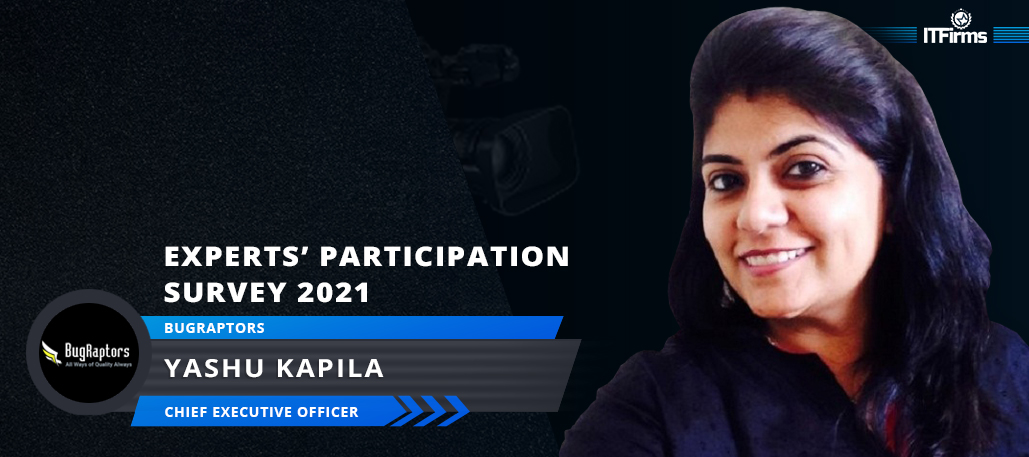 Interview with Yashu Kapila – CEO, BugRaptors
Here is the exclusive interview of Yashu Kapila – CEO, BugRaptors only on ITFirms. She shared her insights on upcoming technology trends for 2021 and many more things in this interview.
Let's check his success story and thoughts.
1. Tell us in brief about your company and the leadership.
BugRaptors is a division of the Seasia Group of Companies. It is one of the leading software testing companies established in March 2016 in Mohali, India, with a mission to be the worldwide famous leader of QA solutions and software testing services.
It is also renowned as a third-party testing service provider globally to offer specialized automation testing, test advisory services, independent quality engineering, and domain-based QA services to banking, healthcare, e-commerce, real estate, and other industries.
With strong experienced leadership line of our CTO's, VP's and Analysts, we have setup a criterion to refine our processes supported with review process at each solutions and service delivery. To support this, we have a technology advancement team to keep us in-lined all the time. With advanced test lab equipped with 200+ physical devices and 250+ certified professionals, we also built a range of products/frameworks named Moboraptors and Swift to give quality and accuracy at a fast pace, to our customers with huge benefits in terms of cost and time.
2. How would you describe your growth trajectory in 2020? Any particular achievement? Any disappointment?
BugRaptors has experienced significant growth in automation testing services because we use the most advanced tech tools such as Selenium, Cucumber, Appium, Robotium, Katalon, SoapUi,Jmeter, Jenkins, and many other automation-based platforms that give benefits like improved accuracy, reduced business expenses, faster development and delivery experience, high-app quality and performance. Also, it helps in eliminating human errors. We witness a surge in sales in the rising 2020, but even after the COVID-19 pandemic, we try to keep up with the services well. Unsurprisingly, we manage every action on the track. Our team worked hard and delivered the services on time so that the customer won't lag anywhere.
Even in 2021, we came up with much stronger and much better plans. Our improved and modified automation testing approach helps us minimize the manual efforts and speed up the entire testing process while resolving an enterprise's requirements. It even boosts our confidence to deliver the quick time-to-market with the market's best quality software product.
3. Please describe the operational structure of your company from the moment a client walks in, to the product deployment.
BugRaptors has a team of ISTQB and equivalent testing professionals who work around the clock to maintain the software testing domain's de-facto standard. They have lean thinking, DevOps, and agile best practices to support the latest and current software testing trends.
Look knowing that our customers are satisfied with our service is what we considered a business success. Only the satisfaction rate can further decide the likelihood to return for a new project by the client and his recommendation to others. So, we give our best to create meaningful experiences for the customers that start with the very moments the clients walk in.
Well, every company has different operational structures and different rules and responsibilities that they manage according to their project's lengths and distributed it into their various teams.
Rest we can't be transparent at the time of sharing our detailed operational structure with you, but we can give a bit overview about how the operational structure of any software testing company looks like. For smaller projects, usually, companies include development managers and testers. In this structure, the project activities are very well managed under the control of the development manager. Both testing teams and development teams take the initiative for meetings and conduct several scrum sessions with the development manager to understand the customer's project requirements and reduce the communication gap. They decide particular deadlines for projects and collaborate with all team members, including stakeholders in real-time. Apart from that, the development manager ensures that the projects will be completed successfully and take a guarantee to help customers get the quality software.
Similarly, large-scale companies involve various operational structure members, from project managers, test managers/test leads, testers, and development managers to programmers/developers. All of them have different testing capabilities, independence, skills, and experience to give their best for test-related activities. Whether there is one product or two or more, there are so many components include in testing teams. In order to provide greater accountability or consistency, each component can be created and tested by different groups. Moreover, effective test automation strategies and many results-driven approaches can be considered while working in the operational structure.
One thing you can understand that the operational structure of every software company can vary from each other, but the objective behind maintaining this structure is to reduce defects from the product early as possible and gain an excellent experience in all aspects of the life cycle. It even helps us provide on-time delivery to customers and keep them ahead of the crowd.
4. What engagement models do you offer? How should a client choose?
The growing trend of customization gives us a command to get ready our clients' engagement models in an interactive way and supports us to develop effective strategies that further help our customers engage with us more authentically throughout their entire buying journey. It even allows us to maintain transparency and loyal relationships with them.
We represent our engagement models by keeping operational flexibility in mind and each model have an enormous impact. Let me just start with it.
Team – We have a flexible team size with a dedicated pool of resources to give our consumers the best of both worlds – a great combination of engineering and business.
Dedicated pool of resources assigned to you
Flexible team size
Test lead assigned for all communication & team management
Seamless knowledge transfer among team members
Client controlled testing environment
Material – We have a strategic material model in which we analyze the testing scope and help our clients choose the right testing partner, tools, and architecture to scale their product.
Well defined scope analysis
Client confirms the final team members
Task progress and testing process analysis on daily basis
Detailed time sheets released to client weekly/monthly
Price – This model was built in detail to let customer know the cost based on testing efforts, techniques, custom features and generates an invoice on the basis of milestones.
Scope is very well defined
Detailed project analysis
Testing efforts & costs estimation
Direct influence of team expertise over costs
Milestone wise invoice generation
5. What do you as a leader prioritize: – the vertical expansion of your business or the horizontal expansion of your expertise and services? How do you balance both?
Being a leader in the QA and software testing company, we focus on prioritizing both the expansion models as they offer us lucrative benefits. For example, the reason to consider a horizontal expansion model in our business is that it allows us to access a larger customer base and boost our revenue. Using the vertical expansion model is the necessity to help our clients compete in the digital world when they get their products/software/application on-time from us. It is also beneficial for managing all aspects of business operations without the involvement of third parties, and when it comes to reducing the overall cost and increasing the profit, vertical expansion becomes the right fit for us.
6. What is your outlook for 2021?
It is projected that 2021 is a year of exceptional development. In the age of digital transformation, customer requirements are changing continuously. People trust us, and we guarantee to fulfill the new technological and personal business needs of our customers. Apart from technical advancements, we are planning to expand our business and take it to another plus level while catering to our employees much better. We already follow gender equality in our workforces or premises. Still, after evaluating important traits in female leaders such as honesty, determination, confidence, emotional intelligence, collaboration, or inspiring leadership qualities, now we want to nurture our corporate culture by increasing 50% more females in our workforce.
7. What is the difference between quality assurance (QA), quality control (QC), and software testing?
Quality assurance aims to eliminate defects, whereas the quality control objective is to find and fix the defects. Companies promise to provide quality assurance in the software development life cycle. However, quality control is done in the software testing life cycle.
It is necessary to perform quality assurance before quality control which requires the involvement of various team members in the company. In contrast, the testing team can fulfill the needs of quality control alone. Quality Control is a reactive method, while Quality Assurance is proactive. QA ensures to the customer that whatever the quality you demand, your application will provide you without any hassle. Infact, quality assurance is a step or procedure that concentrates on satisfying quality requirements. On the flip side, software testing is the process of verifying the application under test (AUT). It confirms that the actual software product will fulfill the customer's expected requirements and assure them to provide them defect-free solutions. It can be done either manually or using automation, depending upon the product's specification. Its purpose is to find gaps and errors as early as possible in the software to deliver a reliable, high-performance, and fully-secured software product. Both quality control and quality assurance can be successfully achieved with software testing.
8. Why should companies invest in QA platforms instead of hiring a QA team?
The reason companies should invest in QA platforms instead of hiring more QA team members is the delivery speed, time saving-capabilities, 70% of automation test activities and 30% of manual activities, reusability, early bug detection, distributed test execution, early & robust reporting, 24/7 test implementation capacity, quality assurance, affordability, and many more services that one can acquire with the utmost ease.
But, without experienced QA teams, QA platforms are nothing because these are the just way to accelerate a company's digital transformation journey. QA test automation platforms definitely ensure to give higher test coverage, better insights, improved accuracy, faster feedback cycle, reusability of the test suite, or even minimize business expenses. Yet, when it comes to providing all such benefits to customers, the companies have to hire a QA team at their workplace because they are the ones who put too much effort and do hard labor to make the software better but get no or little recognition.
9. Providing 100% accuracy is one of the most significant challenges that QA organizations face. How should industry leaders ensure accuracy and provide faster results at the same time?
Quality is remembered for a longer period, but the price of the product can be forgotten. To ensure 100% accuracy and provide faster results simultaneously, industry leaders should have the power of AI (Artificial Intelligence), Agile, and DevOps to shape the future of business and give the customers desirable results. One must have a testing center of excellence, knowledge of implementing the best possible software testing methodologies and applications, and modern software testing labs to guarantee digital assurance, quality engineering, and quality assurance. With a focused testing approach, one can not only give accuracy while testing but also ensure to enhance time to market and ROI.
10. Any particular technology or industry you would be targeting? How do you plan to prepare your workforce for the upcoming technology upgrade?
Well, the success of the new technology project depends upon three factors – the people, the process, and the technology itself. Moreover, the latest technology requires the techniques, skills, knowledge, experience, and methods used to produce goods and services. BugRaptors experts are proficient in the current innovations and have access to device labs which they utilize properly to learn and implement new technologies on the customer's projects.
The latest technologies that can transform the global economy in upcoming years are Virtual and Augmented Reality, Artificial Intelligence, Mobile Internet, Cloud Technology, Advanced Robotics, Internet of Things, and Blockchain. We already have domain expertise for these technologies and even offering IoT (Internet of Things) and blockchain testing services, cloud testing services, AI & ML testing services as specialized QA services to our customers. IoT, Cloud Computing, AI, and Blockchain are our major targets for the future. Apart from that, if there is any new change introduced in these technologies, our tech specialists follow the four-step approach (plan, design, implement, and support), which they always consider while keeping our customers ahead of their competition. Besides, we almost cover all industries domain to target, such as e-commerce, startups, retail, Fintech, insurance, healthcare, real estate, telecommunication, media, and utilities.
11. Other than technical expertise, what traits you believe are essential for any quality assurance/ software testing firm to succeed in this rapidly evolving industry?
Other than technical experience, there are some very important traits like effective communication, fast and quick learning ability, strong requirement understanding, time management, adaptability, productivity, passion, creativity, analytical skills, automation proficiency, DevOps awareness, positive attitude, product understanding, leadership, culture, and the right mix of resources that help the software testing firm create a win-win situation in the rapidly evolving industry with quality assurance.
12. How do you assess the role of research agencies like ITFirms in bridging the gap between clients and service providers?
I think ITFirms like asset is the most demanded need of the end-users. You keep a very close look over the stats and well research the companies. This is really appreciable that you give a chance and then recognize the true emerging market. Businesses and the end-users rely on you like firms, so that they don't need to hustle anymore and bridge the robust gap between client and service providers.
---
  BugRaptors
  https://www.bugraptors.com
  [email protected]