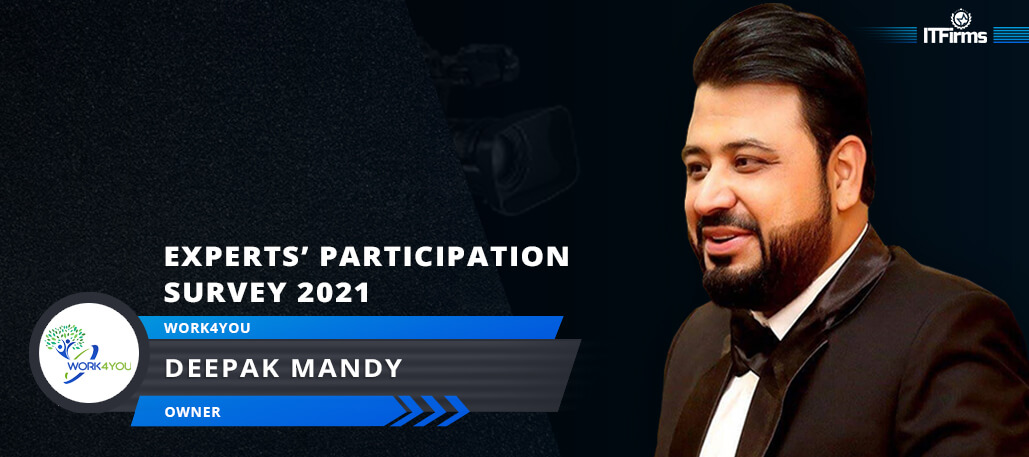 Interview with Deepak Mandy – Owner, Work4You
Here is the exclusive interview of Deepak Mandy – Owner, Work4You only on ITFirms. He shared his insights on upcoming technology trends for 2021 and many more things in this interview.
Let's check his success story and thoughts.
1. Tell us in brief about your company and the leadership.
Work4you is an IT company that works mainly on CRM solution services powered by AI and ML. To add to this, we are also into customer support, BPOs, and KPOs. We are an experienced company and have witnessed the trends of the IT industry first-hand. We understand the changing customer requirements and how dynamic they are.
I, Deepak Mandy, am an entrepreneur and a social worker who loves to indulge in activities that nurture personal growth. I believe in cultivating a community of productivity and goodwill. I also believe that taking risks and tackling unprecedented problems are a part and parcel of any entrepreneur's life.
Apart from Work4you, I am also a business consultant and a growth leader. I have established several global businesses with a strong presence in various nations – Australia, United Kingdom, New Zealand, Canada, India and Philippines and am always looking forward to more challenges and opportunities.
2. How would you describe your growth trajectory in 2020? Any particular achievement? Any disappointment?
2020 was a pandemic-stricken year but at Work4you, we took it as an opportunity to restructure ourselves in a more streamlined manner. We adopted the industry's best practices. We also realized the importance of a digital solution in any field. Technology, if used in the right way, can transform lives. We are witness to how intelligent healthcare has been the driving force during the pandemic. Our greatest achievement in 2020 has been to become more aligned with how the world is moving forward.
I would say that the most disappointing part of the year was the lack of physical contact. Working from our homes was necessary but not meeting my colleagues and my teammates was not a feeling I would like to experience again. But then again, we learnt so much about ourselves during this period of isolation.
3. Please describe the operational structure of your company from the moment a client walks in, to the product deployment.
Our development model is agile in every manner. From the initial moment, we develop a constant back-and-forth with the customer. Feedback and several iterations is the key to our success actually. We move in a chronological manner and like to understand requirements fully before jumping to any development phase. Our process is modular and as transparent as can be.
4. What engagement models do you offer? How should a client choose?
When it comes to offering services to our customers, we believe in delivering the very best we can. The times we work in, bespoke customer requirements are gaining momentum and we, as service providers and product designers, need to be ready to cater to these requirements. Our engagement models are flexible enough to accommodate all the industries we operate in. To make things simpler, however, they can be roughly divided into major parts:
Delivery-oriented: Wherein we understand the customers' requirements, document the scope of work, and deliver them in one go or in iterations as the circumstances demand. The delivery model is mostly fueled by our hardworking internal team, our effective price ranges, and the feedback of the customer.
Partner-oriented: Wherein we look to collaborate with another person or organisation along common grounds to achieve positive results that are beneficial for both the parties. This model aims to nurture budding entrepreneurs and create a conducive environment for businesses to grow.
5. What do you as a leader prioritize: – the vertical expansion of your business or the horizontal expansion of your expertise and services? How do you balance both?
While we look to gain new grounds and spread ourselves across more industries, serving existing customers and targeting our original market is very important as well. Whether we prioritize horizontal growth or vertical growth is a question of circumstances. We adapt to whatever is better from our standpoint and adopt strategies to complement that. Having said this, once we focus on a particular direction does not imply that we ignore the other altogether. It is all about allocating resources in such a way that the sum output is greater than the individual output.
Our focus, at the moment, is more inclined towards a horizontal growth. We aim to enter new markets and explore different strategies.
6. What is your outlook for 2021?
After the pandemic, more and more companies are switching from an offline approach and transforming themselves digitally. At Work4you, we are committed to making this transition easier for our customers. With the drastic shift to the online media, Work4you is constantly churning out positive solutions for the market. The demand for better IT services are at an all-time high and we have systems and processes in place to deliver the best quality of service. Customers are hungry for more business and our AI-powered CRMs are helping them get the most out of leads. The company is dedicated to work for a positive change in 2021 and for the future. As always, we look to expand across more industries on a global scale keeping in mind the aforementioned business model. Looking at how things stand at the moment, we are positive that this goal is more realistic than ever. Even our name, Work4you naturally implies a customer-oriented outlook from our part.
7. Any particular technology or industry you would be targeting? How do you plan to prepare your workforce for the upcoming technology upgrade?
AI and ML seem to be great catalysts for increasing the quality of customer engagement and interaction. To add to this, they can also be used to develop prediction models for our organization. I would say that these two, coupled together can be a dynamic duo.
We look to explore more and gather data points relevant to our industry. At the end of the day, data is the new oil. AI/ML can only function if they have the right data to work with. Prediction models or customer engagements both depend on the aforementioned. Our organization, across all the industries we work in, understands this importance. Consequently, our operation processes are becoming more and more data-oriented.
8. With technologies like React and Node that can be used for both web applications and mobile apps, how do you envision the development methodology to be in the future?
React and Node are both based on Javascript. When the client-side scripting language was first introduced, no one could fathom the rate at which it could grow. Now we see Javascript on our servers as well (in the form of NodeJs). This is why instead of speaking about React or Node, I like to maintain my focus on the origin of these two. And things are only going to get better for it. As of now, we see a hybrid development model that can be used to develop both web apps and mobile apps. But this is not it. We are moving towards a universal solution; a one-for-all kind of development methodology.
9. Other than technical expertise, what traits do you believe are essential for any app development firm to succeed in this rapidly evolving industry?
Apple is a leading example of how a successful application is developed. From its nascent stages, its pioneer, Steve Jobs dedicated more time and energy to design rather than functionality. To make up for it, well-designed marketing strategies were implemented to bolster it. So I would say that besides technical aspects, marketing and design are the two main things to keep in mind while designing an application. As aforementioned, customer-oriented business models are on the rise and design plays an integral role in it. User experience and user interface are crucial. If the design aspect of any product fails; a product as simple as a revolving door, can backfire on the manufacturer. I also recommend 'The Design of Everyday Things' by Don Norman, a well-written compilation of how user experience is a paramount factor in deciding the success of any product.
10. How do you assess the role of research agencies like ITFirms in bridging the gap between clients and service providers?
To nurture and harness a community of like-minded and progressive individuals is very important and agencies like ITFirms are doing just that. It is crucial to have a bi-directional communication flow between the organization and the customer. ITFirms is a wonderful platform, a sort of 'social media' where entrepreneurs and existing businesses can keep themselves updated with everything, business.
---
  Work4You
  https://work4you.com.au
  [email protected]