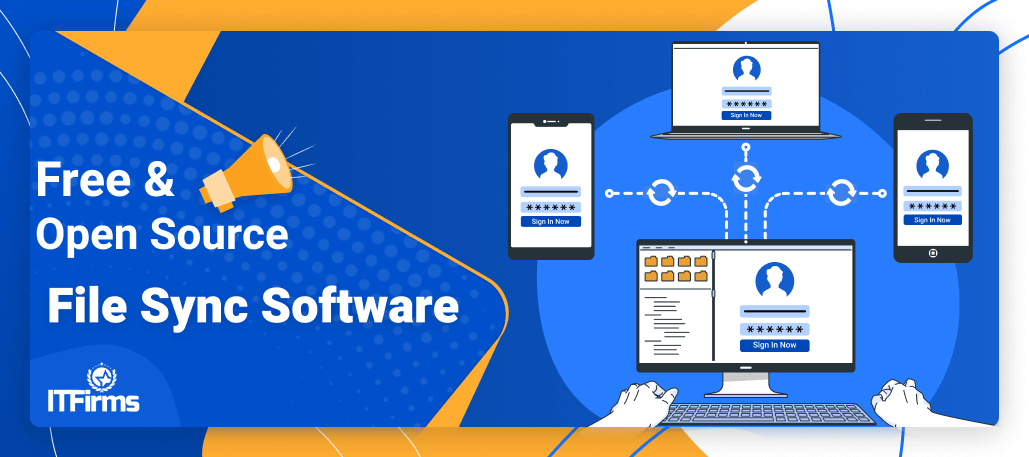 Best File Sync Software – 2022
ITFirms lists free file sync solutions to access files from your home, work, or on the go!
File synchronization Software works like backup and disaster recovery software. It often stores and syncs with cloud storage, files update in real-time, manages user access permissions, file sharing and collaboration using the stored files. All the file-syncing makes use of strict security protocols to ensure that the data is safe without any malicious access and leaks.
Features for Primary Selection Criteria
Real-time synchronization
Synchronization scheduling
Two-way synchronization
Conflict Detection
Activity Log
Remote Synchronization
Enterprise-Grade Security
Backup and Restore
Best File Sync Software In 2022
(in no particular order)
It is one of the best office synching solutions. You should buy it due to the best storage plans, Microsoft 365 integration and comprehensive tools. Microsoft Onedrive is a popular part of the Microsoft 365 suite. It is a standalone module that offers 5GB storage for free, with additional backup options available for home and business users. It offers a 100GB storage only/monthly fee for home users. Business edition offers 1TB storage alongside the comprehensive range of apps – It is used to back up any folders on the computer, in the office or at home.
It is an all-rounder file-syncing software for home and business usage. It is value for money, brings unlimited versioning with a paid plan, remote wipe. It offers three different plans for business users: 1st tier: Business Pro Teams Standards with 1 TB of storage per 2-100 users. 2nd tier: Business Pro Teams Plus with 4 TB of storage space per 2-100 users. Multi-user admin panel, the ability to transfer in synced accounts, centralized billing Business Pro Teams advanced increases the storage for backups and synced files to 10TB per user and also adds live chat support as an essential feature. Plans couple sharing and collaboration options – 2048 bit RSA, SSL/TLS encryption, version history and restore, remote wipe and lockout (if required).
It is reasonably good best free file sync software for the users looking for a big brand name. It comes with an easy setup and a 30-day free trial. It is an established company that provides file synchronization and backup software services. To set up -> install the software -> select target files and folders -> setup automation functions for backups and syncing. This comes in few different forms: GoodSync Server OS – provides backups and synchronization for Windows/Linux servers, GoodSync File Server – allows specific files and folders to be backed up and synced to a private cloud with various rules and automation options to manage everything. It offers several standard features like – multi-threading, block-level data transfer, local and remote file support, unlimited connection and users.
It is an affordable option for users to backup files on the cloud. It can choose the stored data, solid mobile features. It is easy to install on Mac/PC (with native clients for Android and iOS) and can often be overwhelming. The personal edition offers 10 GB storage on an unlimited number of devices for free. It costs 100GB/month.
The basic plan comes with secure mobile editing and PDF annotation. Users can also select public cloud storage locations and get real-time document versioning and backup.
The business plan comes with additional features for collaboration and group user controls for file sharing.
Enterprise Plan offers AD integration and single-sign-on, MDM (mobile device management) integration, remote wipe for any user device.
Syncplicity comes with the ability to sync any folder, granular control over what to include.
It is ideal for sending large files. Users have to make a one-time payment and are simple to use. It does not feature any cloud-based functionality. It is compatible with Linux (FreeBSD) and Network Attached Storage solutions (FreeNAS, Synology etc). It comes with a free version and a paid offering linking all your devices, send and sync features and the ability to add folders. Sync services/subscription services serve the businesses with unlimited devices per user, file-level deduplication, end-to-end encryption, data deduction and server support. Resilio Connect is an enterprise-grade version of Sync Business offering WAN optimization and advanced management capabilities.
It is for those looking for a simple solution backed by Google and a great value for money. It backs, syncs, shares solutions and is particularly helpful for small businesses and personal users. Copy files from your computer, memory cards, and smart-phones to the cloud. All versions of Google Drive – personal, pro, enterprise support documents, spreadsheets, presentations, video and voice conferencing.
Few Other Top File Sync Software In 2022
Freefilesync software compares folders and synchronizes software. It creates a backup of important files. It checks the source and destination folder at the time of backup and only copies the files that are not present in the target folder. It is available for Windows, macOS, OS X and Linux operating systems. The best filing solutions protect data and are easy to manage.
Features of FreeFileSync
To compare multiple files at the same time
To manage file versions
To the main history of updated or deleted files
To copy locked files
To detect any file conflicts
To enable case-sensitive synchronization
To include or exclude files using filters
To include localized interfaces in 30+ languages
DirSync Pro is an open-source file synchronization and backup utility software for Windows, macOS, Linux. It syncs files, across computers and servers. It has a user-friendly interface to add in many synchronization options according to your business needs.
Features of DirSync Pro
It offers one-way and two-way synchronization.
It includes customizable synchronization modes
It can sync unlimited files and folders
Users get to schedule synchronization tasks
It involves filters to exclude/include files/folders while synchronizing
Apart from Windows, macOS, Linux, it works on every modern operating system currently available
It includes advanced logging and reporting facilities
This free and open-source file sync tool is easy to use, leverages enterprise file sharing and cloud storage facilities. It supports Google cloud storage, FTP, WevDev, Dropbox, Azure to store and synchronize files. It allows encrypting files using Cryptometer to secure data on cloud storage/server.
Features of Cyberduck
It enables advanced search, browsing and moving files.
It allows dragging and dropping to and from the browser (upload/download)
It allows browsing large folder structures efficiently
It is a continuous and decentralized file sync tool that does not require any central server. Working on a client-server model, computers store the files in shared folders and push updates and changes in those files to each other using peer-to-peer connections.
Features of Syncthing
It allows synchronizing, storing data with high-end security on your computers.
It works across platforms.
It identifies every node via a cryptographic certificate.
It is a free and open-source file sync software that works as a single point of access to all your data storage.
Features of Pydio Cells
It allows team collaboration from remote locations.
It is built according to business logic.
It can be deployed on servers depending on your requirements.
It enables saving file to the Dropbox folder on your computer. It synchronizes automatically to your mobile device. It comes with a free version and trial.
Features of Dropbox Business
Flexible storage plans
File and version recovery
Team folder manager
Dropbox Transfer
Automated folders
Remote wipe
Link permissions
Smart Sync
Admin console
Dropbox Paper
Third-party app integrations
Live support
It is a collaboration software that runs meetings, manages projects, and coordinates events.
Features of Samepage
Chat
Team pages
Tasks
Calendar
Working with other people (ETMs)
Collaborative Editing
File Sharing
Integrations
In Conclusion: Selecting Free File Sync Software
File syncing is different from backup as both are entirely different processes. File syncing involves the same file to be updated across multiple devices/servers/platforms. It lets teamwork from remote locations. Every time a file is saved on one device, it gets uploaded to a server online. All the systems connected in a network continually check for file updates and download the files whenever an updated version appears.
IDrive, SugarSync, SpiderOak, AppleiCloud are other solutions that offer free online backup and storing and syncing files on cloud storage servers from Amazon AWS, Microsoft Azure, Google Cloud and likewise.
Additionally, Free FileSync is a free and open-source program for synchronizing files. Currently, this project is backed by donations and the donors get a few additional features such as auto-update, portable version, parallel sync and silent installation.
Hope this discussion on File Sync Software will help you in making decisions wisely. Please share your suggestions at [email protected]