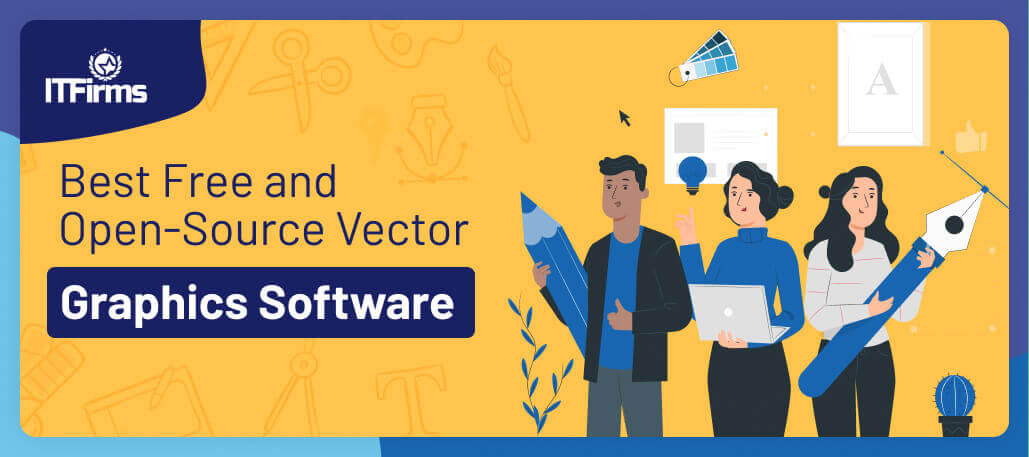 Top Free and Open-Source Vector Graphics Software in 2023
Know more about Vector vs. Raster Graphics Software, why we prefer the Vector model and some applications that are based on this method!
Let's start with what should be preferred raster or vector, and then we will discuss more about what characteristics they feature. Vector-based graphics are flexible and prone to malleability more easily than Raster-based graphics. Thus they are easy to use and flexible. Vector images are scalable and there is no upper limit for sizing them. We are discussing vector graphics software as a current topic here.
What is a Vector Graphics Software?
Vector Graphics make use of points and line paths to create an image in two-dimensional or three-dimensional space. Raster Graphics makes use of a tiny grid of pixels to create digital photographs. It defines points and curves to incorporate geometric formulas for rendering the image elements. Vector objects like lines and shapes, text vectors, vector groups have editable geometric characteristics. Images can be sorted by their File naming extensions and by how they appear: .ai (Adobe Illustrator), .cdr (CorelDRAW), .eps (Encapsulated PostScript Format), .pdf (Portable Document Format) and .svg (Scalable Vector Graphics). Some software that can be used for vector graphics in Illustrator, CorelDRAW, Sketch, Affinity Designer, Inkscape, Adobe Illustrator Draw, DesignEvo and Lunacy.
What is Vector vs. Raster Graphics Software?
Raster Model makes use of cells to represent any drawing while the Vector model makes use of points and line segments to represent any drawing like representing locations on Earth. Raster images are composed of pixels and the subsequent layers display subtle changes in tones and colours. Another example of Raster Data can be a land cover derived from satellite imagery.
What are the similarities between Vector and Raster Graphics Software?
Both Raster and Vector Models are different ways to approach a common solution of presenting designs and ideas in a graphical format. A bitmap image can be called a form of Raster Graphic Model, created from rows of different coloured pixels that together form an image. It is different from the Vector Graphic Model that consists of shapes, lines, curves, text which together make a picture.
What's the difference between Vector and Raster (bitmap) artwork?
When you try doing the same thing with different technologies, it will come up with certain conversions. If designers use CorelDraw to create Vector Art, it gives them the flexibility to reshape and connect control points, nodes, thus allowing users to create artwork. It is very useful to create logo designs, to resolve resolution issues, zoom in and out for any pixel-based tasks. On the other hand, if we try doing the same thing with Raster Model or Bitmap Artwork then we can identify individual pixels upon enlarging the image and thus image looks blurry.
Free Vector Editing Software Advantages
They are instantly scalable in terms of size and the quality
Unrestrained resolution without distortion
They can be flexibly edited and manipulated as desired
The file size is smaller
What is noticeable?
Vector Graphics Images can be converted into Raster Graphics Images, which involves mapping bits directly to a display space which is known as a bitmap sometimes. It is also sometimes known as a geometric file.
Here Is A List Of Some Of The Best Free And Open Source Vector Graphics Software:
This tool is best suited to those who wish to create digital graphics, illustrations, typography for all kinds of media: print, web, interactive, mobile and video.
This tool helps create an online logo with high-quality vector graphics, headings, html5 logos, icons, web site elements, and buttons by hundreds of templates and styles. This cloud-based vector logo designing and painting tool help users create animated logos or avatars using text editor and templates.
CorelDRAW® Graphics Suite is a professional design applications for vector illustration, layout, photo editing, and more – specifically designed for your platform of choice.
It is an open-source and free tool to create 2D vector graphic animations. It features vector tweening, layers and filters, Bones, Advanced Controls. It can work across OS X, Windows and Linux.
It is a vector graphics software that enables users to create, modify blur-free logos, designs on cards and brochures and presentations.
This is a free-fully featured vector graphic design tool that works across all platforms used by professional designers to unlock their creativity.
It is an open-source vector graphics tool for object creation and manipulation, rendering, text support, fills, and stroke functionality.
It is an interactive application to draw vector graphics, runs on GNU/LINUX/UNIX-compatible systems, is a flexible and powerful tool for illustrations, diagrams and other purposes. It is created in Python which is high-level-interpreted language-object-oriented and yet easy to use.
It lets you draw quick sketches, complex plans – giving you the means to communicate with graphics and diagrams. This tool acts as an excellent tool to produce technical drawings, brochures, posters and many other documents. This tool helps manipulate the graphical objects, crop-group them, use 3D animations and more such things.
Awarded with an Apple Design Award in 2015, Affinity Designer brings inspiration to illustration in a strong, sleek tool. Combining vector design and raster finishing naturally in one tool, this innovative illustrator lets your ideas flow. Put simply, its power, speed and precision make creating art feel fun and spontaneous again, while delivering high-end results in both Windows and macOS.
As We Conclude:
This was an illustrative list, many free vector editor software are available like Adobe Photoshop, GIMP, Coreldraw, Blender, Sumo Paint, PaintShop Pro, Autodesk Maya, Autodesk 3ds Max, Modo, ImageMagick, POV-Ray, MeshLab, Art of Illusion, GigaMesh Software, MASSIVE, Adobe Fireworks, Seamless3d, Carrara, CloudCompare, Snapseed, ACDSee, Microsoft Fresh Paint, Clip Studio Paint, FaceGen, digiKam, Photopea, PicPick, G'MIC, GraphicsMag, Piranesi, PC Paintbrush, Windows Photo Gallery, Tgif.
Such free vector graphics software help create highly illustrated images that are editable and can be used effortlessly to create detailed illustrations. Explore more such categories on ITFirms official platform, write us @[email protected] if you want us to add something to the list of best free vector software.