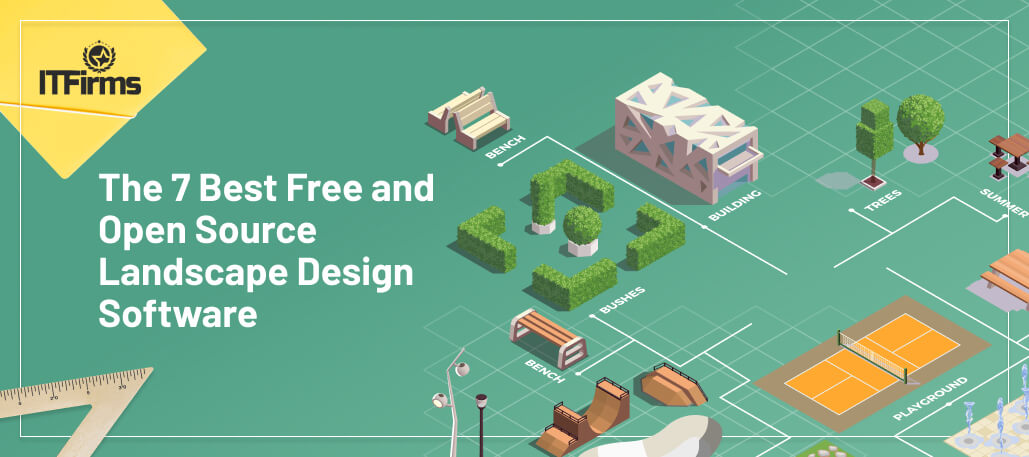 Illustrative List of 7 Best Free and Open Source Landscape Design Software
Landscape Design Software enables digitally editing and adding to the plans to make it more user-friendly and efficient, pick up the best use-cases!
Landscape design software is browser-based tools that facilitate designing an outdoor space such as a backyard, a garden, a driveway or a deck. These are particularly helpful for architects as it is so much easier to design gardens and outdoor spaces than simply struggle with manual wireframes/prototypes.
Why is free landscape design software useful?
It is important to plan the interiors or exteriors before a renovation plan. Best landscaping design software free can help turn ideas into realities by simulating via Virtual and augmented reality on computer screens. This serves two purposes: It streamlines the process of drafting and collaborating on designs and facilitates the accurate representation of outdoor spaces.
Such a software package will help model the location, document the amendments and visually realize the finished product. This will help in time and cost estimation in advance.
Additionally, it is always easy to change what shows on the computer screen and make appropriate changes that you would desire into your real setting. E.g: The placement of the swimming pool, the seating arrangement, the play area, the gym, the lawn etc.
Features of an Ideal Landscape Software
Important features to look out for in a landscape design software tool:
Integrated CAD Tool
Design Appearance
Plant Labels
3D Graphics
House Wizard
Import Digital Photographs
Customized Model Design
Irrigation Designs
Material List and Cost Estimation
Here are Best Examples Of Free Open-Source Landscape Design Software:
It is used for creating simple diagrams and dynamic 3D illustrations. It has layers tools which help you in moving plants around without disturbing other elements like a patio in your landscape design. It is free and customizable, is scalable, can place different objects in different layers (Similar to Photoshop) and contains a huge library of plants, materials, and hardscapes.
ConceptDraw is an open-source landscape design software showcasing your planted area and the compatibility of all the elements within the area. It has a huge library of objects like trees, ponds, bushes, outdoor furniture, patio, gazebo, etc. It can be used to create a unique landscape design as per your requirements. Drag and drop feature can be used to arrange the objects as per preferences. A landscape design created by ConceptDraw can be printed and exported to various formats like HTML, PDF, Powerpoint Presentations, etc. It can easily rotate, flip, move, the objects. Moreover, the grouping of objects is also possible, so you can easily arrange them according to your specifications.
It features 2D and 3D output, Interfaces to AutoCAD and it needs Rhino. It can also be used to create virtual tours and walk through effects generating a better interpretation of the design in front of the clients.
It is best for augmented reality landscaping. This software is easy to use, has augmented reality, is free for home use, currently usable by iOS users only and doesn't export designs. You may walk around with the phone and see what your new garden will look like. It can be upgraded to pro version – specially designed for professionals to promote their services.
It is a user-friendly landscape designing tool used to plant customizations. It is available for both Windows PC and Apple Mac. It has a drag-and-drop interface where objects are selected from a comprehensive library and added to the design just like that. As the placement of plants, furniture and features is complete, the Garden Planner tool will create a selection of notes that includes a list of everything added. It comes with a one-fee of $38 with no subscriptions and no in-app purchases. Site licenses are available with educational deals for up to 500 computers.
This tool features landscaping by numbers. It is simple, works on iOS, android and kindle. It is free, open-source and can have stability issues sometimes. This tool can be used to take pictures of the area you wish to redevelop, making use of the images as a start point, plants, grass, mulch, pavers, furniture etc. currently, this product is funded through in-app purchases, rest of it is free and open for downloads and installs. It just charges for access to the extended library of plants, pavers, etc.
It is the ultimate digital digger, powerful modeller, a massive library of objects and plants, costings and invoicing and large installation. It offers a variety of different professional solutions enabling designers and homeowners to create an accurate model of a house and its surrounding area. The output is stylized and professional. It has an inbuilt Architect, for those that work with CAD, and Pro and Plus that are meant for designers, and a basic tool Photo.
Summary:
The landscape design software saves time, is cost-effective, enhances productivity, improves efficiency, is highly accurate and eliminates wastage of resources. More such free landscape design software includes Kerkythea, SmartDraw, DreamPlan Home Design, Terragen, Vizterra, SketchUp Free, PRO Landscape Home, Showoff.com the Visualizer, Arborgold, Plan-a-Garden, DreamPlan, Marshalls Garden Visualizer and Terragen.
The list we've outlined here includes the best free open source landscape design software. These do not include products that are only free temporarily, such as limited trial versions for new users. They may only support one user or one project, but they're truly free offerings. Scaling, however, will often require full investments.