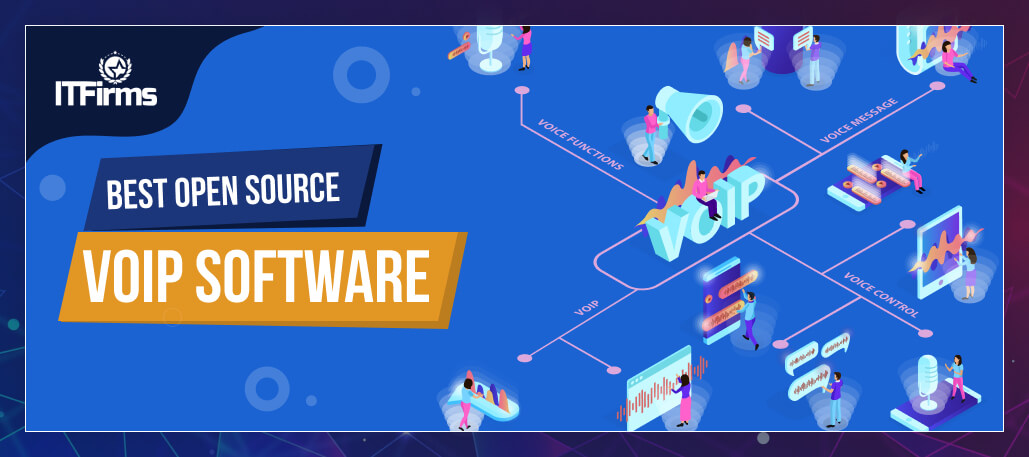 5 Best Free and Open Source VoIP Software
Here's a list of most prevalent VoIP software that are free and open source. This list is illustrative and scalable!
Voice over internet protocol (VoIP) is a technology that enables users to make phone calls via internet routing. It essentially uses data-driven devices like compatible desk phones. VoIP calling apps that are assigned with an IP address can initiate the call from their network. Voice over IP converts voice into a digital signal, compresses it and sends it over the internet. When the "call" connects in-between all the participants – sender and receiver, the digital data is then uncompressed into the sound that users hear through their speakerphone or handset. They are capable of high-definition (HD) phone calls. VoIP software may work across hard-phones and softphones.
According to Packages: VoIP software packages can be categorized into free VoIP phones, free VoIP gatekeepers, VoIP gateways, free VoIP proxies, free VoIP software development libraries and free VoIP PBX.
According to the size of business: The use of VoIP tool help startup businesses in reducing the cost. They often consider PBX or look for services that provide the native mobile application that allows employees to utilize their phones.
According to Pricing Plan: Businesses need to consider the number of employees in their company, the inbound call volume and the requirement for international calling to select the pricing plan.
What do you need to consider?
Users need to consider features, functionality, third-party integration, customer support, security measures, call encryption, services in case of a security issue, pro-activeness about security updates, emergency support services etc.
Do you require phone trees?
Do you need an IVR?
Do you require multiple extensions?
What are your chances of expansion?
What is the availability of mobile apps?
Best Free and Open Source VoIP Software.
This list is comparable to Google Voice – a virtual telephone service that offers voicemail, text and voice messaging, call forwarding and call termination facility for customers having Google Accounts. Google Voice has some limitations – not enabling emergency calls with seven digits, which is why we can use these VOIP alternatives. This tool also has a complicated multimedia messaging feature.
Asterisk telephony solution offers a rich and flexible feature set with PBX functionality, interoperability with traditional standards-based telephony systems and voice over IP systems, large-high end-high cost proprietary PBX's.
Best For: This telephony solution enables businesses to manage activities across public switched telephone networks (PSTN), voice over internet protocol (VoIP) networks etc.
Price: Metered SIP trunking for $0.02/minute and Channelized SIP trunking for $22.95
Main Features of Asterisk
ADSI On-Screen Menu System
Alarm Receiver
Append Message
Authentication
Automated Attendant
Blacklists
Transferring blindly
Call Detail Records
Call Forward (busy)
Call Forward (No Answer)
Call Forward Variable
Monitoring calls
Parking calls
Queuing calls
Recording calls
Call Retrieval
Call Routing (DID & ANI)
Snooping calls
Supervising and transferring calls
Call Waiting
Caller ID
Caller ID Blocking
Caller ID on Call Waiting
Calling Cards
Conference Bridging
Database Store / Retrieve
Integrating database
Dial by Name
Direct Inward System Access
Distinctive Ring
Distributed Universal Number Discovery (DUNDi™)
Do Not Disturb
E911
ENUM
Fax Transmit and Receive
Flexible Extension Logic
Interactive Directory Listing
Interactive Voice Response (IVR)
Local and Remote Call Agents
Setting Macros
Music On Hold
Music On Transfer with Flexible Mp3-based System
Random or Linear Play
Volume Control
Privacy
Open Settlement Protocol (OSP)
Paging overhead
Protocol Conversion
Remote Call Pickup
Remote Office Support
Roaming Extensions
Route by Caller ID
Short messages
Spell / Say
Streaming Hold Music
Detecting a conversation
Text-to-Speech (via Festival), Three-way Calling
Time and Date
Transcoding
Trunking
VoIP Gateways
Voicemail with Visual Indicator for Message Waiting
Stutter Dial-tone for Message Waiting
Voicemail to email
Web Voicemail Interface
Voicemail Groups
SipXcom is one of the best VoIP software for communication that provides a highly available SIP routing core integrated with the communications services suite. It is based on SIP open architecture, utilizes native SIP protocols, and is highly scalable and perfect for mid-large enterprise environments.
Best For: Augmenting existing PBX, supports endpoints, clients, gateways, SBCs, network services and applications.
Price: A public cloud installation for demo and testing comes for $20/month. And domain comes for $1/annum.
Main Features of SipXcom
Call Parking
SIP Trunking
Interactive Voice Response
Voice Quality Enhancement
Voice Mail (Vmail)
Conferencing standalone
It is an open-source instant messaging, voice-video over IP phone to communicate over the internet via voice, video and text messaging. It is available for Chrome, Edge, Firefox and Safari browsers. It is a high-level open-source library that integrates all the SIP voice/video and instant messaging features into every single easy-to-use API.
Best For: Interoperability with most PBX's and SIP servers as it follows open standards from the telecommunications industry (SIP, RTP) that includes its Flexisip server and is used with any SIP VoIP operator.
Price: Pricing is available on request. Support is available via phone, email and documentation.
Main Features of Linphone
HD audio and video calls
Integration with iOS/Android push notifications systems
Audio conferences and advanced calling features
Instant messaging (IM)
group chat and file sharing
Account creation and remote configuration (via QR code or URL)
Secure communications with end-to-end encryption
Fully SIP-based, for all calls
presence and IM features
secure user authentication
call setup with SHA-256 digest authentication or TLS client certificates
voice & video calls based on ZRTP or SRTP-DTLS end-to-end encryption protocols
Using AES 128-bit or 256-bit key length and safe Elliptic Curves Diffie-Hellman (ECDH) X25519 and X448
It also features secure IM and group chat (mobile only) with Linphone Instant Messaging Encryption (LIME)
using modern ciphering curve X448 and double ratchet algorithm for perfect forward secrecy. It comes with End-to-end encryption for audio and video calls
Audio/Video packets encryption using AES 128-bit and 256-bit key length
State-of-the-art ciphering key exchange with ZRTP
Short Authentication String (SAS) to prevent Man-in-the-middle attacks
WebRTC-compatible end-to-end encryption with SRTP-DTLS, Security Second button, forward secrecy with double ratchet algorithm
modern ciphering based on elliptic curves 448 and 25515
man-in-the-middle detection based on ZRTP auxiliary secret and asynchronous messaging system based on pre-positioned keys.
Jitsi is a free and open-source multiplatform voice and video conferencing solution for the web, Windows, Linux, macOS, Android, iOS.
Best For: Security, scalability, ease of use, customization, rich feature set and everyday use
Price: Jitsi rates 5/5 on ease of use, value for money, customer support and functionality. Price is available upon request.
Main Features of Jitsi
Jitsi Meet screen sharing functionality allows team members to share external applications with co-workers, facilitating quick collaboration, password-protected virtual rooms, and locker rooms to restrict late attendees from joining sessions.
The telephony module enables inviting participants to join meetings via audio phone calls.
The picture-in-picture (PIP) mode enables team members to make use of multiple applications simultaneously.
Jitsi Video bridge shares video and audio calls amongst all participants.
It comes up with better quality, lower latency, scalable and inexpensive solutions.
It is compatible with WebRTC and is an open standard for web communication.
It lines up with advanced video routing support for the simulcast, bandwidth estimations, scalable video coding and more.
Further, it goes up with Ubuntu and Debian packages for easy installation.
Skype is one of the most used open-source VoIP software. It specializes in providing video and voice calls between mobile devices, computers, Xbox one console, smart-watches over the internet. It offers instant messaging services, transmits text, video, images and audio.
Best For: It is for instant messaging, group video conferencing, video chat, file sharing, group chat, screen sharing and make free video and voice one-to-one and group calls.
Price: Skype is usually free. But users may use it to call someone's cell phone or landline in the US. The monthly subscription starts at $2.99/month.
Main Features of Skype
Voicemail
Video calling
Screen sharing
Call recording
Live subtitles
Instant messaging
SMS text messaging
To check chat history
Private conversations
Use Skype to call-phones
Video calling for 100 people
Wireless hotspot network access
To initiate calls between Skype and landline / mobile phone numbers
Skype Premium for unlimited calls across continents and live customer care support
Towards The End: How to select the best VoIP software?
Users can best use the VoIP software for messaging, automated video support, call recording, caller ID, conferencing, call transfer, on-hold music and file/screen sharing. This list can include many more VOIP software and include SolarWinds VoIP & Network Quality Manager, CloudTalk, 3CX Windows VoIP Phone, ZoiPer, 8*8, Skype, TeamSpeak, SiPMobileTwinkle and Viber. These are equally prevalent across demographics.