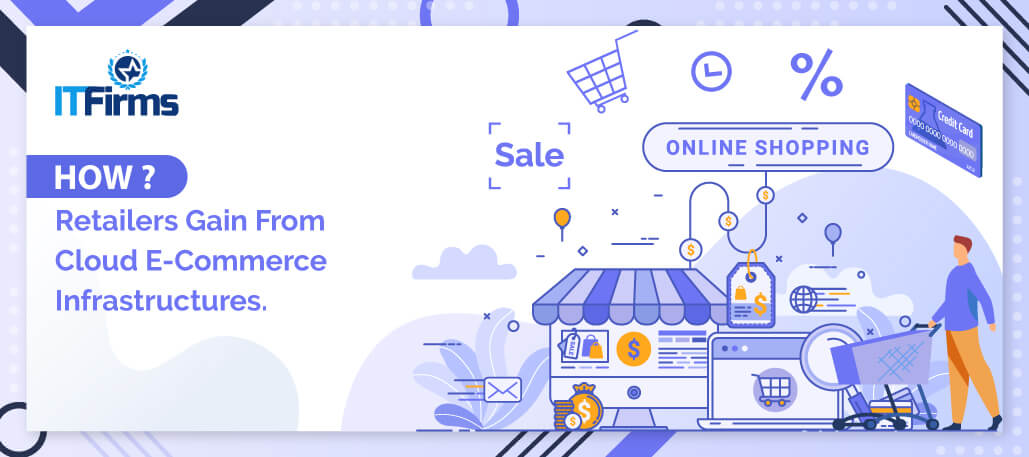 How Retailers Gain From Cloud E-Commerce Infrastructures?
Get a line on Cloud Computing In E-Commerce – how these intertwine, the purpose it solves and why organizations have a reason to adopt it!
How often do we feel the urge to window shop and buy the same item online for the lure to get that additional discount and save a bit on the maximum retail price (MRP)? And when was the last time that you picked something from the store shelf but kept it back, making a mental note to buy it online later? Did you recently switch your shopping pattern to satiate the craving for convenience – cost-saving – flexible timezones?
We often perceive online shopping as a rewarding pursuit as it is eclipsing the retail stores for multiple reasons. It creates a massive opportunity for the retailers to mark their online presence and drive sales and growth.
How These Intertwine: As E-Commerce Trespasses In Cloud Computing
This intrusion of e-commerce cloud services leads to a total win-win for both the beneficiaries. A business that aims to grow and scale seeks modern computing technologies which save time, resources and cost. Let's understand it in detail.
Cloud computing affects e-learning, healthcare, e-commerce and many such industries. Cloud computing connects systems in private and public networks to provide dynamically scalable applications, file storage infrastructure and data.
Cloud Computing: Cloud Business Process Services (BPaaS), Cloud application infrastructure services (PaaS), Cloud application services (SaaS), cloud management and security services, Cloud system infrastructure services.
Businesses forego the need to have a dedicated IT infrastructure to conduct their business. They get the desired flexibility to sell products online without having to rent out an office space explicitly.
The Purpose It Resolves: What drives an organization's investment in cloud computing?
Cloud computing reduces the cost of processing, hosting software, storing information and distribution. We deliver services over the internet with cloud computing. E-commerce or internet trade is the purchase and sale of goods or services on the internet plus the transfer of money and data to execute such transactions. Some drivers to an organization's growth:
Global: Cloud computing allows clients to use computational resources, services and storage transparently. E-commerce enables consumers to buy services or products about anywhere.
Cost-Effective: Cloud computing for e-commerce helps businesses reduce the costs of hardware procurement, security, privacy, energy and maintenance.
Best Security Practices: By adhering to security standards and best practices, businesses resort to storing data in the cloud for e-commerce applications.
Scalability: Scaling the application scope based on client demand like increasing the computation power, activating the server, reallocating the loads due to demand evolution on the cloud.
Accessibility: Cloud e-commerce infrastructure enables customers to access products and services on the move 24*7.
Expansion: Cloud computing allows e-commerce to expand globally (including operations specific to countries)
Cloud e-commerce applications offer high efficiency, low-cost online services resulting in a high economic value. It satisfies customers and makes businesses gain a competitive advantage. It drives efficiency, saves cost through improved inventory planning and assortment via big data analytics, data backups, email storage, development of web applications, virtual desktops, disaster recovery and software development and testing.
In The Closing: Why organizations have a reason to adopt it?
Businesses do have a chance to reduce their upfront expenses by placing a part or whole data into the cloud. But they need to check slow page loading during high demand. They can reinvest their savings to provide added value services to their clients. Highly reliable networks and the internet have an impact on the team's productivity. And as cloud services are available 24*7, cloud computing companies get enormous flexibility to conduct their work.