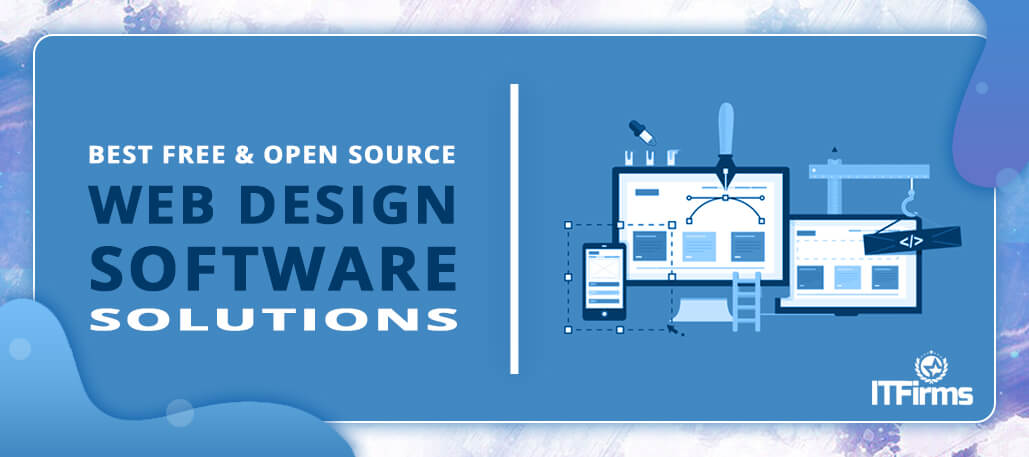 Best Free and Open Source Web Design Software Solutions
We're emphasizing the nuances of web design solutions!
The effectiveness of a design combines basic principles like contrast, repetition, alignment and proximity. But these are never standard. These are customized according to the specific requirement. This article illustrates a brief overview of the basic principles, the features and the best free and open-source web design software solutions!
Web Design Principles
A website is designed and developed with a belief and purpose. It fulfills the need to communicate, needs to justify the business, must be optimized, carries a typeface, has colours, images, effective navigation, an effective layout, "F" pattern design, must take less time to load, and should be mobile friendly.
Web Design Elements
A design combines various elements – size, shape, contrast, line, thickness, type, pattern repetition, motif illustration, fonts, textures, graphic concepts and spatial relationship.
Additionally, Drag-and-drop, Templates, Element libraries, Syntax Highlighting, Auto-completion, Plugins and Integrations, Cross-platform support, Collaborative editing, Content Management and Language support.
Interactive Design: A website needs to have a simple design with an interactive user interface. A user-friendly website needs to be mobile compatible, accessible to all users, must have a well-informed information architecture, well-formatted content, easy to scan content, fast load time, browser consistency, effective navigation, advanced search, custom 404 pages, good internal linking, informative header and footer, various ways to explore content.
Valid Markups: Websites should adhere to design best practices and have clean code and valid markup. A contrasting colour scheme makes the content readable and an effective overall appearance.
The Usable Form: The business forms should be usable, allowing users to interact with the site, and very essential to generate leads. It involves making use of correct labels for all fields, following best design practices, having a minimum number of fields, offering tooltip and suggestions, displaying an on-screen message on completion and making use of correct validation.
Web Design Challenges
Download SVGPerfect for when you want to use just one icon as a vector on the desktop or in your own icon workflow.
Web design applications often pose some challenges:
Creating something new
Changing colours and themes
Copying a complicated layout
Designing and coding a site using new tools
Trying new methodologies
Refining an old design
Applying UX design principles to your SEO
The new design software is built to croak such challenges, and this can be laid-off to the scope of upcoming web design software solutions.
Best Open Source Web Design Software
An effective website needs to be user-friendly. It is mobile compatible, accessible to all users, well-planned information architecture, well-formatted content that is easy to scan, have fast load times, is browser consistent, has effective navigation, and handles errors effectively. Here are examples of the best open source web design software:
GIMP is a free, open-source software to design websites. It is user-friendly and contains tips and tricks for beginners. It makes it easy to produce alterations and revisions that the image requires.
Features of GIMP
Useful to design the best website
File handling
Animation
Advanced Manipulation
Extensible
Tile-based memory management
It is a free and open-source source code editor useful for front-end developers. It features hot reloading to view live changes.
Features of Brackets
Live HTML development
CSS hinting
Extracts design information from a PSD file for the convenience of coding in CSS
openElements is a free and open-source authoring program to design web applications. Professionals use it to write necessary codes, functions, displays. It is lightweight, has built-in functions, ready to use elements, graphics that maximizes productivity. It supports HTML5, CSS3, jQuery and responsive design. It is compatible with XP, Windows 7, Windows 8, Vista. It is completely free to use.
Features of openElement
Intuitive Interface
Customizing Tools
Managed Code
Page Layers
HTML5 and CSS3
Cross-Browser Compatibility
Multilingual Websites
SEO
Web Design
Customizable CSS
Free Plan
WYSIWYG Interface
Dedicated How-to Page
Elements
Adobe Dreamweaver software uses HTML, XML, CSS, JavaScript. It provides a WYSIWYG interface. It is the defacto software solution for website design. It offers a free trial.
Features of Adobe Dreamweaver
Integrated CMS Support.
Intelligent Coding Assistance
Comprehensive CSS Support
Developer Workspace
Multi-Monitor (Windows Only)
Starter Templates
Code Collapsing
Code Themes
Code Introspection
HiDPI (Windows Only)
Syntax Highlighting
Mobirise builder comes with some free and premium HTML themes, templates, sliders, galleries, articles, countdowns, counters, full-screen intros, images, videos, data tables, features, pricing tables, progress bar and cycles, tabs, accordions and timelines. It also provides 4000+ website blocks in free and premium HTML themes.
Features of Mobirise
No Coding Mobile Friendly
Unique Styles
Mobile Friendly
Unique Styles
Unlimited Sites
It is built upon HTML5, CSS3, and JavaScript. It is a free design tool that translates your design into clean semantic code that is ready to publish to the web. This software is W3c compliant, does not bring in messy code inline classes. It comes with drag-and-drop site builders. It allows exporting HTML, CSS and images in a handy ZIP file.
Features of Webflow
It is good for beginners in web design
Allows building with raw ingredients – drag and drop
with sliders, tabs, background videos etc.
Create reusable symbols like navbars, footers, signup forms
Manage element structure
Create reusable CSS classes
Design responsive websites
Edit and update site content right on the page
Define your content structure, and design with real data
Build website interactions and animations visually
Hosting
This design tool offers a free 30-day trial. It allows dragging and dropping elements onto the design canvas to create beautiful custom websites down to the last pixel. It provides content management. It is good to design responsive websites.
Features of Webydo
Design without code
Suggest new features
Report bugs
Create pixel-perfect responsive websites with unique custom design – launch responsive websites
Designs are similar to Photoshop
Designs are SEO Friendly
Central Dashboard
White Label Branding
Client Billing
Custom software development companies use Google Web Designer (GWD) as one of the responsive web design service programs to create interactive HTML5 website. This free web design software is easy to learn and use for beginners. It creates cross-screen compatible content, design and builds HTML5 advertisements using an integrated visual and code interface.
Features of Google Web Designer
Fluid Layout
Event System
3D Authoring Environment
HTML with Pages
Publish Directly to DoubleClick Studios
Integration With Google Drive
BYOC (Build Your Own Component)
Animation Modes
In Conclusion: Which web design software should you choose?
Web design tools discussed here are free and open-source. These offer layout, colour, monochrome, complementary and typography as primary features. These focus on the fine arts, research different designs before use, keeps the design simple and intuitive, bring in the best UI/UX design experience, and make the best web designers understand the user interface (UI) basics. We hope this list helps. We use both free and paid versions. Let us know if you want web design services or wish to create a web design software solution.
Hope this discussion on Web Design software will help you in making decisions wisely. Please share your suggestions at [email protected]