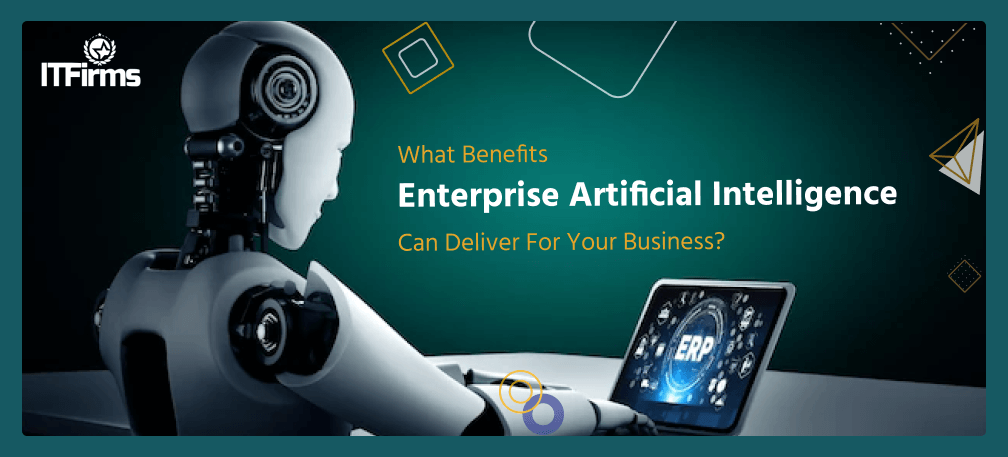 What Benefits Enterprise Artificial Intelligence Can Deliver For Your Business?
"Do you also wish to use the outstanding capabilities of enterprise artificial intelligence for your business? If so, then this blog will provide you with everything you need to know."
How often do you unlock your smartphone using the face recognition feature? It can detect your face and even identify the blinking of your eyes, but how quickly does it do this? Within a zeptosecond, correct?
Have you ever wondered how the face recognition feature got this accuracy? AI, or artificial intelligence, is the technology behind face recognition, which makes it accurate.
Do you also wish to use the outstanding capabilities of enterprise artificial intelligence for your business? If so, then this blog will be of great assistance to you.
Here in this blog, we will highlight the benefit of using enterprise AI for your business. But before that, let us make you familiar with enterprise artificial intelligence.
What Do You Mean by Enterprise Artificial Intelligence?
Enterprise AI refers to software solutions that bring intelligence to data collection and analysis processes in order to redefine the way businesses operate.
In layman's terms, AI is the use of software technologies to create a system that can think like a human. It automates processes and improves the quality of work machines can deliver.
Let's understand enterprise AI with an example:
Whenever you visit an eCommerce website or other website, you see a pop-up of a chatbot. Using a chatbot, customers can share their queries, and the chatbot by analyzing the data from all sources of the businesses and providing them with resolutions without human intervention.
Why Does Your Business Need Enterprise Artificial Intelligence?
The Markets and Markets report estimates that the global enterprise AI market was valued at USD 845.4 million in 2017 and will grow at a CAGR of 48.7% to USD 6,1414.5 million in 2022.
More and more businesses are identifying the need for enterprise artificial intelligence solutions. If you are also among them, then learning the following benefits of enterprise artificial intelligence will help you to make a more informed decision about whether you should invest in it or not:
Automation of Repetitive Tasks
Running a business is not an easy task to do. There are a variety of things that need to be taken care of such as customer support, finance, marketing, administration, etc. This task consumes most of the time, therefore it is best to have a solution that can automate repetitive tasks.
AI for business can allow you to do so. Artificial intelligence can automate repetitive tasks too without any human interventions. By doing so, the business owners have more time to focus on important tasks.
Personalized Customer Experience
Business success is heavily dependent on how satisfied customers the company can manage to make. One of the best ways to do so is by building a personalized customer experience by tracking the customer queries and concerns.
AI can track and analyze customer shopping patterns & behavior and automatically recommends the best product to the customers that will attract them most.
Cost Reduction and Profit Enhancement
As said, AI has the capabilities to bring automation to business processes and AI reduces the need for human employees. As a result of this business, expenses will be reduced, but operations will continue, as usual, resulting in better revenues.
When AI is integrated with smart sensors, it can even forecast the business machines' maintenance needs, resulting in extended machine lifespan.
Improved Cybersecurity
What is the biggest threat to a business? For most of us, it is cyber attacks.
According to a report published in the Purplesec, on average every enterprise experiences nearly 130 cyberattacks every year in the USA. In the wake of an increasing number of cyberattacks, it is a must for enterprises to adopt the best practices to safeguard businesses from cyberattacks.
Artificial intelligence is one of the best solutions to keep your business security at the top. It can detect the sign of a cyberattacker and put an alert for security engineers to take strong actions to unsuccessful those attacks.
Generate Business Insights
Data plays an important role in the success of the business. However, it is useless if you don't have any knowledge of how to use the data. AI has great capabilities when it comes to dealing with data. It can collect business data from multiple sources and analyze the data to lead businesses to make more informed decisions.
Reduces the Risk of Failure and Downtime
No matter which business you belong to, be it healthcare, retail, baking or any other AI is the perfect choice to mitigate the risk and downtime of the business.
Thanks to predictive maintenance, enhanced protection from cyberattacks, and increasing business operational efficiencies reduce the risk of failures and business downtime.
Identifying Market Trends
The market is changing at a rapid pace these days. As a result, businesses that want to compete in a highly volatile market must keep upgrading themselves to keep up with market trends.
AI (Artificial Intelligence) is helping businesses to stay informed about the latest market trends. Businesses can adopt these trends to increase the customer retention rate and ensure a successful business that never fails to impress its customers.
Turn Data into Actionable Information
Business requires a lot of data including the customer's shopping patterns, customer age group, and a variety of other information to make decisions.
Enterprise artificial intelligence collects the data from multiple sources and presents it to the business in a human-readable format. By evaluating this information businesses make smart-decision to make sure their services cater to their customers in the best way.
Improved Business Operations Visibility
Companies that adopted artificial intelligence in their business have better control over their business processes. AI offers them better visibility over their business data and helps businesses with what's going on in the organization.
If something happens that is beyond the business standards, then AI will immediately put an alert so suitable actions can be taken to ensure effective business operations.
Let's Propel Your Business to Success With Enterprise Artificial Intelligence
As corporate needs and technological advancements change, enterprises are increasingly integrating enterprise artificial intelligence into their operations to gain competitive advantages and better efficiency in business operations.
If you are also considering benefiting from artificial intelligence, but are unsure how you can do so, then the best thing you can do is hire an AI development company.
AI development companies have extensive experience in developing AI solutions. They can develop a solution following your business needs. Having a customized AI solution will make sure your business best benefits from AI.
However, there are an overwhelming number of enterprise artificial intelligence development companies in the world. In the wake of this, it is a tough decision to choose one that can generate the best results for you.
If you are also driven by a similar challenge, then you can consider checking out ITfirm's list of the top artificial intelligence companies. After thorough research, ITfirms presented a list of the best companies that leverage expertise in artificial intelligence technology and propel your business to success.
Frequently Asked Questions
Which industries can benefit from enterprise artificial intelligence?
Almost all industries can make use of AI technology to bring intelligence to their business process. Below we have mentioned a few of the industries as an example that can make use of AI:
Healthcare
Manufacturing
Retail
Transportation & logistics
Finance
Marketing
Education
Human Resource
Supply Chain Management
What is the most common use case of enterprise AI?
Enterprise AI can be used for the following purposes:
Automate customer support services
The better way to generate leads
Automate data analysis
Improve the employee experience
Detect the cyberattacks earlier before they make an impact on business operations.