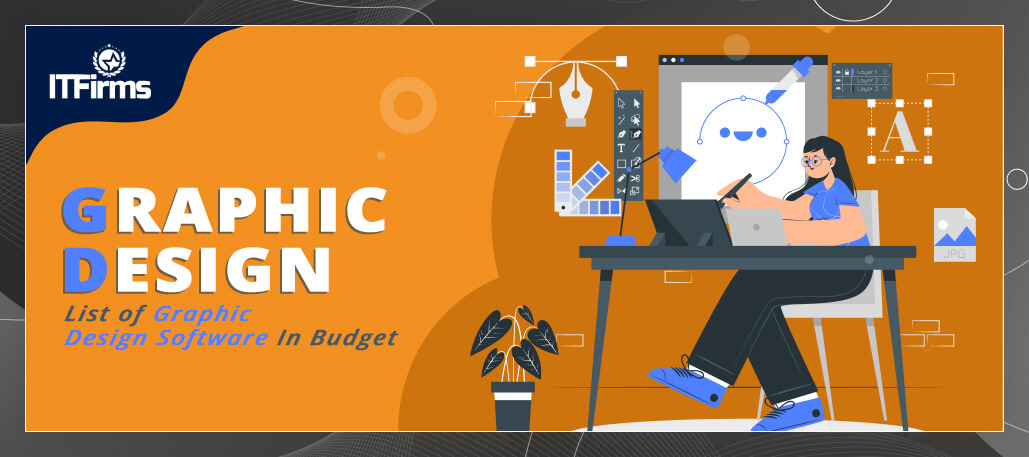 Best Graphic Design Software In Budget
An illustrative list of best graphic designing tools by ITFirms!
Image editing, logo designing, social media content creation, video making, all these and many factors become prominent if you wish to promote your content online. We're illustrating a few graphic design applications for a low budget. These applications are available on your browsers. Plus, these are easy to access. We're linking them down for easy access.
Here are examples of the Best Graphics Design Software:
Adobe Photoshop offers a variety of design tools for both mobile apps and the web. It actively synchronizes with Adobe Creative Cloud with unique features like Content-Aware Crop, Face-Aware Liquify, Artboards, the Design Space view, synced libraries, a glyph panel, Cloud Documents, touch, and stylus input support, among others. It is accessible at $29.99/month.
Features of Adobe Photoshop
It comes with one of the most customizable user interfaces.
It offers Graphics and Web, Motion, 3D, Painting, and Photography.
The designer is also used to create your custom layout of panels and windows.
Adobe offers Photoshop with a Creative Cloud subscription.
It is a free and open-source graphic design software. It should be installed on a powerful machine to run smoothly.
Features of GIMP
It is easy to use, has an interactive user interface.
It comes with a rich set of typography and drawing tools.
It brings in 3D design capabilities, photo management with Adobe Creative Cloud.
It enables file transfer.
It comes with multiple design tools and responsive graphics.
It can edit animation and video layers.
Users can define the canvas, work in 3D, create custom brushes, and isolate elements from backgrounds.
The recurring payments are costly as users require to renew the license every time.
It offers support for raster and vector images like SVG files.
The sketch is a vector-scan graphics design tool applicable for mobile and websites. A one-year subscription costs $99/year.
Features of Sketch
The yearly subscription is significantly lower than other subscriptions.
It comes with the snap to grid, snap to pixel, half-pixel functionalities.
It leverages imperfect alignment. These perfections ensure perfect responsive design/multiple screen sizes and resolutions.
It has a library of art-board templates for iOS devices and responsive web design layouts.
It has custom plugins for specific tasks and robust community support.
It features easy sharing and collaboration through the cloud.
Mirror the designs on larger devices for a team to view.
Export Group/layer into PNG.
Android icons, iOS icons, Mac icons.
Sketch auto-saves designs.
The learning curve is not steep.
It does not have automatic layout flowing options.
Illustration capabilities often hamper intricate illustration work.
Adobe Illustrator is suitable for illustrative artwork, corporate logos, page layouts and website mockups. It offers a monthly subscription of US$9.99 for personal use and US$9.99 for enterprise use.
Features of Adobe Illustrator
Multiple preset layouts make it highly customizable.
It leverages drag-and-drop features.
The in-panel editing feature edits multiple artboards for efficiency.
Compatible with numerous devices
A highly accessible and customizable user interface that offers custom viewing and space-saving features
It generates graphics based on mathematical equations instead of stored pixels.
Users get to access over 90 million images, graphics, videos and templates from Adobe stock.
Adobe font integration selects and implements the most suitable font for the project.
It integrates Adobe products.
It created small-sized graphic files which are easily shareable.
The size of adobe illustrator is large.
It is costlier than vector-based graphic design tools.
Designers need to learn it before use.
Affinity Designer is used for quick design in budget and is faster than Adobe Illustrator. It is available at USD 49.99 (one-time cost).
Features of Affinity Designer
It features a grid system to create isometric video game graphics and icons, acquire complete control over gutters, angles, subdivisions and spacing for accurate layouts.
Zoom enables designers with precision and accuracy.
The snapping option allows designers to lock and position objects, elements depending upon grids, guides, shapes and object nodes.
Affinity Designer works in pixel art environments and vector art environments.
It allows laying objects and designs with accurate measurements and alignment via dynamic on-screen guides.
Rope and window stabilizers create vector illustrations like smooth and accurate curves
The boolean operation combines shapes and edits some parts
Offers a wide selection of colours to enhance designs
iPad app acts as a powerful desktop application
One project is applicable for multiple artboards
Files do not export in AI
No natural perspective grid
No vector eraser in designer persona
It comes with lesser tools than Adobe Illustrator
Adobe InDesign is useful for business publishing. It designs magazines, brochures, info sheets while exporting them easily to PDF or HTML. It is available at a monthly subscription of $20.00. The complete Creative Cloud costs $52.99/month.
Features of Adobe InDesign
Adobe InDesign is easy to learn and use. It allows quickly combining text and graphics to achieve the best results.
Adjust layout feature changes the text of the template and adjusts the design automatically. It is conducive to create infographics.
Sensei technology ensures automatic resizing and arrangement of images.
Adobe InCopy is used to share text, colours and graphics.
It enables streamlining and optimization of files.
Add tags to indexes, keywords, footnotes, anchor text frames, table of contents, hyperlinks and captions.
It supports HTML exporting, clean code and website layout designs for WordPress sites.
It eliminates redundant DIV tags along with insignificant content grouping.
Resizes multiple objects
Adobe InDesign is an industry-standard for desktop publishing.
It suits enterprise use only.
Its PDF comment integration requires tweaks.
It offers a highly accessible interface and easy to use interface. It is Corel's online digital library that enables registered users to get access to thousands of high-resolution photographs and digital images. It offers more than 2000 vehicle templates, thousands of fonts, more professionally designed templates, gradients, new machine-learned effects, interactive frames, vectors and bitmap files. CorelDraw is available for a 15-day free trial. A full version is available for $249 for one year and $499 for one time charge with a 30-day money-back guarantee.
Features of CorelDraw Graphics Suite
It has three payment programs with nominal charges for regular upgrades.
Upgrade program for existing users.
Customizable UI for desktop, icon sizing, toolboxes, a window border colour scheme and options to open documents
It designs macros that suit the workflow.
Pointilizer offers variable parameters, not limited to regular dots.
Works without any lag with surface pen
GPU acceleration over the default CPU while working with system-intensive vector graphics
The transition from desktop to mobile/tablet mode is smooth, leveraging touch features.
Offers best EPS and Third-party PDF importing capabilities, leveraging GPL Ghostscript features
Export files in up to 48 file types with AutoCAD, PNG, JPG, JPG, TIFF and SVG. It can also open PowerPoint files and old freehand files.
It is not as easy for beginners.
New In 2020 – Game-changing collaboration tools
New In 2020 – Cutting-edge typography
New In 2020 – Next-level trace results
New In 2020 – Impressive AI-powered image solutions
New In 2020 – Serious performance gains
Inkscape is used to create scalable graphic designs which do not blur during resizing. It is user-friendly and a decent option for those looking to create vector drawings. It is an open-source platform, free to use.
Features of Inkscape
Large community support
Regular updates
Impressive user experience
Free of cost
Open-source code
Create individual text lines without frames along with paragraph type
It supports multiple gradients.
It equips Bezier handles to ensure the effortless movement of nodes.
It has well-designed and full-featured tools to create, edit and convert vectors.
It can be downloaded and to create ready-made plugins.
Preset categories of filters save time and effort.
Mac version requires revisions.
Xara comes with advanced design elements and is extensively used for web and print design solutions to edit photos, create illustrations and design web pages. It comes at a yearly subscription of $299.
Features of Xara Designer Pro X
Its direct action tool offers robust features.
The stable functionalities are suitable for general purposes.
The drag and drop feature allows faster execution.
It is one of the fastest vector rendering engines.
Xara designer pro comes with editing options which include solid dragging, scaling and object rotating to achieve the best results.
Anti-aliasing, improving quality of on-screen images, softening edges of objects.
Saves data in the cloud; edits, view and update documents through a web browser on any computer or tablet.
Zoom tool enlarges an image by 25,601% for a closer look.
Files get synced with Dropbox and Google Drive.
It supports various file formats like JPEG, PNG, BMP, GIF, PSD, TIFF and allows the import of photos such as JPEG XR or RAW.
It can import and export Adobe PSD files with layer support, 16-bit colour, alpha channel and CMYK layer conversion.
It is available for Windows only.
Designers require to learn all available features for efficient utilization.
It features masking.
Observance: Selecting the Best Graphic Design Software
We have illustrated the best, prevalent free & paid graphic design software. This list is extensible with more similar and performant Graphic Design Tools (paid and free) like Adobe Comp, Vectr, Colorcinch, Canva, PixTeller, Design Wizard, Infinite Design, Gravit Designer Visme. We hope this listing helps in business decisions, saving cost, time and cheering your clients!
Hope this discussion on Graphic Design software will help you in making decisions wisely. Please share your suggestions at [email protected]