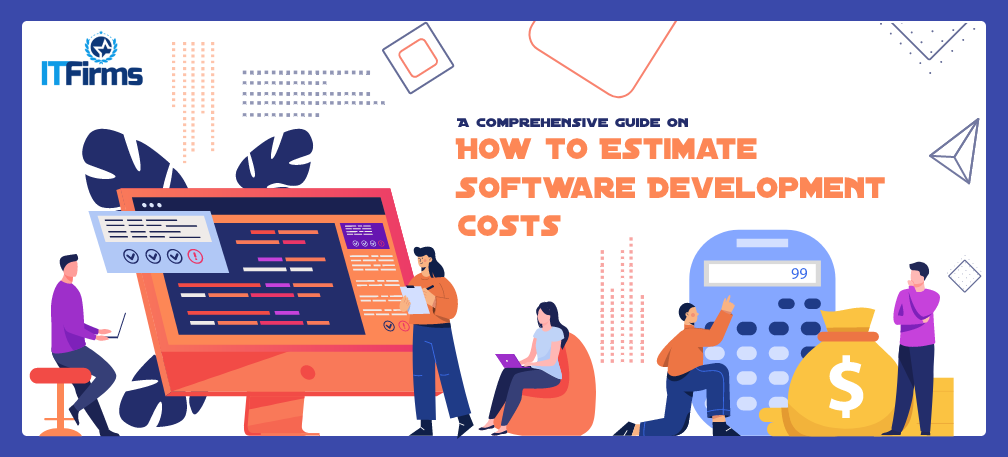 A Comprehensive Guide on How to Estimate Software Development Costs
"Want to learn about software development costs? Here we will walk you through the different key cost factors that play a vital role in determining the cost."
As an entrepreneur who wants to develop software, estimating software development costs is challenging.
For a business, a detailed understanding of software development costs is a must before starting, so that you don't run into financial crises and can manage your finances effectively.
This blog is the right place if a similar challenge drives you, too.
There are several factors involved in determining the cost, rather than simply guessing the development cost.
Here we will walk through the different cost factors involved in determining the development cost.
So, let's get started.
How to Estimate Software Development Costs?
The cost of developing the software varies from one project to another since two projects cannot share similar requirements. Let's see what factors software development companies measure to determine the cost:
Type of Software Project
This is one of the foremost things that play an important role in determining the cost.
For example, if you're going to build software from scratch that matches your business requirements and includes all the features that you want to build. Custom software development from scratch is required to spend a huge amount of money as everything starting from UI/UX design needs to be built from scratch.
If you want to make some modifications to your existing software to ensure its compatibility with the market trends. In this case, the cost of the development will be lower and the project development duration will also be lessened.
Another thing is that if you want to integrate third-party API or any other custom functionality into your software then the cost of the development will be much lower.
As discussed above, each software development project differs in terms of the work and team composition required.
Size of the Project
Another vital factor that affects the costs of software development is the size of the project. As a general rule, the complex project will require more budget to implement it.
As a general rule, the cost of software development can be categorized into the following 4 categories:
Small Size Projects
Kinds of software that require only minor changes or can be done within a matter of a week or two usually fall under this category.
The most common example of small-size projects is fixing the bugs in the existing project by applying some modifications in the UI/UX design of the software.
Mid-Size Projects
Here the level of the project complexity is intense. This type of project is driven by well-defined deliverables.
Mid-size projects may require time between 1 to 3 months to accomplish the task.
The best example of a mid-size project is designing the UI/UX from scratch or developing simple software with no advanced level of functionality.
Large-Size Projects?
As the name suggests, the large-size development process is more complex and requires the assistance of software developers who have in-depth knowledge.
Projects that require the implementation of multiple features, third-party APIs, creating a broad database, or keeping security & scalability in focus usually fall under this category. In addition to that, multi-platform software development projects are also considered large-size projects. The average timeframe to complete large-scale projects is somewhere between 6 months to 1 year.
Enterprise Size Projects
This is one of the most complex types of projects. The primary purpose of the enterprise software project is to bring automation to the business process and boost business efficiencies.
The implementation of the ERP software can be termed an enterprise-size project. This type of software typically requires time somewhere between 1 year to 2 years. The cost of developing such a type of software is highly expensive as it requires the development of multiple modules catering to varied business operations.
UI/UX Design
The importance of the user interface and user design is incomparable. Poor UI/UX design can lead to a loss of user interest, therefore a significant amount of investment needs to be made to create a highly visually appealing design.
Development
Software development can be categorized into two parts i.e frontend and backend. Both frontend and backend development should be taken care of precisely to make sure your software is capable of making an effect on your customers.
Depending on the severity of the project the cost of the development varies.
Testing and Quality Assurance
Once the development of the software is accomplished, how will you determine the quality of the software? Testing and quality assurance is the process of determining the quality of the software on multiple factors. It is a must to test every component of the software to make sure your software delivers the results that are much needed.
Other Factors that Affect the Cost of Software Development
Besides the above-mentioned factors, there are also some other factors that you should consider in order to make the right estimation of the development cost. Let's see what those other factors are:
Software Development Company Location
This might come as a surprise to you. But in reality, the cost of software development is greatly influenced by the location of the developers.
For instance, if you opt to hire software developers from the USA, then you might have to pay around $100-$150 per hour.
In the case of a small project, where software development will take approximately 10 hours, you will need to pay developers on average $1000.
Meanwhile, if you opt for Indian software developers, then you have to pay around $25-$40 per hour. In other words, a similar project in which you will have to spend about $1000 can be completed between $250 and $400.
Therefore, in order to reduce the development cost, it is a strategic thought to pay attention to the developer's location.
Experience of Software Developers
Depending on the experience, developers' cost varies. The junior level of developers is a good source of lower costs, whereas the middle and senior levels of developers are more expensive. Therefore, by considering the level of proficiency required to complete your project, you need to choose software developers.
Hiring Model
There are different types of hiring options available to you i.e. in-house developers, freelancers, or offshore developers.
In-house developers refer to the developers who work in your office. In this way, you have to hire developers with the right skills and need to make a significant investment in setting up office space and making arrangements for software & hardware.
If hiring in-house developers seems expensive or not possible, then you can opt to work with freelancers. This is one of the most cost-effective ways of hiring developers where you have access to remote developers who will work on your project. However, this is always a matter of contradiction. While hiring freelance developers you have no control over the way they work and there is no assurance regarding on-time delivery.
If both in-house and freelance developers won't work for you, then the best option available to you is to work with offshore developers. Offshore developers are very much similar to in-house developers. The only difference is that they work remotely and set you free from the cost of infrastructure setup and software & hardware.
Related Topic: What is the cost to build and host an eCommerce website?
Final Take
Costs associated with software development are one of the major concerns. The above-discussed factors are taken care of while estimating the costs of software development. These factors are mainly used by software development companies to estimate development costs.
You can successfully implement the project without breaking the bank by understanding the development cost and managing your budget accordingly.
Frequently Asked Questions
1. How can you reduce software development costs?
Why is software development expensive? If this is what concerns you, then follow the steps mentioned below:
Be clear about your project requirement
Keep the software functionality minimized
Choose the developers wise not only location-wise but skill-wise also
Opt for offshore developers rather than in-house developers
2. What are pre-development and post-development costs?
In software development, pre-development costs refer to the costs you have to bear before you start developing the actual software. An example of the pre-development cost involves market research, defining the target audience, validating ideas, and so on. Post-development costs are referred to as the cost you have to bear after the deployment of the product such as maintenance, upgradation cost, and so on.