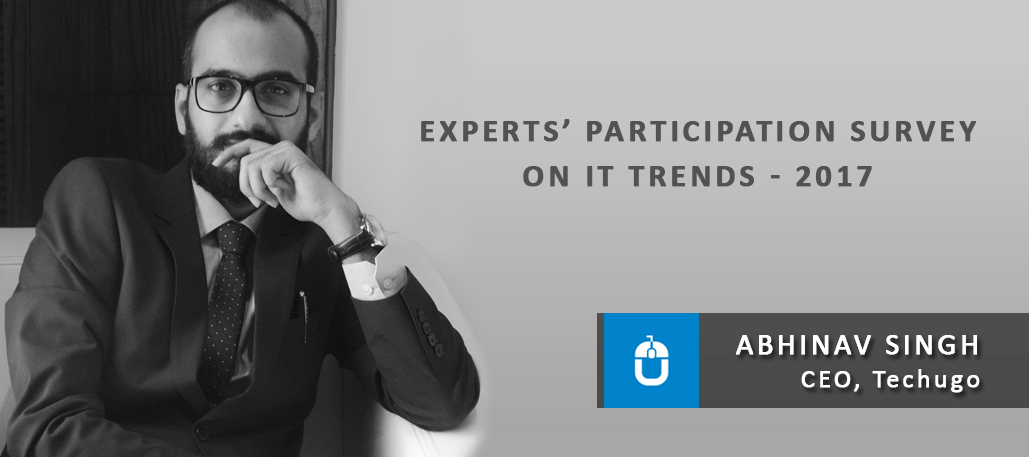 Interview with Abhinav Singh – CEO, Techugo
Few lines about Abhinav Singh – CEO of Techugo
I have been in this business for past 10 years, I joined Techugo in June 2015 and now we are 120+ people. We have a big team and are listed on various portals as Top App Development Company. We have a scaled business of US$ 2.4 M. My primary role is brand enhancement, creating the brand value and client relationship. Along with that I look after the sales pipeline and related activities.
1. Give us a brief introduction about your company.
Techugo, as the name suggests, is all about the Technology infused with the innovation, our each of the team member is a tech-geek with the latest innovative ideas and concepts. Formed in 2015, with a mission to make an impact in the budding mobile world Techugo has helped successful brands such as Airtel, BJP, Style Match, Prozata and create meaningful experiences for our customers in a very short span of just 12 months and today we are close to complete our two successful years.
In a very short duration we have earned the trust and respect of a wide range of organizations from fast-moving startups to already established brands by providing them the solution for their business needs through our services. We are ranked as one of the fastest growing mobile app development company.
The management team includes; Sumer Mathur as Founder, Abhinav Singh as CEO and Preeti Singh as CTO of the company who were also  the founder of one of the largest mobile app development company in India which later got acquired by a multinational in a multimillion dollar deal which became talk of the town and was covered by leading print and digital media.
Today Techugo's base has grown from 3 to over 120+ developers and with a close to complete our 2nd anniversary, we have a Headquarter in Virginia, USA and offshore development center in Noida, India and we are acknowledged as one of the North India's largest Mobile App Development Hubs. Our team provides business strategy, application design, and development services to customers that seek to build or expand businesses using the latest mobile technologies. We offer end-to-end solutions for iOS, Android, Blackberry and Windows responsive web and mobile applications, supported by robust server infrastructure. 
2. What are the services you offer to your clients?
We offer end-to-end solutions for iOS, Android, Blackberry and Windows responsive web and mobile applications, supported by robust server infrastructure. We provide business strategy, application design, and development services to customers that seek to build or expand businesses using the latest mobile technologies.
3. In this intensely competitive era, what technologies, services and project model can give you an edge over your competitors? 
Techugo works only on one philosophy of "Honesty Infused within the Passion towards the work". Techugo, is a group of innovators, and specialized experts who accomplice with our customers to take care of business issues and meet substantial goals. We spree profoundly into our client's business to comprehend their business segment, their target and their business threats. We take client's idea and apply our experience in order to reach their project's objectives. We understand financial constraints, so we keep the project on budget and meet the deadlines. Also, we don't stop at developing the app, we are committed to a fruitful dispatch in the application stores, marketing and analytics thereafter.
Our philosophy for the business is , we never work for the client but we work WITH the client. Once we initiate the project, client becomes an integral part of our team, and can suggest and share his opinions about the ongoing project, without any hassle. Along with this we have a separate team of 4 to 5 people who are only into feedbacks and reviews. We have a separate team, which interacts with clients apart from the development team. They take client feedback on regular basis and we work towards incorporating all those feedback on a regular day to day work so that clients don't feel that we are adamant to only one thing.
We do not deal with outsourcing. We have everything in-house: designing, development, deployment, and testing. 
4. After service is a necessary part of development. How do you provide customer support to your client? 
After launching the application, we provide the free support of 4 months to our clients. In this period we resolve all the bugs (if any) reported on App Store or Play store or by the application users.  With every major bug fix we update the application on the stores as well. 
5. Give your opinions on how far this app revolution can make a difference in the technology world? 
The app revolution is going to creating and will embark a positive change in the technology world, because due to mobile apps, now businesses from across the globe has got a platform to reach their potential customers at any place in the world, in no time. In other words, the mobile apps have shrunk the world to an axis point where everything is accessible from anywhere in the world, with just a tap on the Smartphone's screen. 
6. What latest technologies and tools you're planning to implement for mobile app development?
For Android and iOS development we  have strong command in Java, Swift, Objective C and      some      knowledge of HTML, CSS, C, C++. For database management,  knowledge of SQL or any database language. For IDE's we use Xcode for IOS and Android Studio for Android applications.
7. What's your approach to creating interactive and addictive UX/UI of mobile apps and websites?
We use tools like Zeplin and Invision, these are the best prototyping tools available. 
8. What are the challenges you see in the outsourcing industry and how much you're prepared to face those challenges?
Major challenge we see is keeping up with the market and the customer needs. 
9. Mention the ways you use to introduce new updates to your team.
New updates are all about enhancing the existing feature or replacing some feature with the better     one. For the developers it is extremely important that they know what is updated and why it's       updated. For the developers it's important to know which of their app e features might not be      supported by the latest versions.
10. Nearly 70% users engage in wearable tech. What's your step to enter into this revolution?
Currently we are working on few wearable projects. One being Google Glass and other is the Watch. We do have the expertise for the wearable.
11. Examine the success and failures that your developers are facing while wearable app development?
Wearable apps come with many challenges like its purpose, UI, platform compatibility, battery life. 
12. There's a boom in native apps for wearable devices, what's your move to this technology?
Undeniably robotics and wearable are trending in market and we are getting good leads on wearable technology. We are already in the process of developing wearable computing and applications such as smart glasses, smart watches etc and very soon these applications will go live on their respective stores.
13. Define your future prospective and vision regarding new technologies like wearable and IoT apps?
We are already working on the IOT App and Virtual Reality. Wearable apps we will start soon. VR is the future of mobile application development in next 2-3 years.  
14. What is your go-to market scheme at a global level?
The current era demands of robotic and wearable technology, and we have the required expertise in these genres and we are glad to announce that we have been approached for some of the most prominent robotic and wearable tech projects from some of the top brands across the globe. 
15. Mention the name of some of your successful projects?
For this I would like to name the app 'StyleMatch, since it is world's first fully interactive fashion styling and shopping App, which features more than 6000 brands and has a huge database with no clustered look. Our client brought a unique concept of being big, bold and different in online fashion, he wanted to make the fashion easily accessible to customers but with a curve line of contentment on their lips. He wanted to create a website and a mobile app with a never-before- tried concept; Virtual Change Room', which would support the consumers to TRY-ON items to see how they look before making a purchase. Our team of designers unfolded the epic saga of imagination into their coding structure while keeping the client's requirement into the top consideration. The provided database was modified to make the app and website compatible and convenient. App and website were developed to support the hosting of the client's concept of "Virtual Change Room". Our team made it possible for the users to digitize their closet, create outfits, shop and share with friends, which brought the on-paper concept into seeing is believing feature through the app and the website. Our designers re-developed the app for version II. The second generation was a major overhaul in terms of functionality, features, supported iOS, and user interface design.
The Style Match App and website has garnered the maximum user's attention and today this brand is a leading fashion brand in Australia.  It is also the world's first fully interactive fashion styling and shopping App, with a vision is to become the world's biggest fashion community – a place where customers can search, shop, swap, sell and interact with all things fashion related anytime, anywhere. The app is performing better than the previous build, and there have been zero bugs since launching. The app was developed and released within tight deadlines, helping the client reach out to the consumers in a fashionable manner.

  Techugo
  www.techugo.com
  [email protected]