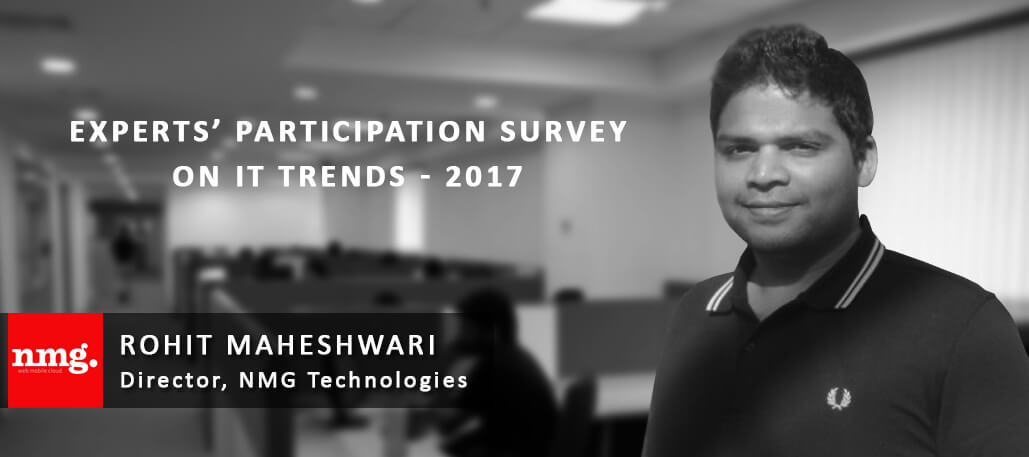 Interview with Rohit Maheshwari – Director, NMG Technologies
Few lines about the Director of  NMG Technologies
Rohit is MSc. in Business Systems Analysis and Design from City University London with working experience of 12 years with Tech Start-ups and Brands such as 20th Century Fox, New Line Cinema, Play Station Personal and more. Rohit founded NMG Technologies with a London based sales office and a production unit in India back in 2008.
1. Give us a brief introduction about your company.
We are India's Top Web & Mobile Application Development Company providing services to clients across the globe. NMG Technologies has worked with more than 500+ clients from Startups, SMB and Fortune 500 companies for last 8 years. Our US office is in Boulder, CO and a production office in New Delhi India with 100+ in-house team.
Our core expertise:
Mobile Application Development (IOS & Android)
Web Application Development (PHP, .NET)
Ecommerce Development (Magento, Custom)
2. What are the services you offer to your clients?
Our detailed service description:
WEB APPLICATION DEVELOPMENT
UI/UX Design
PHP Development
NET Development
WordPress Development
Magento Development
Custom E-Commerce Development
MOBILE APPLICATION DEVELOPMENT
iPhone Application Development
iPad Application Development
Android Application Development
Enterprise Mobility
3. In this intensely competitive era, what technologies, services and project model can give you an edge over your competitors? 
We Offer:
Full Cycle Development Services: We provide end to end web& mobile application development services that span from consulting, wire-framing, UI Design, Development and Maintenance
Flexible Development Model: Our Agile Development model suits all Startups and Growing Businesses. We can help you select the best solution for your project
Strong Process: NMG provides streamlined and flexible processes and methodologies that can be customized based on your business requirements and industry specifications
Skilled Team: NMG has an in house team of experienced, focused and skilled work force that is managed by a dedicated project manager and assigned account manager
Affordable Development: NMG builds low maintenance, high performance web applications using latest development tools and technologies to build impressive online solutions.
Quality & Security: We use a huge range of testing tools to ensure that your final product goes to launch free from errors. All applications are produced according to strict security guidelines and best practices
4. After service is a necessary part of development. How do you provide customer support to your client? 
30 days of ongoing maintenance work for free
Scheduled Maintenance & Software Roadmap for further development, enhancement or maintenance of the application
5. Give your opinions on how far this app revolution can make a difference in the technology world? 
Applications help solve real world problems and simplify business processes. This is what the future needs. Apps make the world a flat world defying the politics of non-globalization currently trending across US.
6. What latest technologies and tools you're planning to implement for mobile app development?
We build Native mobile apps for both IOS and Android Platforms
7. What's your approach to creating interactive and addictive UX/UI of mobile apps and websites?
NMG creates a visual, motion and interactive design experience across platforms and devices. We design result driven mobile app interfaces that portray a visual language for users, synthesizing the classic principles of good design with technology. Our designs are optimized for cross-device use and offer an experience that is immediately accessible. We create design interfaces with CSS, JavaScript, and HTML constructing mobile apps that are attractive, consistent, and functional.
8. What are the challenges you see in the outsourcing industry and how much you're prepared to face those challenges?
Non-globalization is the threat the world faces right not in not just the outsourcing industries but all industries.
Giving quality work at affordable rates is what our approach to pass through the barriers.
9. Mention the ways you use to introduce new updates to your team.
Team meeting to introduce the update/technology
Select developers to be certified for the latest technology
Roll out updates in phases
Appoint a manager to oversee all weekly/daily tasks are moving ahead
Test and make amendments in operations and sales divisions
10. Nearly 70% users engage in wearable tech. What's your step to enter into this revolution?
We built iOS app for all interfaces and devices to create wearable iOS apps catering to verticals such as health & fitness, chat applications, security and many more. Our experts develop cutting-edge wearable interfaces for next-gen users who are passionate about technology. NMG is constantly evolving technological expertise for various smart watches, glasses or fit-bands and upcoming devices.
11. Examine the success and failures that your developers are facing while wearable app development?
Keeping yourself updated with latest devices is a challenge
These apps are easy to build with minimal and focused feature sets
12. There's a boom in native apps for wearable devices, what's your move to this technology?
Native is the way to go for mobile development, we always believe this.
13. Define your future prospective and vision regarding new technologies like wearable and IoT apps?
We extend our client's reach of Android Apps to the physical world by using the power of "THE INTERNET OF THINGS" where we build one app to manage all devices in your home or work environment leveraging Google platforms – Brillo and Weave.
We use Android to create best user experience with IoT that works reliably, making complex tasks come to reality.
14. What is your go-to market scheme at a global level?
Result Driven Application development with consultation throughout the customer journey
15. Mention the name of some of your successful projects?
Music bed, Adaptive Professionals, Arthur Jewelers, VIP Concierge, EdeskHub and many more..
  NMG Technologies
  http://nmgtechnologies.com
  [email protected]