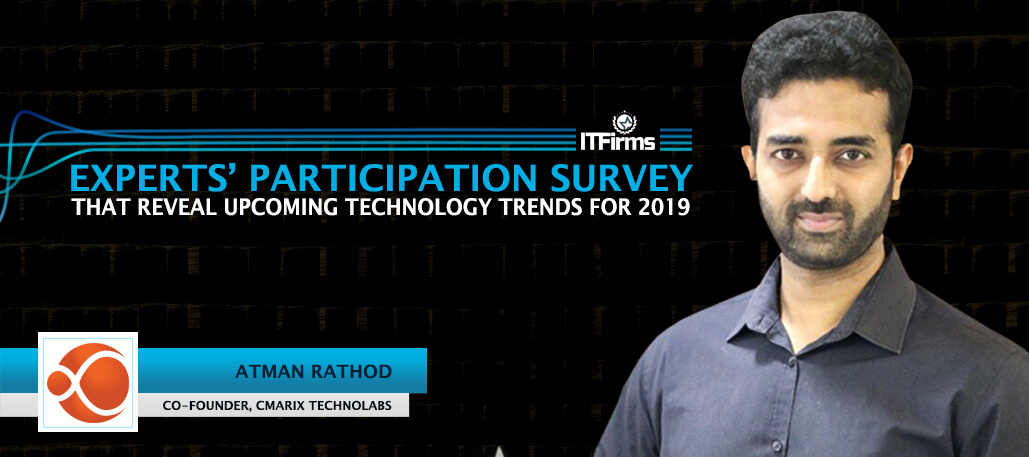 Interview with Atman Rathod – Co-Founder, CMARIX TechnoLabs Pvt. Ltd.
Atman Rathod – Co-Founder, CMARIX TechnoLabs Pvt. Ltd., presents his views on upcoming technology trends for 2019 as part of ITFirms's Expert Participation Survey.
1. Tell us in brief about your company and the leadership.
CMARIX TechnoLabs commenced its journey in 2009, with the aim to transform technology services to global client based with empowered employees and result centric execution.
CMARIX is now a pioneer in custom web platforms, mobile app and enterprise software development with rich experience in diverse technologies and short-listed among Best Software Companies of Gujarat at Vibrant 2018. We are ISO 9001:2015, ISO 27001 as well as CMMi level 3 in progress company. We have inhouse team of Magento certified experts as well as Microsoft Certified Solution Developers (MCSDs)
Atman Rathod is now renowned in the industry for his energetic leadership, optimistic approach, solution-oriented thinking and a charm for business growth. He has created a dynamic career as a business growth catalyst, technologist, entrepreneur and the best project leader. With his 13+ years of experience in web and app development businesses, his planning from roadmap to mobility has successfully delivered outstanding digital solution to 46+ global countries around the world. Lead by passion and executed by intellect is his core working methodology.
2. How would you describe your growth trajectory in 2018? Any particular achievement? Any disappointment?
The year that started with winning awards like CIO Company of the year, shortlisting for Best Software Company Of Gujarat 2018 continued to owe success by clinching & accomplishing projects for 100 Fortune companies. Our successful & landmark web and mobile solutions are Glitty (that ranked No 1 in Spain), COUCHSHOPR, Comvio and more. We have advanced our work portfolio in latest technologies like ReactJs, Vuejs, NodeJs and Ionic that endowed us to complete few nifty projects. Moreover, our strength i.e. our employee numbers turned from 80 to 120+.
3. Please describe the operational structure of your company- from the moment a client walks in, to the product deployment.
When a client walks in with an idea, we start by signing in the NDA for the matter of idea disclosure. We follow a WHY, WHAT & HOW approach outlined as follows:
WHY: This is most important step for any software development project. Our goal is to understand the WHY behind the business or technology needs of our customer. We put ourselves in our customer's shoes & understand the pain which drives this change or the benefit which can be involved in their business process. This comes from customer to us as to WHY there is a need for this web or mobile app.
WHAT: This is detailed definition of WHAT needs to be done. It's a mutual communication between client and our team to discuss, define, brianstorm and detail the exact scope of work. Herein both parties are actively involved to ensure that the vision is transformed and detailed into technical specifications.
HOW: This is pure execution. Once WHAT is defined, than our team takes complete ownership of the work and executes a turnkey solution which includes design, development, testing, deployment ongoing maintenance and support. We also provide post deployment warranty and support the work for life time maintenance.
4. What engagement models do you offer? How should a client choose?
We offer Hire Dedicated Developer & Fixed cost Business models.
For smaller projects fixed cost business model is good. For larger projects or working with agencies when work is required across multiple projects than Hire Dedicated developer or team is purely SCRUM centric execution. Almost 70% of our business is Hire Dedicated Developer since we provide a full monthly cycle (as compared to only 160 hours a month by other vendors) along with a technical project lead without any additional charges.
We also provide Global Delivery Model, whereby we have local Project Management in countries like United States, United Kingdom, Germany as well as Bahrain and entire development takes place in India.
5. What do you as a leader prioritizes – vertical expansion of your business or the horizontal expansion of your expertise and services? How do you balance both?
We always aim to grow vertically while filling all the horizontal gaps. As a leader, I ensure our team learns about new technologies and methods rather than staying limited to mainstream habits. As this endeavor not only scales the growth of company but takes the career of team at another level. Other than this, existing processes are made better by adding new solutions and tools for better productivity.
In simple terms, if we don't adopt any future trend we would leave the current growth in jeopardy.
6. What is your outlook for 2019?
Exciting! The future can't be thought without automation. The new technologies like IoT, AI, Blockchain, AR and more have emerged and are ready to fill the software solutions with wonders of automation. We have started working with these technologies, but I will ensure that our team has been implementing enterprise grade solutions for latest technology to add immense values to our customers.
7. Any particular technology or industry you would be targeting? How do you plan to prepare your workforce for the upcoming technology upgrade?
Focusing on one technology will limit our vision. But yes, with the emerging new technologies, we would love to synchronize each of these technologies to make the existing solution better and unique. For instance, using AI or Blockchain in existing services of .NET or mobile technology will provide clients a competent product. Moreover, if we talk about adoption of new technologies in past, we are the early adopters of Angular in Western India. We are one of those few companies in India, who have worked upon enhanced face detection video system based on caffe libraries of MIT.
Today we train our workforce by involving 15% of our manpower in R&D to know and learn the best ways of conducting the development process.
8. With technologies like React and Node that can be used for both web applications and mobile apps, how do you envision the development methodology to be in the future?
Technologies will evolve with the time and the need for hybrid app development will increase. However, I don't believe Native development will be in jeopardy. As native development comes with outstanding custom app development solutions, which will be a forever trend for businesses.
At the same time there are some great scenarios wherein React and Node together becomes a very powerful technology stack.
9. Other than technical expertise, what traits you believe are essential for any app development firm to succeed in this rapidly evolving industry?
Creativity, Common sense and Quality are most important when it comes to adding a success element to our client's concept. Our focus as a company is not just to deliver a mobile app as a programming unit but to provide a technology solution which acts as a catalyst to client's business and has far reaching effect. We help our customers in design, development, testing, deployment & ongoing maintenance for the App. We also consult them in competitor analysis, marketing recommendations & things like "how to be #1 on App Store".
10. How do you assess the role of research agencies like ITFirms in bridging the gap between clients and service providers?
ITfirms excellently helps you to establish your brand presence and help the client to choose the best outsourcing web development firm on basis of professional advice and industry ranking.
CMARIX TechnoLabs Pvt. Ltd.
www.cmarix.com
[email protected]