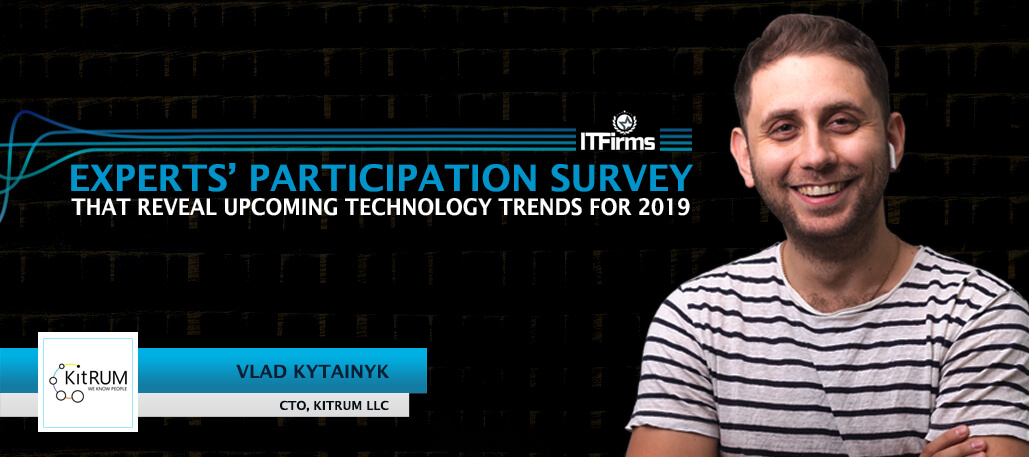 Interview with Vlad Kytainyk – CTO, KitRUM LLC
ITFirms conducted an exclusive Interview with Vlad Kytainyk – CTO, KitRUM LLC under Experts' Participation Survey That Reveal Upcoming Technology Trends for 2019
1. Tell us in brief about your company and the leadership.
We believe it's all about the people. The right people.
Since 2014, we've been helping CxOs of technology companies worldwide to gain access to the most talented software engineers from Ukraine and Poland, building software solutions for large enterprises, new ventures, and NGOs in the most risk-proof and cost-effective ways possible.
2. How would you describe your growth trajectory in 2018? Any particular achievement? Any disappointment?
Growth doesn't happen all at once. We had to plan for it and be ready to take any opportunities when they happen. That's why in 2018 we abandoned some unprofitable projects that we owned, and focused on providing top-level services to our clients in B2B sphere (enterprise software development). The most in demand services in 2018 were expanding a client's existing software development team by adding outsourced architects and programmers, and custom software development as well. Among the most in demand programming technologies were Python, Java and C++. The year was rough, but in the end, our hardwork paid off, so can't say about any disappointment.
3. Please describe the operational structure of your company- from the moment a client walks in, to the product deployment.
First, our sales and marketing team works with the client to make sure we meet each their expectations. Then, our legal department does all the paperwork and signs the contract. After that, our Delivery and Operations Managers get into business. They learn all the client's needs as much as they can, "scan" throughout the entire business model to find out what software solutions would save the day. Next, the implementation team is gathered by our professional HR and Recruitment department. Usually it consists of Software Architect (or a project lead, a full-stack guy) and a few programmers, experts in certain technologies. Finally, Quality Assurance team checks out a product or service that is provided, and the product is deployed.
4. What engagement models do you offer? How should a client choose?
During the onboarding stage, the only engagement is to learn all about the client's business and come up with fresh and savvy solutions for his business problems. As far as the maintenance and retentions stages go, we offer lifetime support. Every client can ask us about a project that we have completed in the past, and we will provide him with all details. For our frequent clients, we provide such engagement models as discounts and provide some services as a favor. Also, we love to travel and we invite our best clients to travel with us to interesting destinations and organize small incentive events there. Recently, we've been with our clients to Barcelona, Thailand and Florida.
5. What do you as a leader prioritizes – vertical expansion of your business or the horizontal expansion of your expertise and services? How do you balance both?
We are a super flexible team of software development professionals who work from different locations all over the world. That's why we tend more to horizontal expansion of our expertise. However, our CEO, CTO and administrative personnel ensure the strength of the management vertical as well.
6. What is your outlook for 2019?
There are many predictions and expectations published on the internet by top software experts. We would like to underscore ours: IT industry will grow up to 8% in 2019. It's growth will be propelled by huge demand in such spheres as artificial intelligence, IoT, blockchain, healthcare, finance and cybersecurity. Year 2019 will also be a year of huge growth of global outsourcing market. We think that it will grow 3-5% this year. Business owners will prefer outsourcing software developers from Eastern Europe and Ukraine.
7. Any particular technology or industry you would be targeting? How do you plan to prepare your workforce for the upcoming technology upgrade?
We are targeting online services in B2B sphere, we also have promising negotiations with clients in Healthcare and Financial spheres. As for technologies, the most in demand this year would have to be Python. It's used in enterprise software development, data mining and machine learning. We always try to motivate our workforce to develop their skills in the most demanded spheres of software development, that's why we offer free trainings and a good internal employee motivation and engagement program.
8. With technologies like React and Node that can be used for both web applications and mobile apps, how do you envision the development methodology to be in the future?
Yes, it's true; more and more companies integrate React and Node into their projects. These technologies are complex and require good skills and certain time spending. That's why we highly value and, of course, implement such software development methodologies as agile and scrum. They help to build software in a smart way. Also, a big piece of the pie lies in outsourcing nearshore React and Node experts.
9. Other than technical expertise, what traits you believe are essential for any app development firm to succeed in this rapidly evolving industry?
The most important thing (other than technical expertise), in our opinion, is management. Many companies suffer from a lack of it, and we try our best to outsmart them. By "management," we mean not only the management of staff everyday, but also such valuable resource as time. That's why agile and scrum techniques are important to us.
10. How do you assess the role of research agencies like ITFirms in bridging the gap between clients and service providers?
We highly value the market data that is collected by research agencies. Our CEO, CTO and Marketing Manager start their week reading and sharing new valuable articles and whitepapers with the rest of the company. Also, we have monthly team meetings and internal video conferences where we broadcast a presentation with current trends to everyone. It helps us to keep tabs with the industry. We want to thank IT Firms for the awesome job you do every day!
  KitRUM LLC
  kitrum.com
  [email protected]