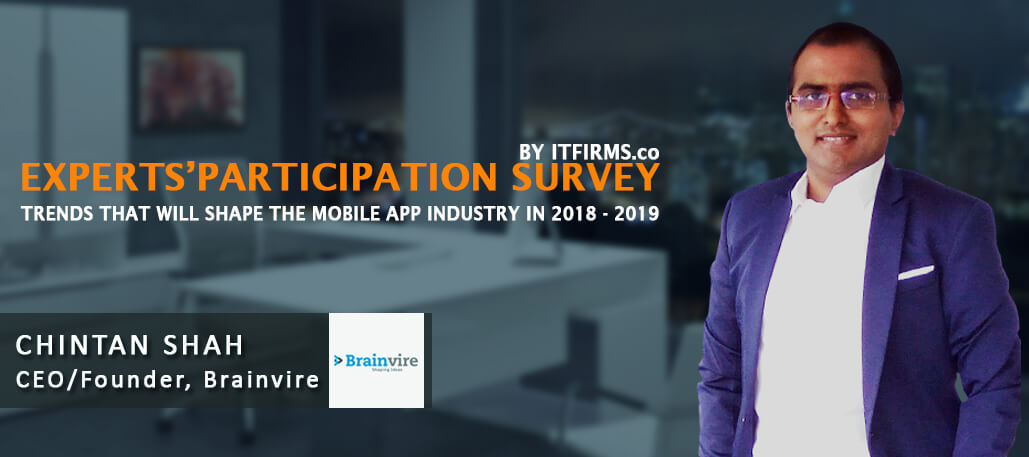 Interview with Chintan Shah – CEO/Founder, Brainvire
Experts' Participation Survey – Trends That Will Shape The Mobile App Industry In 2018 – 2019
Few lines about Chintan Shah – CEO/Founder of Brainvire
Envisioning how digital transformation could widen the horizons of the IT industry, Mr. Chintan Shah ideated and laid the foundation of Brainvire back in 2000. Thereafter, he successfully established four different companies out of which two were acquired by domain leaders.
As the CEO and Founder of Brainvire, he constantly strives to set an example in the IT industry when it comes to curating innovation-driven solutions for his clients in the past 18+ years of existence. A skillful and strategic decision-maker that he is, Brainvire has stood the test of time and crossed commendable milestones under his leadership.
He also plays an active role as a partner in Accely Solutions that has marked its presence in the SAP domain.
'Don't follow digital trends rather start them' is his thought process, that has enabled Brainvire to scale the ladder of success in a short span of time!
1. Tell us about your company in brief.
Our company, Brainvire Infotech Inc., has been in the spotlight for quite a while now due to our persevered efforts in digital transformation. We have been, and are growing technically and have established a global presence since the past 18+ years of our inception. Since then, having a customer-centric approach has been one of our core values and is also the reason for tasting success in this ever-competitive IT arena.
We started with small offices in Mumbai and Ahmedabad, and gradually established our presence across the globe; recently we set up our operational hotspot in Canada.
As far as our achievements are concerned, we have crossed the 1500 mark in web projects and additionally completed 550 mobile projects till date, successfully!
2. How do you describe your mobile app development team in terms of experience and expertise?
We have the privilege of being the pioneers in mobile app development, ever since the technology first saw the light of the day. Our competent team boasts of individuals with 10+ years of experience which, cumulatively, is a total of 1000+ years of experience.
The new disruptive technologies like Blockchain and Gesture Mechanism fascinate our developers who then come up with apps that take the market by storm!
With our own framework, we provide our clients with fully optimised hybrid mobile apps and have delivered many such instances till date. And most of these apps have been trending on the top spots in app stores and also attracted a massive number of downloads as well.
3. How would you drive your team to meet technology demands of 2018 – 2019?
I believe in keeping the team motivated to embrace innovation and offering them a conducive work environment that encourages learning by means of internal trainings and exclusive hackathons. Also, we push the best of our employees to attend various international conferences that will help them to stay updated with the latest trends and happenings in their technological niche.
4. How do you help your clients in choosing the right yet profitable platform for app development?
Brainvire has a team of expert consultants for overlooking all the major platforms that we currently deal with. So, when a client approaches us, we provide them with a detailed assessment regarding the pros and cons of the preferred platforms for the said project, followed by a brainstorming session.
We work with platforms like native iOS (Objective C/Swift), native Android (Java/Kotlin), Xamarin, Ionic, React Native, to name only a few.
5. What all services do you think you would add to your offerings in 2018 – 2019?
We are planning to introduce Progressive Web Apps (PWA), Robotic Process Automation (RPA), Intelligence on Machine Learning and personalised industry consultations.
6. How are you going to differ in processing solutions and applying methods in the coming future?
In this volatile industry, being different is the key to march towards success. From a technological perspective, we'll be using more reusable codes, open-source libraries and offer customised industry-specific services.
7. How do you scheme your pricing model? How do you fix your budget?
The modern-age customers take both, quality and pricing, into consideration before picking the best from the lot. We follow a fixed-cost pricing model along with resource-based contracts, depending on the nature and need of the project, and also have our Outsource Development Centres (ODCs) to provide quality solutions at competitive prices.
8. Define your future prospective and vision regarding new technologies like Artificial Intelligence, Chatbots, IoT apps, Augmented Reality apps and Virtual Reality apps?
The technologies that you just mentioned indeed hold a bright future in store for the generations to come. So, with this firm belief, we have integrated multiple solutions with these technologies and have also achieved good success in terms of customer conversions and popularity.
9. What are your favorite industry verticals for 2018 – 2019 and why?
From our viewpoint, we feel that the retail, healthcare, advertising, logistics and real estate industries are fast in adopting the latest technology and will witness rapid growth in the years to come!
10. What product/service and in which category you would like to build/offer to establish or redefine your authenticity and expertise in your operational domain?
We have tasted great success in mobility in the past and our clients earned good traction and ROI (Return on Investment) through this. Moreover, people are getting smarter with time and the complete economy is becoming 'mobile'. This is an era the 'culture' of mobility is finding its way into our lives in every possible way.
And as I mentioned earlier, Brainvire has always had a customer-centric approach towards its clients and wants to master this art in every possible manner, be it through mobile, web or any other solution that we provide. Customer satisfaction and support is a way of life at Brainvire, and not just an offering!
Brainvire
www.brainvire.com
[email protected]