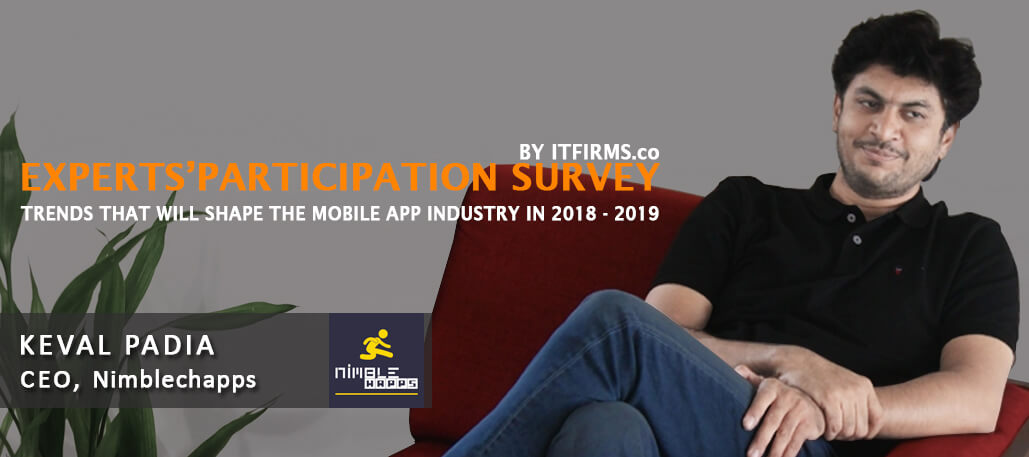 Interview with Keval Padia – CEO, Nimblechapps
Experts' Participation Survey – Trends That Will Shape The Mobile App Industry In 2018 – 2019
Few lines about Keval Padia – CEO of Nimblechapps
Keval Padia established Nimblechapps in December 2014. He has done his Masters in Computer Application and has a vast knowledge about the User Experience and a knack for Enterprise Solutions. Apart from being the CEO, he also gets personally involved with the delivery of each project Nimblechapps does to make sure, the product delivered is up to the standard. He measures the success of each product with how the users are experiencing the product.
1. Tell us about your company in brief.
Nimblechapps is a Mobile App and Website development company. It was established in Dec 2014. From 2014 to 2018 Nimblechapps has served about 100+ clients with an estimate of 320 large and small projects combining all the technologies. Nimblechapps' major focus for the future is Enterprise Solutions. By and large Nimblechapps has developed Enterprise Applications for the businesses in Australia and Europe. Nimblechapps also worked on emerging technologies like BLE, IOT, Home Automation, AI etc. Nimblechapps has a team size of 30 with the average experience of 6-7 years.
2. How do you describe your mobile app development team in terms of experience and expertise?
Currently we have 8 members in Mobile app development with the average experience being that of 4.5 years. Our team is well versed in both Native platforms such as iOS, Android, Windows and also in the Hybrid App development such as ReactNative, AngularJS, Ionic, Sencha etc. People here are bunch of open-minded  geeks who are always ready to embark on new technologies. Future goal for the team is to start working on Technologies like Flutter, AR/VR, AI, Home Automation.
3. How would you drive your team to meet technology demands of 2018 – 2019?
Well the most important thing to happen in 2018 as far as we think in our industry was the acceptance of Hybrid App development as a first choice by the clients. Foreseeing this, we discussed with the team about the scenario that what it would be and what is the future. We explained them the benefits of Hybrid technology, conducted sessions with the team for the initial push. We trained few form the lot first and then everybody was interested in this. So, we think that any new technology that comes, you should first look in your existing team that who can learn it first and who has the urge to learn and train that person. Others will willingly join force after seeing the benefits. As they say, Grapevine communication is the best way to spread the news 🙂
4. How do you help your clients in choosing the right yet profitable platform for app development?
Considering only Native technology, first we need to see that what are client's requirements. There are some areas of development to which still Apple hasn't provided developers the freedom to customise, or made it very difficult. If that is the case with requirements, we suggest that the client should first go with the Android App development while we continue to research the same thing for iOS.
Secondly, the target area of the client also affects the platform. If a client is from USA for example, going with either iOS or Android or Both at the same time would really be a good idea but, there are still some parts of the world where iOS hasn't been much in the market or have very low market share, in that case our advise would be to go with Android first since it would have a huge share.
And, If we talk about considering between Hybrid and Native development, it depends on the client's requirements, timeline in which they want the project and of course the amount of investment they have because Hybrid App development is comparatively cheaper than the Native development in most cases.
5. What all services do you think you would add to your offerings in 2018 – 2019? 
I wouldn't say it would be just for 2018 because we need to think 3 even 5 years ahead if we want to make a dent. And, we are thinking of diving even more deeper than we currently have into the into the Enterprise Mobility because that's the future. All the business in next 10-15 years would be digitised. Not only that, most of the Government Sector in the world would go fully digital by the time we  reach 2030. Cloud based services such as Salesforce, Amazon, Azure, Google Cloud, Oracle, SAP etc would become Household names. And we want to take a piece of that pie. So we are all about Cloud Computing and Enterprise Mobility for next 5 years.
6. How are you going to differ in processing solutions and applying methods in the coming future?
Even at present, we believe in providing a solution and not just development. We feel that a client is making a good amount of investment in his dream project with lots of expectation, so its our duty to not only provide a solution to him but to also provide a solution that is worth his investment and that can yield him expected ROI. Following this primary mission, we are very open about giving our suggestions to the client pertaining to what process should we follow, what kind of things are in current trends which can be included in the project to make it better performing, etc. We study client's business domain in and out before jumping straight onto the development. This gives a complete understanding and we are able to deliver with great satisfaction to the client as well as ourselves. So, I don't think we are going to change this even in future. What others might follow in future, is the present for us 😉
7. How do you scheme your pricing model? How do you fix your budget?
Budget for the project depends on the requirements. We follow two pricing models of Fixed Cost and Dedicated Hire. It all depends on the requirements. Some projects are pretty much straight forward, example, a simple calculator. In that case, fixed cost is good. We just estimate the hours required and provide the cost calculating it with the hourly rates.
On other hand, there are some projects which require first the Research about the concepts and the feasibility study and then we jump into development. In that case, we prefer to go on dedicated hire basis since we cannot gauge the exact time it will take before hand considering the wide scope of the project.
8. Define your future prospective and vision regarding new technologies like Artificial Intelligence, Chatbots, IoT apps, Augmented Reality apps and Virtual Reality apps?
Enterprise Mobility is a domain which can encompass all the concepts such as IoTs, AR, VR, and AI. The companies today are needing not only traditional systems but, the systems that offer the fusion of concepts into a single platform. In fact, as test project we do have the in-house AR App being prepared for educational domain and also the ChatBot project for a client's HR department which has the staff of 300 and growing.
9. What are your favorite industry verticals for 2018 – 2019 and why?
As I have been saying, Cloud Services and Enterprise Mobility is our core focus and favourites for 2018 and in coming years because we feel that those are actually the untapped markets that are yet to be explored to its fullest. We think that with the kind of dedicated team we have and most importantly the kind of PERSISTENCE we have, we would definitely succeed in this.
10. What product/service and in which category you would like to build/offer to establish or redefine your authenticity and expertise in your operational domain?
We really feel that there is a need of the developers who can cater the mobile app requirements for the businesses like product manufacturing companies, healthcare industry, education industry. Developers on mobile app are only focusing on, we can say TEEN market such as Dating Apps, Taxi Apps, Food Apps or Social Media Apps. That is also good but, what they are not seeing is that a League above these apps, that is where the actual need is. So, we want to build Apps and solutions for that market. Shifting our drive from B2C to B2B.
  Nimblechapps
  www.nimblechapps.com
  [email protected]