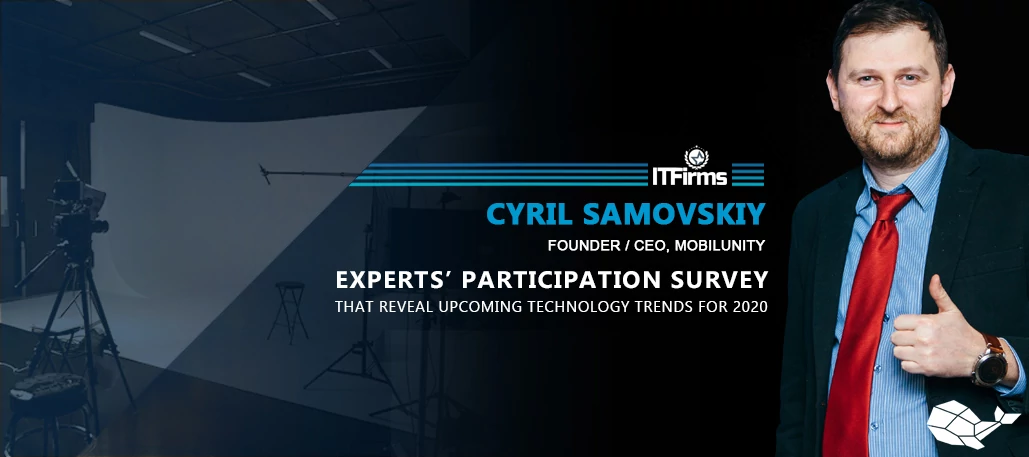 Interview with Cyril Samovskiy – Founder / CEO, Mobilunity
Here is the exclusive interview of
Cyril Samovskiy –

Founder / CEO, mobilunity only on ITFirms. In this exclusive interview, he shared his

thoughts on upcoming technology trends for 2020 

and many more things.
Let's check his success story and views.
1. Tell us in brief about your company and the leadership.
Mobilunity is a mature staff augmentation solutions vendor that provides services all over the world. We have established our company in 2010 in Kyiv, Ukraine.
The main strengths that have allowed us to remain on the market for such a long time, and prosper as an IT company are our management, approach, and of course location.
Ukraine has tremendous potential for innovation aimed at promoting a tech-developed and creative generation of young IT professionals, and has a great location (can be reached in less than 3 hours of flight from most European capitals).
Our company has developed a clear strategically important management model that we call, — our 3 Rs of Nearshoring: Relationships, Recruitment, and Retention.
2. How would you describe your growth trajectory in 2018-2019? Any particular achievement? Any disappointment?
From year to year, we do our best to ensure that we as a company can achieve the growth levels that we strive for. We saw a lot of movement in the right direction in 2018-2019. Our sustained level of growth enabled and made it necessary for us to move to a new more spacious headquarters. We were also able to expand our global reach and open up new markets for our services in terms of clients from both the west and far eastern hemispheres.
Our general staff levels grew by 11% with our overall growth in regards to Software development personnel growing by over 14% in 2019 in comparison to 2018.
We see this growth as only the beginning for us, and we have our goals set at growing by a record 20% within the next year. 
Although everything is generally positive the past year was not without its disappointments. We found out through some failed initiatives that we needed to revamp and adjust our internal recruitment processes. It wasn't always easy, but we learned our lesson and restructured internally to ensure that we could continue providing the very best IT talent Ukraine has to offer.
3. Please describe the operational structure of your company- from the moment a client walks in, to the product deployment.
As we are not a product company our processes tend to be a bit different. We are built around delivering staff solutions for diverse business needs. With that being said, we need to ensure that our processes are simple and flexible. There are essentially 4 primary steps. 
Step #1: Profile Identification. We need to speak with the client and ensure that we truly understand their needs. It's the only way we can make sure that we are the right fit for them as a vendor. We always begin cooperation with potential clients by establishing positive prosperous and strong relationships. We believe that success starts with an open discussion and a personal approach.
Step #2: Candidate Sourcing. Once we have identified the need, and have determined that we understand the clients' desires and that they understand our processes, we are able to start sourcing developers for our client's team. This may not seem like a lot to the client, but from our end, we take our candidates through a thorough process to ensure that they have the soft and hard skills necessary to be a fit for our clients.
Step #3: Client Interview. This is an important part of the process. This allows both the developer and the client to start building a rapport as they learn more about each other abilities, likes, dislikes, etc.
Step #4: Offer Acceptance and Team Introductions. If all goes well, and both the developer and the client feels that there is chemistry, an official offer is made and the developer agrees to take on the role and work with the client as a member of Mobilunity's staff. We also introduce the client to our resource management team who will be supporting each and every initiative for the client from our offices in Kyiv. They communicate with the client and the team each week and ensure that the team has a proper work environment.
That's our process in a nutshell, but in all honesty, it doesn't stop there. Retention is key, and we are always providing our clients and staff with everything that they need to ensure that they are happy. If you are interested in the type of things we do, go ahead and check out our Youtube channel.
4. What engagement models do you offer? How should a client choose?
We have a project-based background, however, the primary engagement model we offer to our clients is that of dedicated development teams. In this model, our clients are able to control all aspects of delivery and are able to build a rapport and relationship with their team as they work directly with the team itself. 
Although our primary model is the most popular model, we do also offer the ability to develop, plan and build a completely client-owned, nearshore/offshore R&D center, in Ukraine. In this model, we assist the client in setting up a legal entity in Ukraine where they will have a direct employee-employer relationship with all the staff that we provide.
Mobilunity is a service-based company that relies on long-term partnerships with our clients. To ensure this we make sure that the model that is chosen is a fit for each individual client's needs.
A client should always choose based on their individual needs. We believe that it is our responsibility to share all of the options in detail with our clients so that they can make an informed decision.
If the potential client wants a very fast project completed, and is more concerned with cost, and speed over quality, then our services would not be a fit. 
However If the client is looking for more control, consistency, transparency and is interested in actually building a relationship with a team, then our primary model would work best for them. If a client wants all of this but due to regulatory restrictions must have a legal entity of their own in place, then our R&D set up would be best for them.
Options are important, and we will always try and find a way to give our clients the best possible solution to their needs.
5. What do you as a leader prioritizes – vertical expansion of your business or the horizontal expansion of your expertise and services? How do you balance both?
We do require both, however, we tend to focus a bit more on vertical expansion, as we see vertical expansion and horizontal expansion as going hand in hand with one another. As we do not focus on one particular industry we have the freedom to offer our services to each and every industry.
With this approach, we see that as we bring in new clients, our Horizontal expansion over various industries grows as well. At the end of the day we are in the people business, and companies across all industries require talented people. This allows us to balance various aspects of our business as we can approach two completely different industries with the same expert level of services.
6. What is your outlook for 2020?
We see this as being multi-layered.
First. Client growth.  As most of our clients have been with us for a matter of years we take it upon ourselves to understand their business goals, and how we can be beneficial to them. This way we can work on scaling their team in a direction that is beneficial for both the client and Mobilunity as a vendor.
Second.  Market share growth. We are already present in many markets and are constantly updating and adjusting where needed to ensure that we not only remain relevant in those markets but will also grow in regards to market share. With our current client bases, case studies and expertise we expect to see a considerable uptake in our current market share across various regions.
Third. New markets and services expansion- We always listen to our clientele, and to potential clients, we are communicating with. We hear and we understand their needs, and we, therefore, ensure that we find a way to offer what they are in need of.  This often varies by region or country and thus gives us the flexibility needed to also explore and enter into new markets that have shown that there is a specific need for our services.
7. Any particular technology or industry you would be targeting? How do you plan to prepare your workforce for the upcoming technology upgrade?
We have clients across so many industries (FinTech, InsurTech, E-Commerce, IoT, HealthTech, etc.) that it would not be in our best interest, or our clients' best interests to focus on one particular industry. With that being said, our focus will be on enhancing our service offering, to make sure that we can still work with companies and our clients across all verticals.
In terms of technological upgrades, we do see certain trends based on what our clients are asking for, however, no one can predict the future when it comes to technology as the field changes drastically from year to year. What remains a constant, is the need for talented professionals and this is what we focus on. Our processes are meant to keep us flexible, and efficient so that no matter what new technological trend appears, we'll be able to provide services to our clients.
8. With technologies like React and Node that can be used for both web applications and mobile apps, how do you envision the development methodology to be in the future?
Even though we cannot predict the future, certain things we envision remaining the same. Our Clients will still have a need to create robust applications so that they can effectively engage with their customers.
Over the years there have been many competitors that have tried to supplant Javascript as the best framework to do this  (Flutter, for example, has made a lot of progress recently), but we see that using the combination of both ReactJS and NodeJS, will still prove to be advantageous.
In regards to methodology, I see this staying fairly consistent. Agile tends to be the way to go with most development projects. The combination is versatile  (able to operate on Mac, Windows, and Linux), it's efficient, scalable, and fast, which is exactly what our clients and the engineering community are looking for in regards to technology.
Particularly, React.JS now is the most consistent framework for front-end development of web applications. Applications created with Node.JS could be  integrated easier with its component structure, despite this technology is hard to learn for juniors.
Therefore, both technologies already reveal the future of software development, and we as the service provider are in line with that future.
9. Other than technical expertise, what traits you believe are essential for any app development firm to succeed in this rapidly evolving industry?
I would highlight two things, that would be needed for both an individual developer as well as an IT company; Flexibility, and Awareness.
Flexibility. The software industry is constantly changing, so you need to be able to bend where needed in order to make a solution fit, whether it be adopting new frameworks, or implementing new methodologies or adjusting business practices where there is a need to think outside the box.
Awareness. you have to understand the product, the goal, the client, and the market. If you are not aware of what is happening in the development community or in your clients market, then as a developer or as a company, you'll constantly be playing catch up. It's also best if you are aware of your own flaws and faults, its the only way to be honest with yourself and improve either as an individual or as a company.
10. How do you assess the role of research agencies like ITFirms in bridging the gap between clients and service providers?
At the end of the day – it's all about relationships. People trust people, not companies, stylish logos or striking slogans. There are thousands of companies around the globe that can be a potential fit for the client, but you can't gain trust through a sparkling landing page.
Therefore, one needs to invest a lot of time and effort in building relationships and communication is a key thing here. Having a platform where business leaders can find potential partners is a great entry point for building future beneficial partnerships.
---
  Mobilunity
  https://mobilunity.com/
  [email protected]