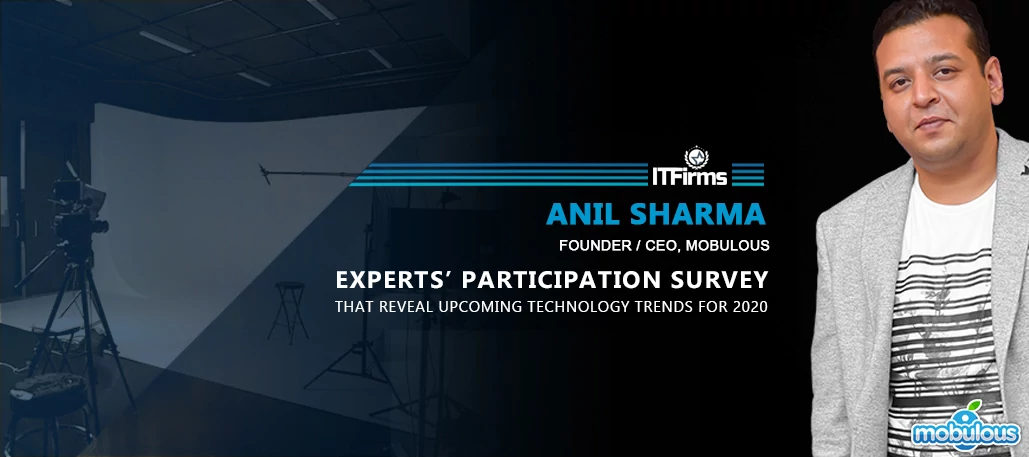 Interview with Anil Sharma – Founder / CEO, Mobulous
Anil Sharma – Founder / CEO, Mobulous, exclusively interviewed by ITFirms. Where he shared his thoughts on upcoming technology trends for 2020, Let's check his success story and views.
1. Tell us in brief about your company and the leadership.
Mobulous is an award-winning and top web and app development company based in Noida, India providing custom software solutions and services all over the world. We aim to offer the best digital solutions to our clients based on their needs and requirements. With the help of our professional team, we build state-of-the-art UI/UX designs and maintain top code quality. Our dedicated and skilled team is capable of developing simple as well as complex solutions. The company was founded in 2013 with the motive of providing peer-to-peer app development solutions from startups to enterprises.
Being the founder and CEO of the company, my role within the organization is to make sure to provide high-quality service when setting up great development teams and also to work towards the growth of the organization.
2. How would you describe your growth trajectory in 2018-2019? Any particular achievement? Any disappointment?
In 2018-2019, the period was excellent. As a leading app development company, we have delivered lots of successful apps for fortune startup and enterprises in the year between 2018-2019. We delivered mobile apps that are challenging and complex. Our in-depth experience in this field helped us to work and offer the top quality experience to our client. The happiest achievement this year was when our company featured on Clutch as a top mobile app development company. Our journey from being nothing to being featured on Clutch was not only hardworking and struggling but also rewarding.
We are looking forward to doing something more significant in the coming year.
3. Please describe the operational structure of your company- from the moment a client walks in, to the product deployment.
Our operational structure includes five simple steps that are mentioned below: 
Wireframing of the App- Wireframing is the backbone of any mobile app development project. Firstly, At Mobulous, Our Business Analyst team analyzes the app idea in order to create a wireframe of required features using wireframe design tools. 
UX/UI Designing- For us, creativity is an excellent way to solve all the problems with a modern approach. Our prototype developers and designers always have an innovative and unique way to solve your problem and will enlighten you with newer ways to approach your mobile app development solutions. 
Development- We assigned the best and suitable developer according to your app requirement. Our mobile app developers use the latest tools and techniques to develop a top-quality product for you. 
Testing- After developing a successful app, our team of professional testers assures the application is tested on various test modules to deliver state-of-the-art products. We hate bugs in the app. 
Launch and Maintenance- Then, we launch your app on the Google Play or the App Store by fulfilling all your requirements and desired functionalities. Even after the app is launched, we are always there for you providing 24/7 support and maintenance service.
4. What engagement models do you offer? How should a client choose?
We offer well-defined engagement models to assure that we can maximize the benefits of outsourcing, whether you are running a small startup or large enterprise. Before starting the co-operation and taking up a project, we take enough time to comprehend its business requirements, duration, expenses, workforce requirements, volatility, and complexities. After discussing and analyzing these aspects, we offer the most suitable engagement model for your project according to their business needs. We provide the budget-friendly and flexible engagement models that ensure the highest quality at optimum costs, irrespective of the size, and the type of your project requirement.
5. What do you as a leader prioritizes – vertical expansion of your business or the horizontal expansion of your expertise and services? How do you balance both?
Vertical and Horizontal both expansions are essential for the company. The vertical expansion comes first for us, and as a leader, I make sure that we are offering the best-to-best quality services with modern methodologies and state-of-the-art tools and technologies. As a leader, improving the revenue of our business is essential, but we are here not only for that. Besides, We as a firm also growing horizontally by building the expertise and skilled team of professionals.
6. What is your outlook for 2020?
According to our recent gains in the industry, I firmly believe that our excellent technical skills and experience will help us to continue our journey as a leading app development company. We are working on many things to enhance our company, and we are all set to introduce some new services but will not reveal here. We will inevitably add a few fantastic services within our company to boost the company's growth. We aim to bring an idea into an innovation. We have begun exploring new technologies to deliver top quality work.
7. Any particular technology or industry you would be targeting? How do you plan to prepare your workforce for the upcoming technology upgrade?
Our company are specialized in providing IT solutions, and we have successfully served approximately every domain, right from Finance / Payments, Commerce, Food, tech, to Healthcare, Enterprise, Governance, Retail, Security, etc. We almost adapt to every new technology at the time it gets released. As we all know, this industry is very dynamic, and every second, a new tool releases for the app development industry. So, we always keep our one eye on the market, and Whenever a new technology appears, we analyze it and check its significance with our products and reskill our workforce with it. Also, our team is planning to focus on delivering the AI, AR/VR, and Blockchain solutions.
8. With technologies like React and Node that can be used for both web applications and mobile apps, how do you envision the development methodology to be in the future?
Our company has a dedicated and skilled team of Node and React developers, and they are proficient in delivering React Native and Node.JS Applications. We offer a wide array of Node and React JS development services. In the journey of developing quality projects for the last 6+ years, we have extensive experience in working with Node and React. We have successfully delivered lots of applications, working with React, Native, and Node JS.
At Mobulous, we are focused on a high-performance work team and productivity, and this is the reason why we hire only professionals with excellent skills.
9. Other than technical expertise, what traits you believe are essential for any app development firm to succeed in this rapidly evolving industry?
Other than technical skills, I believe FLEXIBILITY is the essential trait form any app development firm to succeed in this rapidly evolving industry. It is critical to have the ability to adapt to the ever-changing industry to be on the top list and develop quality mobile apps.
10. How do you assess the role of research agencies like ITFirms in bridging the gap between clients and service providers?
According to my view, they are doing great work in the present market! Research Agencies like ITFirms have helped the clients to make the right choice according to their needs and requirements. It also helps them to see the top companies in one destination. It is great to have a trusted resource that collects important and validated information about service providers where everyone can find a competitive co-operation partner, according to his/her expectations.
---