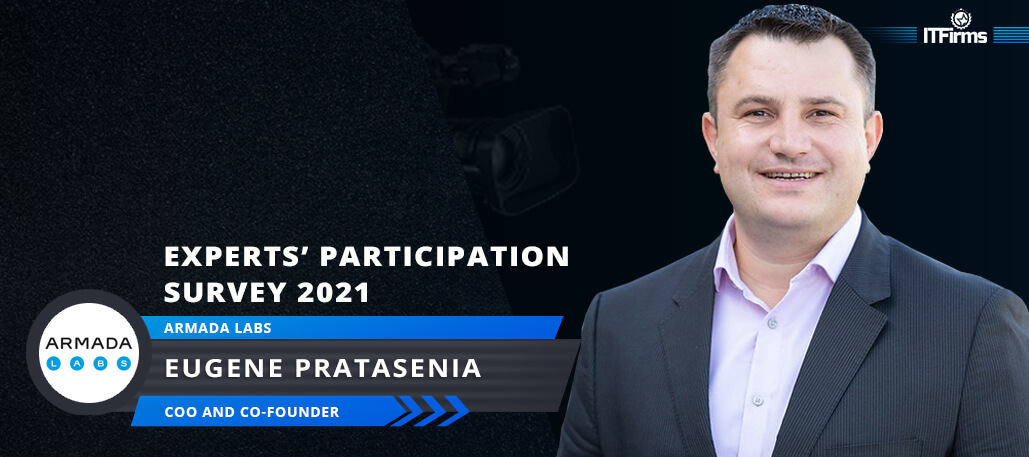 Interview with Eugene Pratasenia – COO and Co-Founder, Armada Labs
Here is the exclusive interview of Eugene Pratasenia
–

COO and Co-Founder, Armada Labs only on ITFirms. In this exclusive interview, he shared his

insights on upcoming technology trends for 2021 

and many more things.
Let's check his success story and thoughts.
1. Tell us in brief about your company and the leadership.
Armada labs is an expert fintech software development house with 20+ years of experience in the industry. Our data-driven development model and customer-first approach allow us to deliver bespoke solutions tailored to individual business needs.
Our portfolio includes AI-based cloud computing software for credit scoring and cutting-edge custom fintech software acclaimed by BFS Capital, Rivo Holdings, West Creek Financial, and other Fortune 500 companies.
We've successfully built and continue to run several businesses in IT-arena, like Prime Debt Soft, Health.Finance, and Paydit. We provide combined service which includes both deep fintech development and consulting expertise.
2. How would you describe your growth trajectory in 2020? Any particular achievement? Any disappointment?
The year 2020 was a real challenge. There were both problems and successes. Yet, even now, the fintech industry feels good, despite the COVID and post-covid-related concerns. We came out of the crisis better than before. Objectively, I can say that the market has shrunk; there are fewer transactions, clients need more time to make a decision, evaluating the market for a better price.
3. Please describe the operational structure of your company- from the moment a client walks in, to the product deployment.
Since day one, we at Armada Labs have been striving to be a reliable software development vendor that offers transparent and effective models for cooperation. At the core of our approach is ensuring that you get what you expect, on budget and on time.
Our basic workflow includes the following essential stages:
A client sends us project requirements. Depending on how well detailed the requirements are, our team defines a clear scope of work during a discovery phase (2-3 weeks). The project discovery phase helps reduce risks and minimize costs, as well as ensure the product is a technologically perfect fit for the market.
Discovery. Our team performs the research needed to transform your vision into technical specifications, develops project architecture, defines team requirements, and makes time and budget estimates.
A client gets an individual proposal. A proposal includes the project scope, time and budget estimation, and the engagement model we selected.
Contract. We formalize what we negotiated earlier.
Kick-off. When a client decides to move along with us, we kick-off a first meeting with a ready-to-go team, a set project environment, and access to real-time control over the project.
Elaboration. We finalize the specification, refine the mockups and mitigate other technical and non-technical risks.
Implementation. In the Scrum development cycle, every sprint is about 2 weeks long. We can work using either your server or ours and track tasks in Jira. Tests always follow user cases. The PM reports to you on everything and provides a customer care call 2-3 times per week to check on satisfaction level. At the end of every sprint, you will see a demo of your project.
Stabilization. We carry out performance testing of the implemented functionality, following a checklist and(or) test plan. We also manage change requests.
MVP. An MVP is not aimed at fully satisfying the customer; rather, it allows adding more features and improving the product before releasing it. Although not required on every single project, we recommend clients to go out with the MVP, to test the system's performance in real-life environment. It significantly saves time and money to our clients.
Transition and aftercare. We prepare binaries, source code, and documentation for the final acceptance user test that ensures all deliverables are good.
4. What engagement models do you offer? How should a client choose?
We deeply analyze our client's business needs and consult on the optimal engagement model for your software project.
Time and material. This model works best with high-level, loosely defined requirements. With T&M, you achieve maximum scope and budget flexibility while paying only for the resources used.
Project-based. Perfectly fitted for short-time endeavors; fixed bid engagements presuppose a clear-cut project scope and detailed release roadmap, minimizing the risk of going beyond the budget.
Team-based. Choose this model if you need a rapid ramp-up of your internal resources. This way, you can quickly bring in expert or highly specialized talent, while saving big on recruitment.
With this engagement model chosen, a customer should have clear opportunities for managing the team and compiling the necessary documentation.
5. What do you as a leader prioritize: – the vertical expansion of your business or the horizontal expansion of your expertise and services? How do you balance both?
As the leader, I believe that the future is behind vertical expansion to new markets. At this point, we want to have better control over the ever-changing fintech market. By growing vertically, we can reduce costs during the delivery cycle and ensure higher quality control. Vertical approach is what helps us stay on the roll, even at difficult times.
At the same time, we are also growing horizontally. As a company, we operate in a rapidly-growing industry, sidestepping competitors with Health.Finance, the "swan song" of our fintech expertise.
When balanced, both approaches are successful. We always know when to use each of these, defining the parts of our operation that will produce the most leverage on the business.
6. What is your outlook for 2021?
Every crisis presents new business opportunities. This crisis is somewhat unique and that's why I believe that in the end, not only us but the whole world will come out of it stronger and better prepared for possible recessions that may come.
Watching what is going on with the economy right now, we can see that the aftermath of the crisis will bring us the "new normal." Speaking of which, I'd like to highlight the following future trends:
More M&As between fintechs and incumbents. The digital lending, wealth management, and, admittedly, digital banking sectors will likely to make more partnerships with incumbents than before. Already, traditional financial companies and institutions seek new ways to adapt to the changing conditions, when millions of people on the lockdown have to perform transactions online.
More payment integrations. Despite lockdown and isolation, fintechs will continue adding payments to non-financial services. With the increased lack of mobility, they are expected to accelerate rapidly.
More demanded capital markets. Fintech capital markets focused on risk management and lower costs will also benefit from the situation since brokers will have to cut costs to maintain margins.
Regtech to remain all the rage. Compliance-focused fintechs are unlikely to be affected by the pandemic since their services don't depend on the market. More, investors may even double down funding to make their valuations go up on the quiet.
Insurtech to safeguard against troubles. Individual types of digital insurance services will be more demanded, including those covering health and business disruption issues. For that reason, insurtech startups that provide alternative insurance services will be in the center of investors' focus.
7. Any particular technology or industry you would be targeting? How do you plan to prepare your workforce for the upcoming technology upgrade?
Two decades of experience developing software products for the financial services industry gave us a keen sense of what it takes to develop a full-featured fintech solution from both technical and business perspectives. On top of this, we've been delivering alternative lending software solutions for years.
For commercial and mortgage banks, online lending and finance companies, we implement tools that allow efficiently managing complex risk calculations to rationalize operational costs and demonstrate financial and security compliance. Our in-house staff regularly passes dedicated technology training to upskill.
8. With technologies like React and Node that can be used for both web applications and mobile apps, how do you envision the development methodology to be in the future?
React and Node, as well as many other web technologies, can now be used in both desktop and mobile development. Currently, this approach has many downsides, such as lower performance compared to native solutions, inaccessibility of particular tools, etc. However, it's quite expected since something specialized is more beneficial than something common.
On the other hand, the approach has advantages, too, the main one is the high level of cross-platform support. In my opinion, the downsides will be becoming less perceivable over time, due to the rapid development of web technologies, while vantage points will be more sizable.
9. Other than technical expertise, what traits you believe are essential for any app development firm to succeed in this rapidly evolving industry?
I have talked about the essential "non-technical" aspects in one of our recent webinars. Be inclusive in technological challenges that you do, create realistic game plans that would include the MVPs, and be iterative. Quick reaction to market changes will bring you quick results and allow you to flexibly adjust to ever-changing conditions.
10. How do you assess the role of research agencies like ITFirms in bridging the gap between clients and service providers?
Research agencies not only have the power to influence consumer decisions but can strengthen a company's credibility. Inclusion in lists, testimonials, and reviews have the power to gain customers' trust, and they encourage people to interact with the company. Customer interaction ultimately leads to improved profits for both businesses. This way, the boundaries disappear.
---
  Armada Labs
  https://www.armadalabs.com
  [email protected]