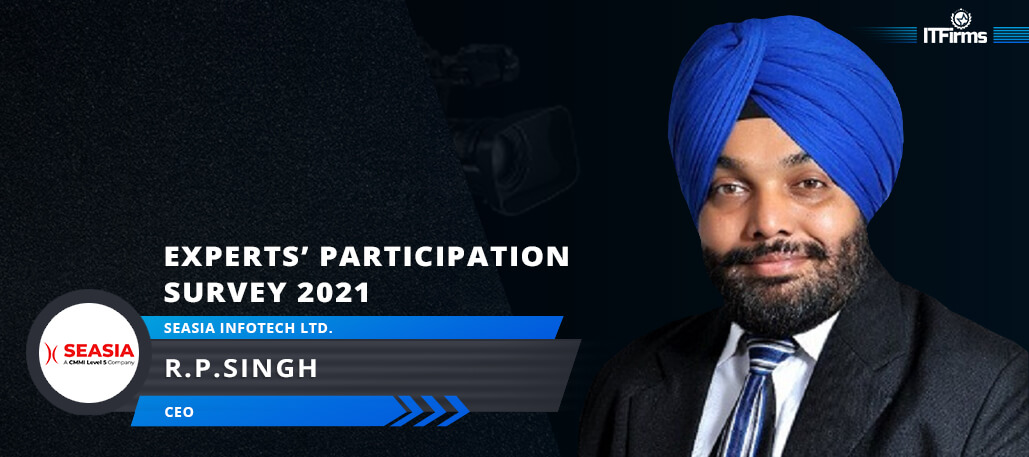 Interview with R.P. Singh – CEO, Seasia Infotech Pvt. Ltd.
Here is the exclusive interview of R.P. Singh – CEO, Seasia Infotech Pvt. Ltd. only on ITFirms. In this exclusive interview, he discussed and shared his insights on upcoming technology trends for 2021 and many more things.
Let's check his success story and thoughts.
1. Tell us in brief about your company and the leadership.
Seasia Infotech, a CMMi Level 5 Certified Company, offers a bouquet of services to automate, digitize, and modernize diverse business networks. We have worked in collaboration with Hewlett Packard (HP), and today, we are the global leaders in providing next-gen consulting and digital services for business transformation. With more than two decades in the software industry, we have built a strong clientele across 50+ countries. Leading businesses leverage our wide range of customized services to suit their needs. At Seasia, our prime focus is to deliver solutions that bring about a change in the operations and workflows and eventually modernize the processes while reaching out to wider markets & demographics.
2. How would you describe your growth trajectory in 2020? Any particular achievement? Any disappointment?
Undoubtedly, the year 2020 has been a year full of challenges and unexpected trends globally. While many organizations crippled to survive, Seasia Infotech has shown exceptional growth of more than 40% in the last year and delivered innovative solutions to meet the emerging requirements of its clients around the world. One of our major achievements has been working on the COVA App for the State Government, and lending our support to the nation and humanity during the pandemic.
Yes, the last one year has been tough and kept me in a state of dismay, as I could not meet my Seasia family or our clients personally, or visit them like before. But safety and health of Seasians and my clients is foremost to me, and we are eagerly waiting for celebrations ahead.
3. Please describe the operational structure of your company- from the moment a client walks in, to the product deployment.
At Seasia, we follow the perfect blend of a logical and chronological approach to effectively convert our customers' ideas and requirements to a workable software product. Our product development approach evolves around customer needs, ideation, idea screening, checking its feasibility, and delivering a working software using the best marketing strategy, business models, and commercialization approach for impeccable results.
4. What engagement models do you offer? How should a client choose?
There are mainly two engagement models we offer to our clients, depending upon the clients' working mode, requirements, budget, and project engagement. We work as a Delivery Partner for our clients, where we serve as a development partner, and our teams work in alliance with the clients' business requirements. The other engagement model is the Partnership model, where we offer an extensive ecosystem to allow entrepreneurs to broaden their horizons by creating strong bonds with us.
Our clients can choose the most suitable model that serves as a basis for our future collaboration to ensure the desired level of control, responsibility, or flexibility; they seek from their technology partner.
5. What do you as a leader prioritize: – the vertical expansion of your business or the horizontal expansion of your expertise and services? How do you balance both?
At Seasia, we emphasize both Vertical and Horizontal expansion. Besides targeting new projects, we maintain sturdy relationships with our repeated business clients for vertical development and constantly update our business strategies to drive maximum ROI for our clients. To expand horizontally, we have a strategic approach to expand our footprints in new countries every year. We consider the market dynamics and capital availability to support the growth requirements and other vital preferences, strategies, and opportunities to ramp up growth opportunities. I have seen the company proliferate over the last two decades and do not want to restrict myself. To exceed the benchmarks and dominate the market, we have the perfect amalgamation of exposure, resources, expertise, and leadership to attain and maintain our brand value. We take our clients through a three-phased approach of "Plan, Build, & Grow" to cross the desired milestones and create their perceived brand value in the market.
6. What is your outlook for 2021?
The year 2020 was for the history books and taught us to deal with unprecedented times. This year as we proceed to return to "normal," we have to rework the workplace strategies, facilitating more remote working, extending growth with secured online processes, and pursuing business transactions remotely. In 2021, we are keen to outsource our technological expertise to start-ups and smoothen their business's inception by helping them stabilize their business amidst immediate unknowns. I foresee high economic potential in the near future, and we are geared up to expand our infrastructure further to allow start-ups to leverage our experience and global exposure.
7. Any particular technology or industry you would be targeting? How do you plan to prepare your workforce for the upcoming technology upgrade?
In a recent report from Gartner, the machine learning market is expected to reach USD 8.81 Billion by 2022, at a Compound Annual Growth Rate or CAGR of 44.1%. At Seasia, we have grown our ML Business way beyond that. More than five years back, I had the vision that Data and the ability of a Software to use it and become smart will be the new beginning of digital transformation. We have been the pioneers of transforming the digital world with Data Revolution and using AI and ML as a catalyst, and with more projects in the pipeline, we see enormous scope in the years to come.
8. With technologies like Machine Learning and Artificial Intelligence (AI) that can be used for both web applications and mobile apps, how do you envision the development methodology to be in the future?
We follow Agile Methodology as it is a flexible, incremental, and evolutionary approach. Catering to the demands of the modern workplace, it is an imperative choice due to the transparency, quality, and continuous improvement. I believe that successful leaders don't create followers, but they make leaders, and I empower my teams to become autonomous bodies. Considering the industry best practices of the Agile Manifesto and learning from our experiences and challenges faced in Scrum, Kanban, Scrumban, SAFe, and other models, we have developed our model – SEM.
9. Other than technical expertise, what traits you believe are essential for any app development firm to succeed in this rapidly evolving industry?
At Seasia, our mission is to provide the best-in-class solutions to our clients by understanding and meeting their business challenges. We firmly believe in going deep into our partners' business objectives and amalgamating our resources to deliver an apt logical solution. For us, the key focus is on knowing the exact business requirements and logically using our expertise. Technical expertise follows our main aim to offer logical solution to our clients.
10. How do you assess the role of research agencies like ITFirms in bridging the gap between clients and service providers?
With the Automation and AI Revolution around the world, there is a dire need to build a stronger community where leading software development companies can contribute and help SMBs to thrive for bigger milestones. ITFirms is a great platform where start-ups and other entrepreneurs can discuss their challenges with other industry leaders and reach them out for automated and digital transformation solutions.
---
  Seasia Infotech Pvt. Ltd.
  https://www.seasiainfotech.com
  [email protected]