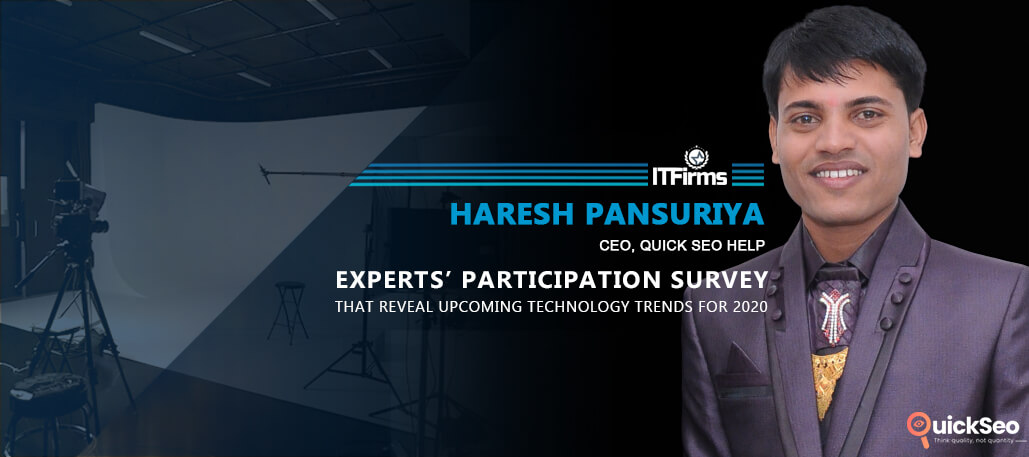 Interview with Haresh Pansuriya – CEO, Quick SEO Help
Here is the exclusive interview of Haresh Pansuriya
–

CEO, Quick SEO Help only on ITFirms. In this exclusive interview, he shared his

views on upcoming tech trends for 2020

and many more things.
Let's check story behind his success.
1. Tell us in brief about your company and the leadership.
Quick SEO Help has been serving as the most efficient and reliable digital marketing firm in Ahmedabad for the last 8 years. We have always been dedicated to offer competent web Designing and digital marketing solutions to our clients so that they can deal with the challenges of running a business and boost their ROI.We have the experience to undertake different kinds of projects and accomplish them efficiently. We offer diverse digital marketing services like content marketing, SEO, PPC, web designing and link building.
Being the CEO of Quick SEO Help, my job is to see to it that our clients are always satisfied with the work we offer. We implement the best SEO strategies and use proper market research to achieve the best results. I also make sure that our web designing and content marketing methods can help clients to make use of market opportunities for their growth.
2. How would you describe your growth trajectory in 2019-2020? Any particular achievement? Any disappointment?
I would say that the growth trajectory of Quick SEO Help in the year 2019-2020 has been sufficiently satisfactory for us in multiple ways. We have been able to reach out to new segments of audience through some progressive marketing and strategic development. Most of the development goals that we had at the start of the year have been fulfilled, albeit there were some challenges that we had to face from time to time. It is true that we were not able to anticipate some of the changing and evolving market conditions in the recent times. However, since we had a flexible approach to things, we were able to deal with them in a skillful way and mitigate all the difficulties.
When it comes to any particular achievement, I would say that we have been able to achieve substantial growth this year in both local and international markets. Certain sectors where our penetration was less before have now been transformed by our active presence. Although we have a number of positives to feel good about our efforts, one thing that feels like a slight disappointment is that we could have made better use of some of the market conditions had we been a bit more prudent. These days the market is being influenced by new technology in a multitude of ways and in many cases disparate and unrelated developments are working together to transform growth potential for the digital marketing companies. It is essential that we should be prepared to cultivate strategies that can help us to deal with such aspects in a better way in the near future.
3. Please describe the operational structure of your company- from the moment a client walks in, to the product deployment.
At Quick SEO Help, we believe in providing fully customized solutions to our clients so that they can work towards the betterment of the company. Once a client gets in touch with us, we try to understand the business goals they have and then discuss the ways in which we can resolve them. For instance, when a client looks for web designing services, we try to understand the market that they are looking to target and then use technologies to fulfill such goals. If it is an ecommerce business, we determine if it is a B2B or a B2C business and then formulate the best design solutions that can work out for the company.
We have a similar approach to addressing the needs of a business firm that is looking to make use of our digital marketing solutions. Since every business is different, the digital marketing methods that will work for them are also going to be different. We can combine a number of different methods like SEO, social media marketing, PPC marketing, content creation and email marketing to achieve brilliant results. We also follow up our initial efforts with analytics to see what is working and what is not and based on that we modify our digital marketing strategy to help our clients.
4. What engagement models do you offer? How should a client choose?
We offer a number of different engagement models while attending to the needs of our clients. One of the basic models we have to offer is the fixed price model where the scope of our services is fixed and the highlights of the project are agreed upon from the very beginning. Such a model always has a definite timeline and clients can know in advance when they can expect to receive the finished project. All the essential milestones and steps of the project are also determined from the start and the budget also remains fixed.
Another popular model we offer involves a dedicated project manager that works closely with the client to make sure that the various details of the project are handled effectively. Usually such a project is quite large and therefore it is delivered at short phases. Another model involves resource augmentation and it is most suitable for those clients who are working with an in-house team and yet looking for some additional resources to manage the requirements of a project. We also provide with a model where a dedicated team works with our clients. There is also another model wherein we can hire and obtain proper resources that can work well for a client. The client can also send us his input to manage the hiring process. Since each of these models work differently, it is necessary that the client evaluates his or her goals properly before deciding on a particular model that would be suitable for their business needs. Some of the factors that the client should consider while deciding on this are the level of direct involvement that the client wishes to have, the resources or budget that is in place, the deadline that the client has on his mind, the type of project, i.e. the designing of an ecommerce web portal, a mobile app, or the marketing of a new website as well as the technologies that the client wants us to use.
5. What do you as a leader prioritizes – vertical expansion of your business or the horizontal expansion of your expertise and services? How do you balance both?
Essentially we believe in horizontal expansion of our diverse departments and services but we also implement a vertical management structure so that we can monitor expansion and come up with strategies from upper levels of the management in a way that it transforms and influences the multiple departments as it trickles down the chain. As a leader, I have always believed that effective collaboration and communication is the key to ensure success, progress and growth of a company. While my team members have a certain degree of flexibility to make decisions as per they see fit, I prefer to implement certain basic guidelines to ensure that quality of services and efficiency of team performance is maintained at all times. This not only helps me to ensure that our clients are happy with our work but we maintain sufficient flexibility to change our strategies according to the current trends of the industry.
I understand that it is essential to maintain a certain openness of approach so that a proper balance can be maintained between vertical expansion and horizontal expansion strategies. While there is no hard and fast way I try to maintain this balance, the decisions I take to accomplish this goal often depends on current market conditions as well as projected future outcomes.
6. What is your outlook for 2020-21?
At the present stage, one of the first things that come to mind is how we can make use of effective marketing strategies to engage customers in a world that has been forever changed by the COVID-19 pandemic. This global pandemic has left far reaching impact on the way international and local enterprises conduct their businesses. This has naturally led us to brainstorm and think of new ways in which we can make use of the different types of digital marketing methods that can generate sales and greater ROI for business clients. As different types of sectors have been affected differently by this pandemic, the marketing approach has to be markedly different from one client to another.
While web designing is a sphere that still holds essential importance for businesses, it is the area of digital marketing where we can expect to find a lot of changes. To deal with these challenges, we believe that we must implement a progressive and multilevel research approach so that our marketing efforts generate the best results. Only by helping our client firms can we still able to prove our effectiveness and relevancy. We should also be open to try out new methods of marketing to reach out to previously untapped audience.
7. Any particular Strategy or industry you would be targeting? How do you plan to prepare your workforce for the continuous Google's updates?
In 2020, we launched our pre-built on-demand car booking platform namely Wooberly in Flutter technology. The product was well-received by customers from all over the world. This encouraged us to build new on-demand platforms for other industries.
While we do not have any specific industry to focus on at the present moment, we are surely going to try new measures that can help us to achieve enhanced penetration in numerous markets. We also believe that ecommerce is going to be even more important in the coming months and years. Therefore we are keen to work on new and innovative ways in which we can achieve greater success with companies that focus on running and managing an online business. We are also conducting research on the ways in which new technologies are changing the way people browse the internet and look for products and we are using that input to generate better leads and conversions for our customers.
Google's algorithm updates have always been a constant source of challenge and evolution for digital marketers and we believe that the only way to deal with it is to be prepared for everything. While it is not always possible for us to know how the algorithms are going to work, we can be sure of the fact that mobile search, customized search, voice SEO, as well as visual content like images and videos are going to be a big thing as days go by. We always advice our clients to make use of these options and we ourselves formulate better digital marketing techniques that focus on them.
8. With marketing strategies like Content Promotion and Paid Marketing that can be used for both Website promotion and App promotion, how do you envision the online marketing methodology to be in the future?
The scope of online marketing is quite good at the present moment and it is also going to explore new avenues and techniques in the upcoming months and years. both website promotion and app promotion is nowadays necessary for generating optimum revenue and this can be done through the use of marketing methods like content promotion and paid marketing. Just like organic marketing, paid marketing is a valuable source of revenue for businesses and I am sure that even small sized firms are going to use these techniques in the months and years to come.
There is going to be an enhanced level of use for social media marketing and email marketing. While the former is a great way to reach out to a wider base of audience and develop brand value, the latter helps in progressive personalized marketing. There is also going to be a generalized air of personalization in all forms of digital marketing as this can not only ensure better customer engagement but also higher sales.
9. Other than technical expertise, what traits you believe are essential for any marketing firm to succeed in this rapidly evolving industry?
The digital marketing firm is a rapidly changing and evolving sector and any company that aims to succeed in this field must have the foresight and flexibility to do that. A digital marketing company should have effective strategies in place to cater to the needs of the clients. At the same time, the digital marketing expert should also have the skill to understand and estimate the upcoming trends in the industry and have a way to prepare for them in advance. Any time a new algorithm rolls in or something changes within the industry, marketers are expected to adjust to them as quickly and effortlessly as possible. The digital marketing firm should have some methods in place in which they can do that without spending a lot of money in the process.
Another skill that digital marketers should have is that they have to constantly perform intricate market research and support all of their marketing efforts with that. Unless they have robust research techniques in place, they can never hope or expect to generate the best revenues for their clients. They should also have the flexibility to cater to the individual needs of every client so that the finest output can be achieved.
10. How do you assess the role of research agencies like ITFirms in bridging the gap between clients and service providers?
The research agencies like ITFirms play a crucial role in educating business owners about the possibilities of digital marketing and how various new technologies can ensure better engagement of the audience. Business owners who already know about the benefits of smart web designing and digital marketing may try to look for a service provider that can aptly cater to their needs. For them, the resources offered by ITFirms can be a great way to learn about prospective service providers so that they can seek out their assistance. In this way, ITFirms can help in the growth and expansion of both client firms as well as digital marketing companies.
---
Quick SEO Help
https://www.quickseohelp.com
[email protected]