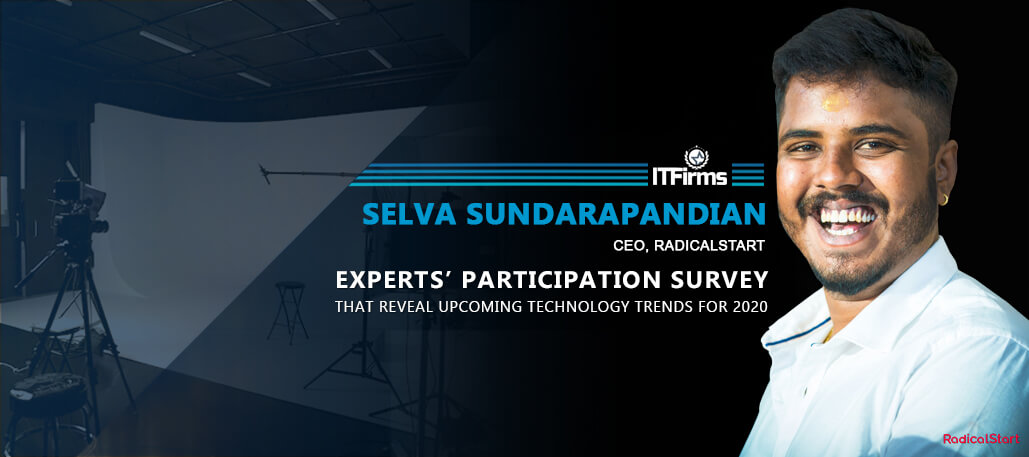 Interview with Selva Sundarapandian – CEO, RadicalStart
Here is the exclusive interview of Selva Sundarapandian
–

CEO, RadicalStart only on ITFirms. In this exclusive interview, he shared his

views on upcoming tech trends for 2020

and many more things.
Let's check his success story and thoughts.
1. Tell us in brief about your company and the leadership.
We are a marketplace and on-demand platform development company striving to help budding entrepreneurs to start their business idea on the go. We have a pre-built rental marketplace and on-demand platforms namely RentALL, RentALL Cars, RentALL Space, and Wooberly.
Our company is currently functioning with a team of 40+ members. We are planning to launch new on-demand platforms at the end of the year.
2. How would you describe your growth trajectory in 2018-2019? Any particular achievement? Any disappointment?
In 2018, we were trying to launch a stable release of RentALL Script product and we did it successfully at the end of the year. With the launch of a stable version, we got busy with new customers, trying to build their dream projects.
Following year, we aimed to release the Andriod and iOS app of RentALL platform.
3. Please describe the operational structure of your company- from the moment a client walks in, to the product deployment.
Our company follows the Agile Methodology development. So, when a client approaches us, we have a pleasant conversation trying to understand each other and explaining our service. After everything gets settles down, we prepare requirements to present it to our customers.
We undergo a few discussions regarding any changes and kickstart the first phase of development. We would update each process and finished milestones.
Till the app gets submitted on the PlayStore or the Web is ready to launch, we make sure to stay by their side, solving all the technical glitches and faults to give a bug-free platform.
4. What engagement models do you offer? How should a client choose?
As we follow Agile methodology, we collect the requirements and understand the complexity of the business application. From there, our team will set the time frame and cost of the project.
We give more importance to client satisfaction and we offer to provide technical support till the customer's business platform gets live. That's why we provide technical support in case of app rejection.
5. What do you as a leader prioritizes – vertical expansion of your business or the horizontal expansion of your expertise and services? How do you balance both?
I think in the IT services industry, both are important. As technology has become an important component for almost all industries, we make sure our marketplace solution is suitable for any sharing economy business model. And also, at the same time, we make sure to build the platform having a unique selling point to swim through the competitions.
6. What is your outlook for 2020?
This 2020 may have dulled the souls of people across the globe but not for us. We are working from home and our team putting their maximum effort and hard work to launch a new product and finish client projects.
We are not deterred by this epidemic, instead, we took this is a good opportunity to plan and execute new products.
7. Any particular technology or industry you would be targeting? How do you plan to prepare your workforce for the upcoming technology upgrade?
In 2020, we launched our pre-built on-demand car booking platform namely Wooberly in Flutter technology. The product was well-received by customers from all over the world. This encouraged us to build new on-demand platforms for other industries.
We train newcomers to the latest technology under the guidance of the experienced developers, who have already worked on the technology.
8. With technologies like React and Node that can be used for both web applications and mobile apps, how do you envision the development methodology to be in the future?
Yes, React and NodeJS is the future of web and mobile application development. That's why we have built our RentALL, RentALL Cars and RentALL Space products in this technology.
9. Other than technical expertise, what traits you believe are essential for any app development firm to succeed in this rapidly evolving industry?
The most important trait is giving a bug-free product with a super friendly and intuitive design of the application. Other than, we believe in putting our efforts in giving the final product exceeding the expectation of our customers. They would be surprised by our output and very much satisfied with our service wanting to work with us for future projects.
10. How do you assess the role of research agencies like ITFirms in bridging the gap between clients and service providers?
Between clients and service providers, there is a multiple-stage of trust and research done by the entrepreneurs. A reputed research agency like ITFirms would help entrepreneurs in finding and choosing a service provider based on their projects and requirements.
It also helps us to reach potential clients through your agency and connect to energetic startup owners and help them build their dream company.
---
RadicalStart
https://www.radicalstart.com
[email protected]