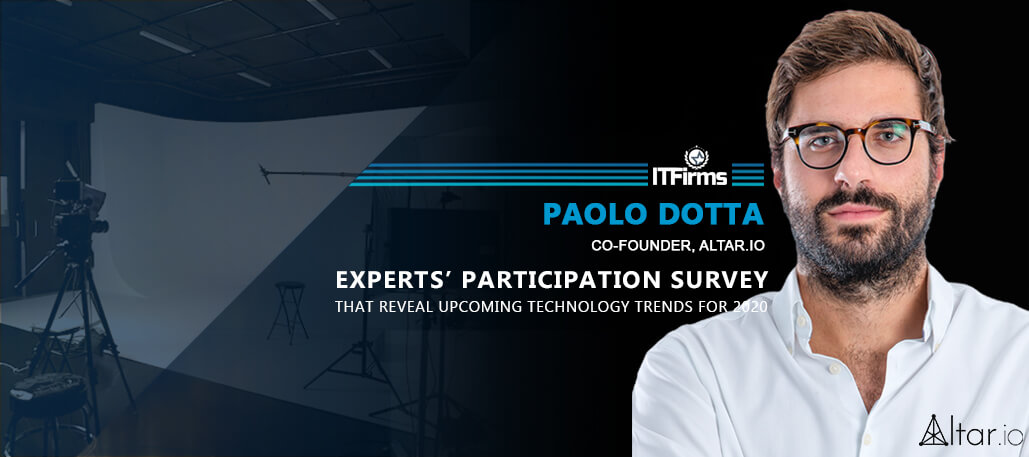 Interview with Paolo Dotta – Co-Founder, Altar.io
Here is the exclusive interview of Paolo Dotta
–

Co-Founder, Altar.io only on ITFirms. In this exclusive interview, he shared his

insights on upcoming tech trends for 2020 

and many more things.
Let's check his success story and thoughts.
1. Tell us in brief about your company and the leadership.
Altar.io is a Product & Software Development Company based in Lisbon, London and Milan. We help entrepreneurs and business leaders (both startups and enterprises) create innovative digital products & solutions worldwide.
Our team is made of ex-startup founders and top talents in Product, UX/UI, Software development and Machine & Deep Learning. We came together from various backgrounds with one vision: to bring a lean, user-centric approach to product innovation and software development.
2. How would you describe your growth trajectory in 2019-2020? Any particular achievement? Any disappointment?
We've been experiencing a consistent growth rate over the last few years, 2019-20 was no exception. Our efforts resulted in 2X in Revenues and Operating Profit and we had the privilege of closing sales with some of the top financial institutions in Europe.
3. Please describe the operational structure of your company- from the moment a client walks in, to the product deployment.
At Altar.io we usually start with a Product Scope; an intensive 3-5 day structured process. It all starts with an immersive focus session where you'll sit down with product experts and ex startup founders to dive into the product vision from a business standpoint. From there we will create the right list of user stories for the design of your Minimum Viable Product.
Once the Product Scope is complete you can then choose to move to the next step; which the majority of our clients do. This next step is MVP Development. With you, we design your Minimum Viable Product from UX/UI Design to Tech Stack & Architecture.
We then build the Key screens so you can see how your product will look, and approve the designs. Once you approve the Key Screens we extend the design to the rest of the product.
Once your app is fully designed we progressively deliver the modules of your app, testing throughout the process until it's ready to be launched.
After the launch of your MVP, you have several options to continue the relationship with us. First, we become your dedicated team for a minimum of six months. During this time we work with you to continuously iterate and improve your product.
Alternatively, if you want to build an internal team, we can help with that as well. We carefully scope team profiles then scout our community for the most valuable talent for your startup. We use our experience to carry out initial screenings of hard and soft skills and then hand the profile to you, at which point you decide if you want to interview them or not. As the number one open-source contributor in Portugal, we have an extensive network we can tap into to help you find the right person for the job.
When the time comes to bring on your internal team we will do a thorough knowledge transfer. Our knowledge transfer process is unique. Instead of setting up the classic workshop and code handover session, we always propose to the client that our team works together with their team during the last couple of modules. The rationale is, the two teams working together as one team, will have a natural and progressive knowledge transfer that, in our experience, is much more effective and successful.
4. What engagement models do you offer? How should a client choose?
Most of our MVPs fall into the time and materials engagement model, allowing for the flexibility needed to create an MVP.
However, when there's a collaboration in which the client foresees a 6+ month relationship, we have the option of a dedicated team engagement model.
5. What do you as a leader prioritizes – vertical expansion of your business or the horizontal expansion of your expertise and services? How do you balance both?
Vertical: as a consultant, you need to be specialised before expanding on other services. And we're focusing more and more on fintech.
6. What is your outlook for 2020?
2020 has been a strange year due to the COVID-19 pandemic, which impacted us considering that several financial institutions are technically bankrupt. However, we expect to not only fully recover but also show (a little) growth from 2019.
7. Any particular technology or industry you would be targeting? How do you plan to prepare your workforce for the upcoming technology upgrade?
We focus on data-centric platforms, especially in fintech. We're the top Open Source contributor in Portugal.
On top of this, we are currently targeting automation technologies in all vertices of the software development pipeline.
We are bringing automation technology to our toolbelts, blueprints and skillsets help us build faster and more resilient software solutions.
Additionally, it allows our developers to focus on engineering, building critical components, logic, algorithms and strategies by cutting repetitive unproductive tasks.
We can point out the automated integration of smart tests via Cypress (Test Tool) and TensorFlow.js (Machine Learning SDK).
8. With technologies like React and Node that can be used for both web applications and mobile apps, how do you envision the development methodology to be in the future?
Using javascript for mobile apps is fine, but there are a lot of caveats and things not supported and different flows/conditions to set from one platform to another.
I think the future is being defined at the moment with Flutter, which uses Dart language, created by Google, to make native apps for Android, iOS, Linux, Mac & Windows.
9. Other than technical expertise, what traits you believe are essential for any app development firm to succeed in this rapidly evolving industry?
You have to remain product-centric, with the user in the forefront of your mind – especially when building a Minimum Viable Product (MVP).
The best way to do this is to take a deep-dive into the product from a business standpoint (We call it The Product Scope). It allows you to streamline your product to the most necessary features to prove your value proposition.
This dramatically reduces the risk as you will be focused on building a product your target market actually wants. It also helps reduce cost; by only building the core features you will spend less on development & product maintenance.
In a nutshell, your customers have to see the immediate value when they use your product, or they simply won't use it; it doesn't matter if you're using the best tech stack or are coming to market at the right time if your product doesn't deliver value. The best way to do this is to stay product-centric.
10. How do you assess the role of research agencies like ITFirms in bridging the gap between clients and service providers?
Market insights to help guide business decisions are often limited and disorganised. With over 15,000 agencies worldwide choosing the right one is both crucial and difficult (we even wrote about this problem here).
The role of research agencies helps reduce uncertainty around working with a new agency, especially for less tech-savvy clients, by providing the user with independent comparisons between the top-performing agencies.
---
  Altar.io
  https://altar.io
  [email protected]