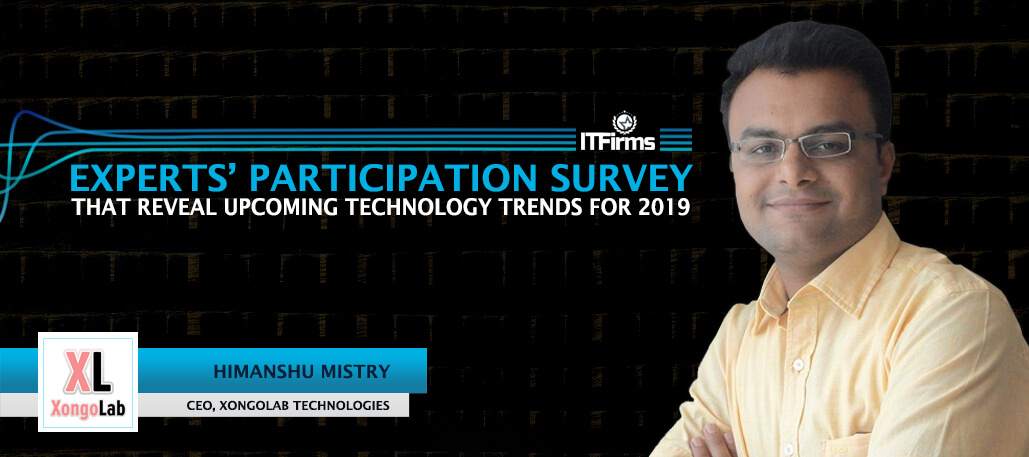 Interview with Himanshu Mistry – CEO, XongoLab Technologies
Experts' Participation Survey That Reveal Upcoming Technology Trends for 2019
1. Tell us in brief about your company and the leadership.
Formed in the year 2011, XongoLab crew provided website development services in the initial stages. Leading the team to overcome the challenges and achieve consistent feats, I transformed into a market leader providing the best IT services. XongoLab is now a pioneer web and mobile app development company providing cutting-edge solutions to solve complex business problems. It excels at providing path-breaking mobile and web based solutions to businesses of varying magnitudes. To provide the best solutions to our IT partners, we always remain updated about the latest technological changes and help businesses establish a Unique Perceived Benefit. We build brands with the exceptional services we provide. Our solutions are user-friendly, flexible, and cost-effective.
2. How would you describe your growth trajectory in 2018? Any particular achievement? Any disappointment?
During the year 2018, we have achieved substantial growth owing to success in clinching and accomplishing different projects. Our landmark mobile application development projects include Chefsy, Sauteez, and Aktivo which helped us enlist growth. We have also evolved our knowledge on different platforms including ReactJS, NodeJS, and MongoDB which as empowered us to take up and complete versatile projects.
3. Please describe the operational structure of your company- from the moment a client walks in, to the product deployment.
When a client approaches us with a dream idea, our expert term first analyses the project and presents a proposal along with suggestions. Once the client approves the suggestions, meetings (online or personal) are held to discuss about the feasibility of the project, deadline for completion of the project, cost of the project, etc. Once mutual terms are arrived upon an NDA is signed between both the parties and our development team proceeds to execute the planned project. During the entire project life-time, we keep our client updated about how the project is processing. If any changes are requested, our team conducts meetings to discuss if it is feasible to include changes at that stage of the project. Once the project is accomplished, our qualified quality control team tests the solution for bugs and get suitable correction done if required. The final solution is then forward to our client in the form of a demo. Once the solution or products comes out of the testing stage and the demo is approved, we proceed to launch the product.
4. What engagement models do you offer? How should a client choose?
We basically offer two engagement models- Fixed Cost and Hire Module. Once we are done with project analysis, we offer a fixed cost for the project. Under the hiring module, client can choose to hire a dedicated developer to work on an hourly, weekly, or monthly basis. The selection of the engagement model highly relies on the nature of the project.
5. What do you as a leader prioritizes – vertical expansion of your business or the horizontal expansion of your expertise and services? How do you balance both?
As a leader, I always look for a balanced growth. I keep my team updated with the new technologies as it empowers us to take up more projects rather than look outdated. At the same time, I also invest my efforts in adding more solutions to the existing line of solutions our companies provide. IT is all encompassing; it has taken everything under its sweep and leaving any upcoming area unattended would be like placing business in jeopardy. Hence, we look for a balanced growth and use a step-by-step approach.
6. What is your outlook for 2019?
2019 looks promising to me with so many new technologies such as blockchain, internet of things, cryptocurrency, AR, VR, and a lot more emerging to power. My aim is to enhance the knowledge of my team so that they can adapt to these changes and remain flexible when it comes to way of working and learning things.
7. Any particular technology or industry you would be targeting? How do you plan to prepare your workforce for the upcoming technology upgrade?
With so many technologies coming up, there is no doubt that there's a lot around us which is going to change. Each technology works in synchrony with the other. Focusing only on one would handicap our efforts. The goal is to target that shaded area in the Venn diagram where technologies meet. This will help us provide smart solutions to our clients. As I told before, I aim to make my team more flexible due to the number of changes occurring these days. Adopting a flexible approach or an approach where they are ready to learn and embrace any new technology, will be the key to success in the coming days. They will only learn by imitation; they follow me as their leader. Hence, until I adopt a flexible mindset, they will not be able to do so. For instance, I have displayed flexibility by giving my employees freedom to work from home during certain times of the week. I am standing as an example of tractable approach. I am sure they will feel inspired by me and the little changes which I am going to bring in the coming days at XongoLab.
This is the attitude change I am targeting at. This way I need not hold any training sessions to update them with knowledge. They themselves will be empowered to research and learn independently from the whole sea of information available on the WWW.
8. With technologies like React and Node that can be used for both web applications and mobile apps, how do you envision the development methodology to be in the future?
Node and React development methodologies have undergone a number of changes to adapt to the changing requirements. When it comes to creating mobile apps, development technologies which can offer responsive results will surely make things easy. Native app development will gradually lose importance. Coming to development methodology, at XongoLab, developers will adopt an agile methodology as it leaves a lot of room for versatility.
9. Other than technical expertise, what traits you believe are essential for any app development firm to succeed in this rapidly evolving industry?
An app development firm can sustain itself in this fiercely competitive arena only by keeping itself updated with the constant changes occurring in the IT arena. Any new change must be enlisted and steps taken to welcome it with open arms. An open attitude, free of rigidity to use only a set tools and technologies, is what is needed these days.
10. How do you assess the role of research agencies like ITFirms in bridging the gap between clients and service providers?
IT firms play a significant role in disseminating important information about service providers. Research agencies provide an authentic and unbiased review of service providers which help clients in choosing the right partner.
  XongoLab Technologies
  www.xongolab.com
  [email protected]