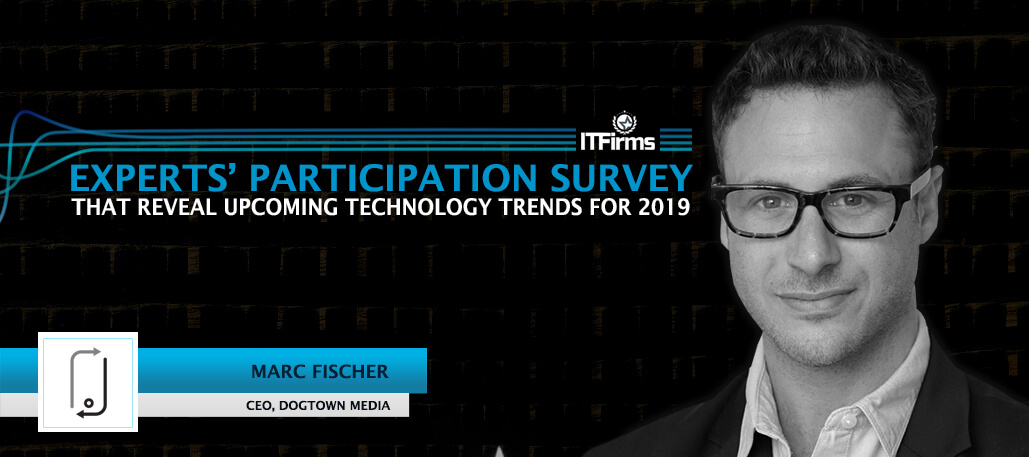 Interview with Marc Fischer – CEO / CO-FOUNDER, Dogtown Media
Experts' Participation Survey That Reveal Upcoming Technology Trends for 2019
1. Tell us in brief about your company and the leadership.
Dogtown Media is a leader in mobile technology for the industries of the future. Conceived as a custom mobile app development company by co-founders Marc Fischer and Rob Pope in 2011, Dogtown Media has expanded into an award-winning mobile technology powerhouse. Partnering with VC-funded startups and enterprises like Google, Harvard Medical School, and the United Nations, we create purpose-driven digital products that enable companies to innovate, grow, and rapidly bring new ideas to market. Apps we've developed have gone on to receive millions of downloads, been featured on international TV programs, and transformed the relationship millions have with the brands they trust.
2. How would you describe your growth trajectory in 2018? Any particular achievement? Any disappointment?
2018 was a great year for Dogtown Media. We were named on the Inc. 5000 List of America's Fastest Growing Private Companies for a second consecutive year, as a testament to our dedication to our team, clients, and community. We implemented a strategic shift to focusing on enterprise clients in order to solve major pain points for their business processes and workflows by adopting up and coming technologies including Artificial Intelligence, Machine Learning, and IoT frameworks.
3. Please describe the operational structure of your company- from the moment a client walks in, to the product deployment.
Our inherent belief is that clients have instilled their trust upon us to deliver the tangible results they want our products and services to achieve for their business. Not merely content to achieve those results, we know it is our duty to exceed each and every client's expectations by delivering on-time, on budget, and according to specifications. To do this, we embrace a policy of open and consistent communication with our clients with a variety of methods to suit them. Regular reports and meetings ensure that the client is involved every step of the way, from initial design and discovery, through development and to ultimate product launch. In this manner, transparency is integral to our process so that we deliver the best possible product and service to our client.
4. What engagement models do you offer? How should a client choose?
The engagement model we determine is contingent on the type of project and the timeframe in which the project needs to be completed. If the scope of the project is clear, concise, and well-defined, we'll recommend a flat fee. If there are significant undiscovered variables, where we are required to act as the driving force for a project's vision in the role of a tech consultant, a more agile method of engagement is more suitable.
5. What do you as a leader prioritizes – vertical expansion of your business or the horizontal expansion of your expertise and services? How do you balance both?
Our company has made a strategic decision to hone in our expertise within the industries of the future to move up the value chain. In order to adhere to our mission of solving complex problems via the creative use of technology, we determined this pivot would be most appropriate to allow us to solve more substantial organizational pain points and deliver high quality user experiences to a global audience.
6. What is your outlook for 2019?
We believe that the political, economic, and trade uncertainties will have a minimal effect on the IT spend by organizations in the developed world. The gap between knowledge workers available and open positions for knowledge workers is growing every day. We feel we are in a strong position to thrive over the coming years because of the immense value created by the mobile products we develop.
7. Any particular technology or industry you would be targeting? How do you plan to prepare your workforce for the upcoming technology upgrade?
We are doubling down on Artificial Intelligence, specifically the field of Machine Learning. We foster a culture and mindset of continual learning within our team, providing extensive resources for training and further education so that our team remains one-step ahead of the curve. We also partition time for internal tech competitions to bring the team together and help them challenge themselves, to achieve personal and professional growth. In this manner, we feel confident that our team will continue to have the cutting edge skills required to embrace the upcoming waves of technological change. We are also focusing on Healthcare as an industry that is ripe for disruption. The medical field utilizes technology, especially mobile apps and wearables, at an alarming low rate, in spite of the countless use cases related to diagnosis, treatment, recovery, and monitoring of health and wellness. Our work with Minneapolis Heart Institute and Harvard Medical School has positioned us to be ready to tackle the complexities that the Healthcare industry contains in order to deliver better patient outcomes.
8. With technologies like React and Node that can be used for both web applications and mobile apps, how do you envision the development methodology to be in the future?
We believe that in many cases, native applications are the best option to build out a superior user experience. However, we believe that React and React Native and Node.js backends will be leveraged more frequently in the near future as the gap between the user experience provided by native apps and cross-platform frameworks narrows. We have expanded the team in these capabilities, helping us to capitalize on this fundamental shift in ecosystem. We are already actively building out experiences in React and React Native with Node.js backends for our clients and their stakeholders.
9. Other than technical expertise, what traits you believe are essential for any app development firm to succeed in this rapidly evolving industry?
For even the most advanced tech teams, staying up-to-date with the technology shifts is challenging. In the haste of staying on top of current trends, while allowing you to deliver better solutions to your clients, it is important to remember your clients may consist of non-technical folks. Therefore, being able to clearly and concisely communicate with a client is essential, both in terms of initial directions and then ability to execute on a plan to ensure a project is delivered on time, on budget, and on specifications.
10. How do you assess the role of research agencies like ITFirms in bridging the gap between clients and service providers?
Research agencies play a key role in identifying and vetting top talent and strategic partners in the IT ecosystem. They foster an implicit trust as an independent, third-party source, to help clients make the choice of service provider that will deliver exceptional solutions that solve the pain points of all relevant stakeholders. In turn, service providers know they can achieve a positive impact by being positioned in front of key decision makers at notable organizations.
  Dogtown Media
  www.dogtownmedia.com
  [email protected]