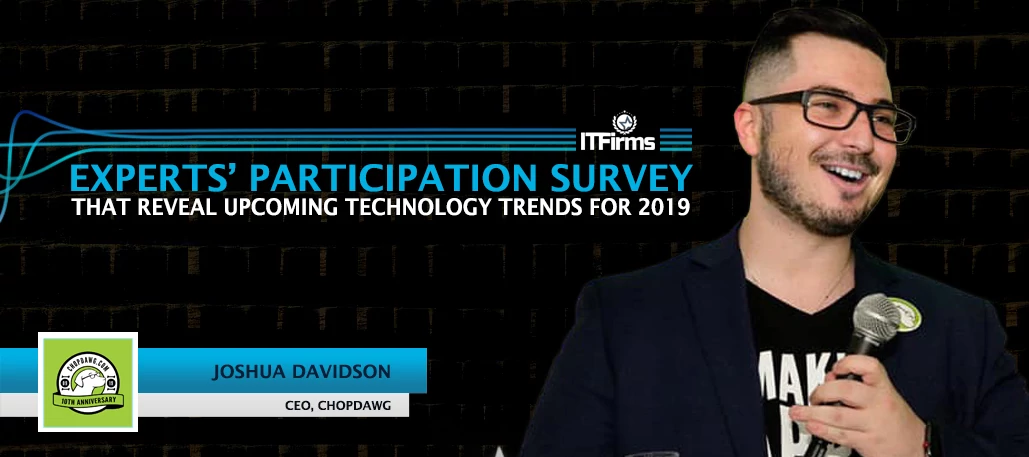 Interview with Joshua Davidson – CEO, Chop Dawg
Joshua Davidson – CEO, Chop Dawg,  exclusively interviewed by ITFirms. Under Experts' Participation Survey That Reveal Upcoming Technology Trends for 2019, He shared his success story and views.
1. Tell us in brief about your company and the leadership.
Since 2009, we've created 300+ digital products — from mobile and web apps to blockchain and artificial intelligence technologies for startups, Fortune 500s, growing businesses, and non-profits from around the globe. Think of us not as an agency, but as your technical partner. We like to say it's the difference between us sitting next to you at the table vs. across as we build your app. At Chop Dawg, we work alongside our clients to "Make It App'n" and guide them through the process of bringing their ideas from conception to launch-ready apps.
2. How would you describe your growth trajectory in 2018? Any particular achievement? Any disappointment?
I'm proud of how much great work we've been able to deliver to our clients so far this year. We've actually multiplied last year's output several times over and are showing no signs of slowing down. We've been busier than ever before, handling more projects at once with a growing team, and yet the relationships with our current clients are some of the best we've ever had.
3. Please describe the operational structure of your company- from the moment a client walks in, to the product deployment.
We carefully scope clients' projects from start-to-finish by defining all of the design and development requirements before any contract is actually signed. This part of our technical partnership is very collaborative. We want to ensure that prospective clients are 100% confident before moving forward. This is the time for us to ask tough questions, too, so that no stone goes unturned.
Our proposals are some of the most detailed in the industry, usually at about 100 pages. We want to make sure that our clients receive everything that they have asked for—as well as the things they didn't know to ask for. At the end of the day, setting the scope is the most important part when developing a product, and we highly encourage feedback and revisions to the proposals we write. During the discovery phase, we will work with our clients to optimize budget and timeline based on the features and functionality that are the most important.
Once the contract is signed and the project has begun, we're moving straight into the design. We make sure that until the design is complete, not a single line of code is written. In design, we start by creating black-and-white visual guides that forms the foundation of your app. These wireframes serve as blueprint concepts of every single screen, function, pop-up, and animation that needs to be accounted for when building apps. Once the wireframing process is complete, we take those blueprints and bring them to life with high fidelity mockups. These mockups will show you exactly what the app will look like.
The final phase of design serves as a critical bridge into programming, defining the logic between all of those screens in the high fidelity mockups. We call this logic product flows, where each screen will appear once programmed, where data is sent, received, and how everything will function once the application is fully programmed. Think of this like creating the blueprints to a building—we need to define everything that's required in order to make sure our programmers are able to do their jobs successfully.
Once the product flows are approved by our clients, we can finally move onto programming. With programming, we are bringing the application's design to life – think of this as building the brain. Since our developers were engaged in the design phase, they are completely prepared to build out the logic of this design and bring the product flows to life. All of the code that runs the app, including backend partners and sources, will be fully implemented and ready for testing during the programming phase. I cannot emphasize enough how critical the back-and-forth communication between designers and developers is.
Throughout programming, we implement incremental quality assurance testing so that there aren't any big surprises by the time we get to quality assurance. We run applications through many stress tests to confirm that everything is working as intended and all documented bugs are resolved. What we want to discover for ourselves here are all of the possible scenarios that an app's future users could go through.
The final part of our process that I believe distinguishes us is the importance we place on the launch. We will do everything to help our clients have a successful launch, and we've been fortunate to build a long list of industry contacts that we can leverage. Most of all, we make sure that our clients are provided with support during that critical 90-day launch window.
4. What engagement models do you offer? How should a client choose?
Using careful scoping, all of our engagements are set-rate so that clients can know exactly how much they are going to spend throughout the project. No surprises. We offer full design and development for apps, but we also offer non-functioning prototypes (NFPs). NFPs are more of an entry-level service where we stop at the product flows but also make them interactive. Think of this like an app without a brain. This way, clients can demonstrate their apps if they need to raise money or get proof of concept. We are also big believers in the MVP, or Minimum Viable Product when it comes to app development. With our ten years of experience building apps, we help our clients tailor the day-one vision for their app that is most cost and time effective, and yet also engaging to future users with all the necessary features needed for a successful launch. From there, we can keep building upon the foundation we built together with new features.
5. What do you as a leader prioritizes – vertical expansion of your business or the horizontal expansion of your expertise and services? How do you balance both?
Both! Vertical expansion always comes first for us, since we want to make sure that we are offering the best of the best for what's working and in-demand. For example, we are building many React Native apps right now. React Native has worked well as a service both for our team and our clients. So it makes sense to have a major vertical expansion there in order to provide the best React Native service possible.
Once I know that we are well-stocked to handle projects for each of our services, that's when it comes time to think horizontally towards the future. You never want to become too complacent on the services you offer, especially as an app development firm. So while we are making sure that we are building the best React Native apps in the business, we are also expanding into different forms of expertise. We are heavily investing in our team's skills as we build artificial intelligence and blockchain technology software. We are helping businesses create new apps for Amazon Alexa and Google Home as well. But the cardinal rule is to always make sure that the service you are best at providing today is always receiving the attention it needs.
6. What is your outlook for 2019?
I'm thrilled by how 2019 is looking so far, as we've been working with some of my favorite clients yet. We've been making some great strides in getting some of our AI-powered apps out the door too which is going to set us up very nicely for 2020. The cardinal rule for all of the apps that we build at Chop Dawg for our clients are not just building traditional apps with answers to today's needs. What we want to build for our clients are apps with a 2020 vision with answers to tomorrow's questions.
We've also been making strides in building apps for clients that can be supported on a suite of platforms at once.
7. Any particular technology or industry you would be targeting? How do you plan to prepare your workforce for the upcoming technology upgrade?
AI-powered apps are going to be the future for us, and there are several industries that are ripe for this. For example, we are in the finishing stages of building an app called Jurvo, which acts as an AI-powered legal assistant. It's going to completely change the legal industry. I can see it being influential for lawyers and clients alike.
The model of the app development firm is being able to assess future demands early on. I see that apps in the future are going to not just be on smartphones. I see the future of smart homes and mixed reality in our cities, with a key component being voice technologies. One of the key things to look out for in the future is going to be the rollout of 5G, which I'm actively preparing my team for. I'm also looking for new talent that will be able to come up with creative ways that we can take advantage of the incredible capabilities of 5G to come. The possibilities of what Chop Dawg and other firms will be able to build for our clients will completely change with 5G. Just think about what 4G did in terms of ushering in the current consumer app revolution.
With an app development firm, you want to make sure that you are leading your current team towards any new direction that may come up based on demand, but that you're also finding new specialized talent. Like with what I said before about building apps for 2020, these are the types of conversations I'm having with my team right now. We can't just be project-focused. Chop Dawg needs to have a holistic vision for how apps are going to be built in the future.
Apps are going to continue to go down in cost to produce, too. That provides an exciting future, as apps can be built on a bunch of frameworks and APIs while providing much greater room for startups and companies to do interesting things.
8. With technologies like React and Node that can be used for both web applications and mobile apps, how do you envision the development methodology to be in the future?
I'm excited by the potential of React Native in the particular. The conventional wisdom for building apps used to be that you need a different codebase for each platform. Javascript for Android apps. Swift for iOS apps. Ruby for web apps. This conventional wisdom made it so that if you wanted to extend the reach of your app, you'd have to pay three times the cost. Now, we can come up with apps for clients that can do so much more at so much less money, which really brings down the cost of entry for businesses and non-technical entrepreneurs with a great app idea.
Apps will not just be designed for the smartphone anymore. Think about this: we can build an app that can be designed for VR (React 360), web, mobile, cars, and TV all using one codebase. That alone is going to offer incredible opportunities for the Chop Dawg team and our clients.
9. Other than technical expertise, what traits you believe are essential for any app development firm to succeed in this rapidly evolving industry?
It's critical to find ways to differentiate yourself from the competition, while making sure that your expertise and talent is up-to-date. One thing that we do is put a lot of effort into our clients' success beyond just the application itself. We make sure that before we ever begin, our client has a monetization strategy in place. We will also make introductions and recommendations along the way for our clients based on our ten years of experience in the entrepreneurial-tech space.
So it comes down to this: how much can you provide for your clients that goes beyond just the traditional app development service?
10. How do you assess the role of research agencies like ITFirms in bridging the gap between clients and service providers?
Research agencies like IT Firms and Clutch have helped curate the best app development firms for these businesses to see all in one easy place. These research agencies have empowered businesses to easily find firms that will work for them. Many of our clients have found us via research agencies. It's a great way for us to get businesses in the door, and then we can show them why we stand out from the rest of the app development firms out there.
  Chop Dawg
  https://chopdawg.com
  [email protected]