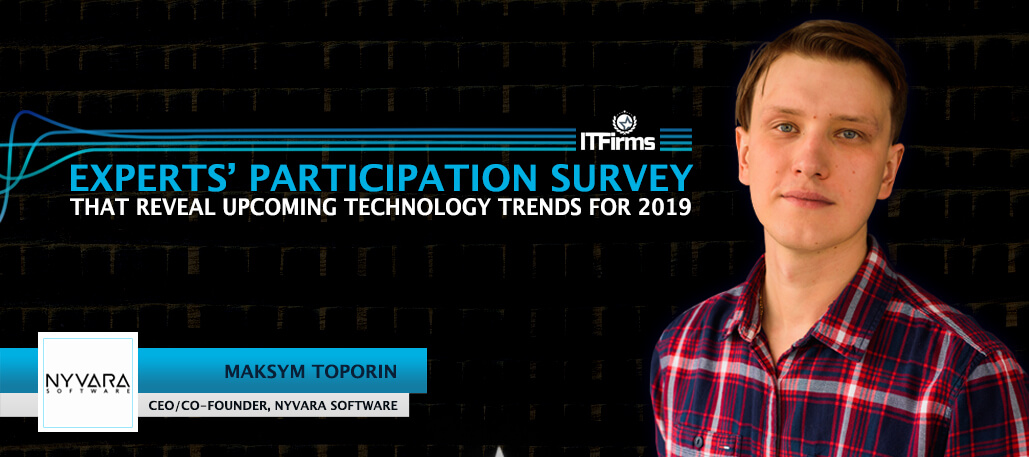 Interview with Maksym Toporin – CEO & Co-Founder, Nyvara Software
Maksym Toporin – CEO and Co-Founder, Nyvara Software,  exclusively interviewed by ITFirms. He shared his success story and views under "Experts' Participation Survey That Reveal Upcoming Technology Trends for 2019".
1. Tell us in brief about your company and the leadership.
Nyvara Software is an outsourced software development company, headquartered in Spokane, WA, having development centers in Kharkiv, Ukraine and Barcelona, Spain. We're focused on setting up dedicated teams of solid software engineers. Nyvara is a young and steadily-growing company with an ambition to become a leading provider of end-to-end software development services of the highest quality.
This aspiration is fueled by the team of competent managers with years of experience in the software development outsourcing industry, and access to a vast national IT talent pool:
Maksym Toporin is experienced and results-oriented Senior-level manager with a strong technical background and more than 6 years of experience in leadership positions. Maksym is the CEO at Nyvara Software company, making sure to provide high quality service when setting up strong development teams.
Pavlo Podopryhora has more than 8 years of commercial software development experience and delivered a lot of successful and technically challenging projects to the clients. He can cover all technical aspects of outsourcing business from technical consulting to candidates interviewing as well as taking on a role of Technical Project Manager when there is a need to set up the development process.
2. How would you describe your growth trajectory in 2018? Any particular achievement? Any disappointment?
In 2018 we managed to get new patents, expand our team and strengthen our position in the market. The most important thing for us is the team, and every time we take a new expert to our team is a big achievement for us, on the other hand – losing someone is a disappointment for us.
Our main principle is 'If you want to go fast, go alone. If you want to go far, go together.'
3. Please describe the operational structure of your company- from the moment a client walks in, to the product deployment.
Our operational structure includes just 5 simple steps:
Step 1: Project initiation
Together with the client we discuss business goals of the project, agree on the development process, identify required skill set for the engineers based on the clients business needs and priorities, and define a team composition.
Step 2: Team staffing
We have a very rigorous screening process to identify the perfect fit specialists and typically our clients are ready to go with 1 out of 2 or 3 engineers that we present.
Step 3: Project start
During the first meeting together with our client we discuss project goals and milestones, agree on the process and nearest set of tasks for engineers, as well as set up efficient communication process.
Step 4: Implementation (Execution)
During this phase, the project plan is put into motion and team is working on the implementation based on the development process confirmed earlier. Our Project Managers continuously monitor the progress to ensure the quality and direction though daily meetings and task tracking tools. QA expert is typically a part of the team to verify the quality of the deliverables.
Step 5: Deployment
During this phase the team's primary focus is release of the final deliverables to the customer. We're transferring all of the project documentation, releasing project to the production server and transfer ownership rights of all of the project deliverables to the customer.
4. What engagement models do you offer? How should a client choose?
At Nyvara Software, each client is unique. Our goal is a successful partnership. The most successful IT startups and IT market key players trust us and have chosen Nyvara Software for custom software development team set up, Agile consulting, and custom IT staffing.
 We provide our partners with special working conditions, personal meetings and corporate parties. All this allows us to always be on the same page with our clients.
5. What do you as a leader prioritizes – vertical expansion of your business or the horizontal expansion of your expertise and services? How do you balance both?
Today we are growing horizontally, we are opening offices in different locations and building a strong team of professionals in order for us to start the vertical growth.
6. What is your outlook for 2019?
In 2019, more companies and startups will start or continue implementing algorithms of machine learning in their platforms, applications, and devices. New startups will appear, and the investments will follow along with them as well. This means, that there will be an increase in high-quality specialists all around the world that will work on making it possible to open your locked door without the key, but instead, with facial recognition.
Our goal for 2019 is to help AI lead the way in today's business environment by developing brilliant IT solutions that really make a difference for everyone.
7. Any particular technology or industry you would be targeting? How do you plan to prepare your workforce for the upcoming technology upgrade?
Our company specializes in providing IT solutions for FinTech companies, one of the fastest-growing domains at the intersection of IT and finance. Today, traditional banks are striving to transform their businesses and collaborate with the most promising FinTech startups. We believe financial technologies will shape the future of the banking industry. That's why we want to help FinTech startups develop reliable IT solutions and deliver excellent financial services worldwide.
8. With technologies like React and Node that can be used for both web applications and mobile apps, how do you envision the development methodology to be in the future?
We use agile methodology, love working with Scrum or Kanban to deliver better and faster results. In terms of technologies, we have extensive experience in working with React and Node, these are among our one of core expertise.
At Nyvara we are focused on high-quality results and productivity, which is why we hire only the strongest experts with great personal and communication skills.
9. Other than technical expertise, what traits you believe are essential for any app development firm to succeed in this rapidly evolving industry?
RESPONSIBILITY. We are committed to building teams that address our customer's resourcing pain points with ultimate precision, and we encourage all our employees to invest in their professional growth on an ongoing basis. Our mission is to create a work environment where IT talents thrive and collaborate for the common good and for the good of our customers across the globe.
10. How do you assess the role of research agencies like ITFirms in bridging the gap between clients and service providers?
In my opinion, the role of research agencies is extremely significant! It is great to have a trusted resource of consolidated information about the variety of service providers where everyone can find a partner according to his/her own expectations.
  Nyvara Software
  https://nyvara.software
  [email protected]