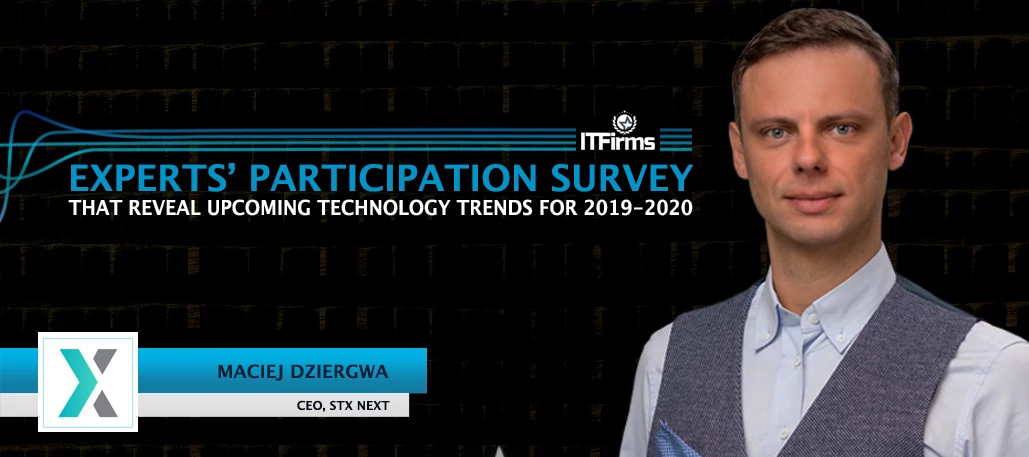 Interview with Maciej Dziergwa – CEO, STX Next
Maciej Dziergwa – CEO, STX Next, exclusively interviewed by ITFirms. Where he Revealed his Thoughts on Upcoming Technology Trends for 2019-2020, He shared his success story and views.
1. Tell us in brief about your company and the leadership.
STX Next is the largest Python software house in Europe, and probably in the world. For 14 years, we have been providing custom software solutions and bringing to life sophisticated digital ideas for globally recognized enterprises and internationally awarded startups.
2. How would you describe your growth trajectory in 2018? Any particular achievement? Any disappointment?
The focus of 2018 was to prepare for growth. Many investments were made to build up the company's management, sales, and marketing teams. We improved internal data analysis processes and aligned all the departments in order to take the next steps towards our goals for 2019.
3. Please describe the operational structure of your company- from the moment a client walks in, to the product deployment.
Depending on the type of customer, we can simplify the process into 3 steps — the so-called DDD model consisting of Discover, Definition, and Delivery stages. At the beginning, our workshop team (including product design experts and tech leads) analyzes the insights and conducts workshops to learn as much as possible about the customer, their needs, business challenges, and about the product's intended purpose. The next step is to define and create a solid production plan, overall vision, and architecture for the product, as well as build a bespoke team for the development. The final step is delivery—this is when the code is developed, and parts of the product are released frequently and regularly, following modern Agile practices.
During the DDD stages, business development, onboarding or project kick-off activities, the customer is guided by a dedicated account executive and an SDM (service delivery manager) who oversees, consults, and connects with professionals from different departments, e.g., legal advisors, service delivery managers, team leads, product strategy consultants. The goal is to simplify the onboarding process, clarify all doubts, and overcome possible bottlenecks.
Additionally, after the Delivery stage, we also offer a DevOps team responsible for maintaining and monitoring the project.
4. What engagement models do you offer? How should a client choose?
Before starting the cooperation, we connect our customers with highly skilled product consultants and tech leads to evaluate the needs of the project, business goals, and objectives—this way we can propose the best-suited cooperation model from the start.
Based on the outline of the project and its goals, or based on the pre-qualification business and data analysis process, the client can choose between different agreement models: time and materials or a dedicated team (either a standalone team or team extension). Our goal is to educate the customers on how they can take advantage of choosing the appropriate way of cooperation, and how it will influence the future relationship. We intend to support customers at each stage of the service, to be fully transparent, and to ensure customer success and ongoing knowledge transfer.
5. What do you as a leader prioritizes – vertical expansion of your business or the horizontal expansion of your expertise and services? How do you balance both?
Python programming remains our core business. Other technologies (such as Golang and React Native) or services (such as cross-platform mobile development) are becoming more relevant to us due to the natural evolution of our customer's needs. By fostering continuous improvement, adopting new technologies and expanding our competencies we are able to deliver the most sophisticated solutions on the market.
The software development market is filled with small to midsize companies. Compared to our direct competition we are one of the biggest firms operating in this area and definitely in this field of specialization. This gives us an advantage when competing against other, smaller software houses. Our scale allows us to be an attractive partner for big corporations.
Even though we grew significantly over the last few years, we still managed to keep our working culture agile and flexible. Looking back to 2005 when STX Next was born, we have gone a long way and gained a lot of horizontal expertise while improving vertically as well. Working with us brings not only new resources but also allows our customers to tap into an essential source of knowledge and know-how from the best of the best on the market.
6. What is your outlook for 2019-20?
We associated 2019-20 with growth. We set a plan for this year to hire over 100 awesome new co-workers. We already know that we will manage to outperform this metric. During this growth period, we didn't forget about the company's DNA: the people who build up this company. The people who work at STX Next are the foundation of our existence and our professionalism. To confirm this, we invested in a new HQ office, allowing us to work in a more enjoyable atmosphere and in better conditions surpassing the average standards.
7. Any particular technology or industry you would be targeting? How do you plan to prepare your workforce for the upcoming technology upgrade?
The Python programming language is the core business of STX Next. The trends and the market both confirm that investing most of the focus and resources in this technology was the right call. The specialization we chose over 14 years ago continues to bring excellent results.
Our constant need for improvement, to deliver the highest value and the best solutions to customers resulted in the development of new service lines.
We aim to help SMEs and corporations through digital transformation, in order to fix inefficient business processes and to generate more profit. Keeping this goal in mind, we introduced and improved new specializations, including React Native, Machine learning/Artificial Intelligence, Data Science, Golang, and DevOps. I see DevOps in particular as our #1 area of growth in 2019 and beyond.
We have cooperated with numerous clients in industries such as fintech/finance; media & entertainment; and crypto & blockchain. We see more and more cooperation requests from sectors like IoT, e-commerce, and real estate/proptech, in which we see new opportunities for growth.
8. With technologies like React and Node that can be used for both web applications and mobile apps, how do you envision the development methodology to be in the future?
Thanks to the development of JavaScript as the most all-purpose programming language, it is now possible to create web apps, mobile apps, and backend using just this one language. Thankfully, React and Node work very well with Python, which is why more and more of our developers are becoming full-stack developers with expertise in both areas.
At STX Next we also benefit from the continued development of technology—a native mobile application written in JavaScript can be a match to those written in Java or Swift. We entered a new market of mobile solutions even though we didn't have to create a team dedicated to just mobile apps—developers can move between web, backend, and mobile projects, becoming experts with varied skills. This in turn also makes their job more interesting and challenging.
9. Other than technical expertise, what traits you believe are essential for any app development firm to succeed in this rapidly evolving industry?
Beside technology adaptation and specialization, modern IT companies need to form a culture of customer companionship and implement a customer-centric policy. Each initiative or growth plan should be created with customers in mind, with a focus on their needs, problems, and goals. But to grow a truly powerful brand, this customer-centric culture should go hand-in-hand with programs aimed at retaining crucial in-house talent.
For software houses such as ours, it's crucial that our clients feel that they can rely on us and that we take ownership for our work. Luckily, I've heard many comments from our clients that we build their products as if they were our own; I'm very proud of that. Additionally, you gain a great competitive advantage in this market if you can offer comprehensive, one-stop-shop solutions encompassing product design, development, testing, deployment, and maintenance. We can now say that we cover all these areas.
10. How do you assess the role of research agencies like ITFirms in bridging the gap between clients and service providers?
B2B cooperation is all about trust, authority, and relationships. Agencies such as ITFirms shorten the research process and allow potential customers to gain information on potential cooperation partners faster.
Such agencies are crucial to companies building up their portfolio and looking for a way to gain recognition. Often the process of looking for a new partner includes a lot of research and validation activities which burn a lot of resources and time—having the possibility of skipping this effort is very handy and practical.
  STX Next
  https://stxnext.com
  [email protected]