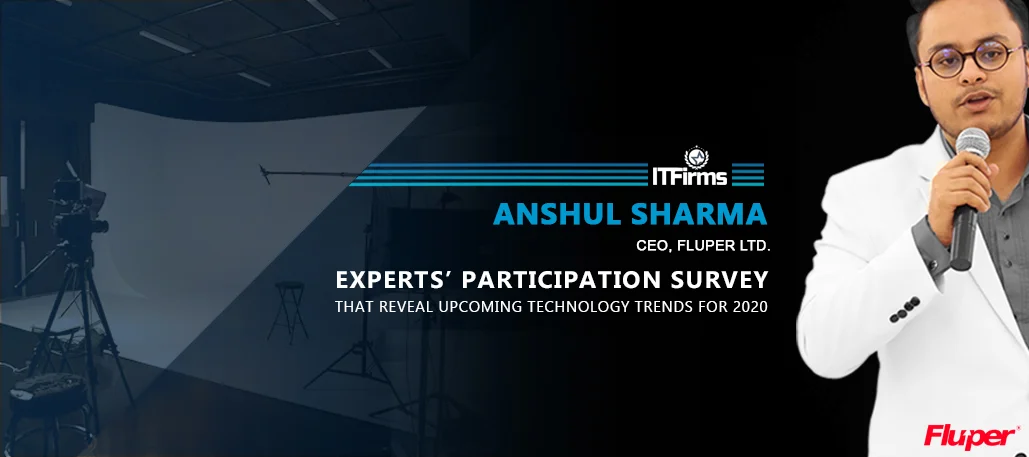 Interview with Anshul Sharma – CEO, Fluper Ltd.
Anshul Sharma – CEO, Fluper Ltd., exclusively interviewed by ITFirms. Where he shared his thoughts on upcoming technology trends for 2020, Let's check his success story and views.
1. Tell us in brief about your company and the leadership.
A NASSCOM and IBM certified & ISO 9001: 2013 app developers, Fluper is one of the leading web & mobile app development organizations that is known for delivering peer-to-peer web & mobile app development services all over the verticals. Our team of 300+ professionals offers applications by representing faultless designs, faster access, and real-time response to drive more user-base, conversions, leads, and ROI. With the eventual aim of boosting efficiency, we always opt for agile app development.
Talking about my role within the organization, I am responsible for bringing the optimistic approach, building strategies to deliver the best, and working towards business growth. We work collaboratively as a team and provide the most profitable solution to our clients.
2. How would you describe your growth trajectory in 2018-2019? Any particular achievement? Any disappointment?
We have started the organization with only 2 people in the year 2011, unaware of the fact that one day; we will be ranked as one of the trusted app development companies across the globe. The office from where we used to operate wasn't large enough. In the beginning, we used to provide CRM & ERP Software Solutions. However, with the changing market scenario, we realized the significance of mobile applications.
Fluper, which started as a startup in the app development sector, gradually becomes the first choice of users when it comes to the development of mobile apps. Moreover, we have been awarded as the Best Startup of the Year 2018 by Innovate India and Ranked #1 Mobile App Developers by AppFutura, Clutch, and Good Firms in UAE.
3. Please describe the operational structure of your company- from the moment a client walks in, to the product deployment.
As soon as a client brings his idea to us, our team begins the process by following a well-planned approach, as mentioned:
We know, any idea can be turned into an unbeaten app if it resolves an authentic difficulty of users who will ultimately download, as well as use the app. Thus, we make sure that idea is realistic, and to check the practicability of the concept, we perform multiple steps, including market research, set up definite objectives within a deadline, and execute a competitors' study.
Now that we figure out the features, budget, target group, and timeline, our professionals start functioning on the visualization and conceptualization of the app's functionality and its UI.
Once the designing part is done, our developers start building the mobile app by using the Agile Scrum Methodology. We ensure that the app we develop is not heavy on the processors since that is going lead to audiences uninstalling your application out of irritation.
Regardless of how faultless your application seems to you, we never pass it without sufficient rounds of testing to make sure that it is ready for users. We perform multiple tests at every iteration, including functional Testing, Performance Testing, Device-Specific Testing, Usability Testing, and more.
Finally, we launch your app at the right time on different platforms. Our team knows that the essential part of app development is its launch; hence, we keep an eye on multiple factors before introducing it in the marketplace.
Fluper's team also performs the post-launch monitoring, constant updates, analytics, social media listening, inspecting reviews & responding to them, and more to make sure your apps become a hit in the market.
4. What engagement models do you offer? How should a client choose?
It's simple to presume that user acquisition is the essential factor in determining your app success. However, without a dominant audience, high download rates signify nothing. Hence, we focus on multiple aspects when it comes to engaging users, including the quality of the app with various functionality, effortless onboarding, utilization of the push notifications, and more. Besides, we offer a long list of offer our clients, such as 9 Months free app promotion, real-time project tracking, 2.5 years complete app support, and more. Clients can pick the model according to their business, product/service, requirements, and target audience.
5. What do you as a leader prioritizes – vertical expansion of your business or the horizontal expansion of your expertise and services? How do you balance both?
Well, we generally intend to cultivate vertically without leaving the horizontal gaps. Being a leader, I make sure that our experts know about modern strategies and technologies instead of restricted to mainstream practices; since this effort does not merely scale the expansion of the organization but takes the career of the team at a different level. Besides, we try to make the existing processes better by adding advanced solutions, as well as tools for enhanced productivity.
6. What is your outlook for 2020?
The demand for mobile apps is mounting by leaps and bounds all over the globe. It makes me feel positive and, at the same time, excited. With the existing technologies, including Blockchain, IoT, Machine Learning, AR/VR, Artificial Intelligence, and more, the opportunities to grow will unquestionably enhance. We have begun implementing these technologies to make our solutions advanced, innovative, and modern.
7. Any particular technology or industry you would be targeting? How do you plan to prepare your workforce for the upcoming technology upgrade?
In the world of innovation, targeting a single technology can restrict our vision, as well as mission. After serving approximately every domain, from the taxi, tour & travel, food, to eCommerce, health & fitness, and more, we have strengthened our core app development process with native & cross-platform app technologies.
Now, we are looking forward to expanding our work towards Artificial Intelligence, Augmented Reality, Virtual Reality, Data Analytics, etc. Moreover, we have initiated discovering and managing big data mobile apps and longing to aid businesses all over the world to interpret this precise information procedurally.
8. With technologies like React and Node that can be used for both web applications and mobile apps, how do you envision the development methodology to be in the future?
We focus on rising service organizations in the travel, legal, healthcare, food, and retail industries. Consequently, we offer incorporation services of accessible software as well as develop extra modules for business requirements. Our professionals keep an eye on the metrics and current market scenario.
We always try to offer solutions that are cost-effective and bring more ROI to your business. So far, we have delivered 320+ projects successfully with a high client retention rate, and I hope we will bring out some fantastic solutions for our clients in the future as well.
9. Other than technical expertise, what traits you believe are essential for any app development firm to succeed in this rapidly evolving industry?
Some characteristics that are crucial for an app development company, apart from technical expertise, to succeed in this fierce competition are:
Every app is neither for your client nor for you. The app is meant for users; thus, it is crucial to focus on users' priorities. Being user-focused is going to lead you to look for their opinions in each stage of the app development, and the constant engagement will make users stick to your app.
Successful mobile app developers are generally very imaginative. The most significant benefit of creativity is that it helps you to get a standout mobile app. It is crucial to think out of the box so that you can deliver a better user experience.
Another crucial factor, which I think quite vital for an app development company, is a proven track record. Experienced app developers get more clients as compared to the new ones since it brings a trust factor.
10. How do you assess the role of research agencies like ITFirms in bridging the gap between clients and service providers?
In my view, the function of research firms is vital! B2B collaboration is majorly about relationships, authority, and trust. Companies like ITFirms turns down the research process effortless and even let prospective customers achieve data on competitive cooperation partners. Moreover, they also aid organizations to enhance their portfolio and offer them a method to gain recognition.
---