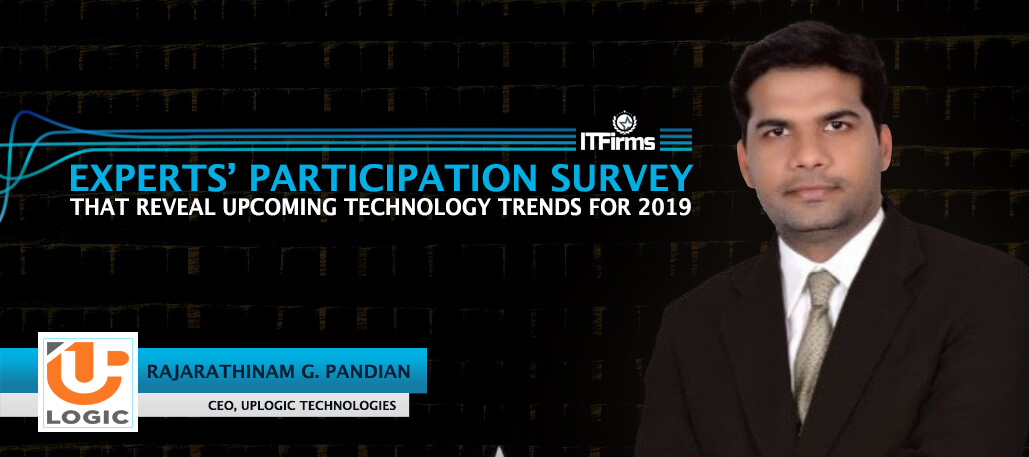 Interview with Rajarathinam Ganasekarapandian – CEO, Uplogic Technologies
Rajarathinam Ganasekarapandian – CEO and Founder, Uplogic Technologies,  exclusively interviewed by ITFirms. He shared his success story and views under "Experts' Participation Survey That Reveal Upcoming Technology Trends for 2019".
1. Tell us in brief about your company and the leadership.
I am Rajarathinam – CEO and founder of Uplogic technologies. I have over ten years experience in the IT industry and I believe I am steering my company in the right direction.
Uplogic technologies is a leading web app and mobile app development company. We develop mobile apps for iOS, Android, cross-platform and that works on multiple platforms like PC, tablet, iPad, etc. Our flagship mobile app solutions are SpotnRides and SpotnEats. Both these solutions are aimed at the on-demand industry. At Uplogic, we create outstanding UI/UX designs and maintain top code quality. Digital marketing and search engine optimization are some other services we offer. When it comes to web development, we work on Angular JS, Node JS, PHP, and Asp.net. Our client base extends to twenty plus countries.
2. How would you describe your growth trajectory in 2018? Any particular achievement? Any disappointment?
We started as a small firm with few experienced and fresh people in 2017. Entire 2017 went in restructuring and stabilizing the firm. 2018 was an important year for us and our work in that year placed us among the topmost IT firms in our city. We released our core product SpotnRides which is aimed at the flourishing app-based service industry in 2018 and worked hard to get clients globally. And we achieved that by getting clients from more than 20 countries. So, we ended 2018 on a positive note.
There was not any big disappointment for us in 2018 except that we thought of releasing our second product in 2018 itself but it delayed and finally releasing it in 2019.
3. Please describe the operational structure of your company- from the moment a client walks in, to the product deployment.
We already have pre-built app solutions for many services. So, when a client contacts us with an idea, we first ask for the business plan and tell him whether we have the pre-built solution of what he asked. If exist, we move on to further customization. If not, we develop it from scratch.
The ultimate selling proposition of our company is the process we follow from the start to deployment of the solution. As said before, we would analyze the business plan and outline a scope document regarding the cost, resources, time period of development, deadline and give it to the client.
Product development involves idea sharing from both the ends. At the end of every process, the client will be updated. Finally, testing is done and only after the quality assurance we deploy the solution. Post-deployment assistance is also provided for a nominal fee.
4. What engagement models do you offer? How should a client choose?
Like any other firms, we follow five engagement models. They are:
Fixed cost model for prebuilt solutions which doesn't require any customization.
Project-based engagement when the requirement is clear, some cost is fixed for the completion of each process.
Based on the resources required, we use the dedicate development model.
Resource-based engagement when the technology to be used is new and here the rate is fixed based on hourly or daily basis.
5. What do you as a leader prioritizes – vertical expansion of your business or the horizontal expansion of your expertise and services? How do you balance both?
Improving the revenue of our business is important but we are here not only for that. We as a firm want to create an ecosystem by growing the expertise and skills of our employees and thereby our firm.  We do this by adopting and reskilling our firm with the latest technologies and advancements. As the CEO of my firm, I want my employees to grow along with the company.
6. What is your outlook for 2019?
SpotnEats is our all new product for 2019 and already it became live. We are working in full swing to continuously improve the product and deliver the best. We would like to replicate the success of 2018 in 2019. Also, the scenario of the on-demand industry is bright and it is growing exponentially.
7. Any particular technology or industry you would be targeting? How do you plan to prepare your workforce for the upcoming technology upgrade?
Our two core products are aimed at the on-demand app based industry. Most of our solutions are targeted at the on-demand industry. There is no particular technology we work with all the time. We adapt to new technologies as and when it is released.
Some of our solutions are incorporated with data analytics and blockchain technologies. This we do to keep in line with the changing trends. When a new technology emerges, we analyze it and check its relevance with our products and reskill our workforce with it.
8. With technologies like React and Node that can be used for both web applications and mobile apps, how do you envision the development methodology to be in the future?
We are now focussing on using agile software development. For projects with budget constraints, I think agile methodology is good. Overall product quality itself will improve when it is used.
9. Other than technical expertise, what traits you believe are essential for any app development firm to succeed in this rapidly evolving industry?
Continuously learning attitude is one important characteristic I look in a developer. Without any push from the outside, a developer should put effort to embrace new trends. Apart from this trait, I need honesty and integrity, which I give utmost priority.
10. How do you assess the role of research agencies like ITFirms in bridging the gap between clients and service providers?
They should follow a strict method to select the right service provider. Setting other things aside, they are doing a good job in the present market and are having great talents to work with.
  Uplogic Technologies
  www.uplogictech.com
  [email protected]