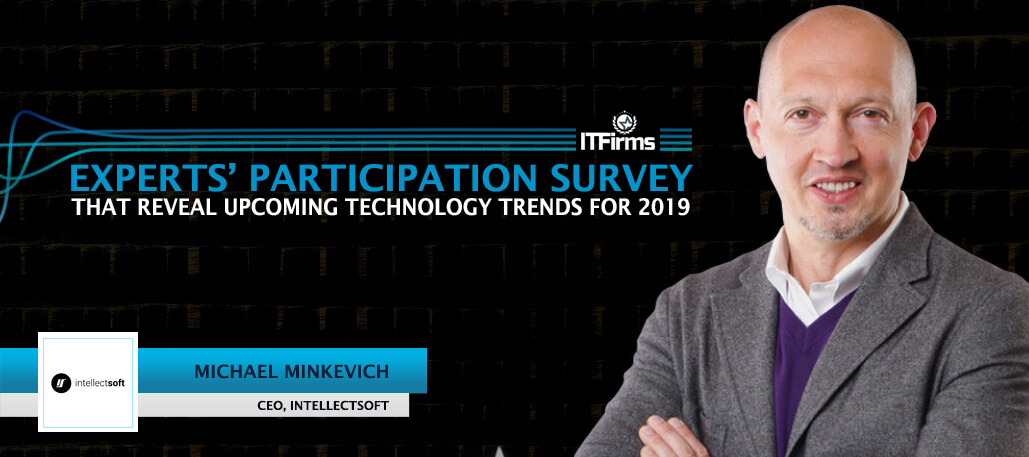 Interview with Michael Minkevich – CEO, Intellectsoft
Michael Minkevich – CEO, Intellectsoft, presents his views on upcoming technology trends for 2019 as part of ITFirms's Expert Participation Survey.
1. Tell us in brief about your company and the leadership.
Intellectsoft is a technology consulting boutique headquartered in Palo Alto, CA that helps global enterprises and emerging product companies leverage new technologies that best fit to their needs and business ecosystem, overcome challenges associated with Digital Transformation and develop new products and services based on the modern technology stack.
For me personally, being a CEO of Intellectsoft Group has been a very exciting journey.
I spent almost years in the IT services industry in various technical and executive roles, including my most recent corporate role as VP of Technology Services at Luxoft, a global software house that has more than 13,000 employees worldwide. I witnessed talented CIOs and CTOs being challenged with complex integration and development issues, while facing a shortage of deep niche expertise on certain digital topics and a simple lack of high quality engineering talent. This led me to Intellectsoft, which supports ongoing innovation within Fortune 500 companies and technology startups.
2. How would you describe Intellectsoft's growth trajectory in 2018? Any particular achievement? Any disappointment?
2018 was a year of aggressive growth, nearly 50% year over year, underpinned by positive operational and strategic changes for Intellectsoft. There is a lot of demand not only for our engineering prowess but also for digital consulting services. Customers derive much value in terms of the shared knowledge and out-of-the box approach offered by our experts during one-on-one brainstorming workshops offered by our company, during which we scope out engagements, propose best solutions, technologies and propose a realistic execution timeline.
I am pleased with a growth dynamic of new business – we obtained a number of marquee clients for whom we delivered state-of-the-art solutions deploying Blockchain, IOT, AI/ML technologies and more s. We work across all business domains and technology stacks, with predominant focus on travel & hospitality, retail, FinTech, healthcare, and enterprise segments. As companies embark on their digital journeys, many of them come to us presenting us with quite complex tasks executing which other providers have failed or with green field projects requiring superb"proof of concept" execution in order to unlock the funding for the production stage. Last year we had a chance to further products of prominent startups in consumer electronics & IoT, healthcare, FinTech, and others.
We also continue building out our technical labs: Blockchain, IOT, AI / ML, AR/VR and Customer Experience.
Past year has also been significant in terms of building out our distributed ledger technologies lab, which includes several landmark Blockchain projects spanning across FinTech, Travel and Hospitality domains.
3. Please describe the operational processes within your company – from the moment a client walks in, to the product deployment.
Intellectsoft applies our proprietary IS360 software development and engineering framework. The scoping and planning stage is one of the most important in the process where we analyse clients business and determine the best technologies to deploy given customer needs and existing IT ecosystem. We truly help clients engineer their businesses in line with their strategic vision. When each idea goes into the production, we help clients reach stakeholder consensus and build a solid architecture, achieving sufficient functionality to transition from a demo to the alpha version. When this version of the product is finally introduced to the market, we continue to support our clients with new functionality and updates, scaling the product as needed, and providing ongoing maintenance and support.
At Intellectsoft we put customer engagement, client satisfaction, and their end-customer engagement first: we avoid "quantity over quality" approach; practice utmost transparency in communications, managing clients' expectations and presenting different opinions if we believe clients' suggested approach may not be the most optimal.
4. What engagement models do you offer? How should a client choose?
Intellectsoft offers 5 engagement/service models.
1. The Project-Based model relies on a predefined scope, yet can accommodate scope changes and modifications.
2. The Managed Services approach incorporates end-to-end delivery and ownership on design-build-run-maintain-operate basis. Dedicated Team model is the most popular with and the best fit for long- term cooperation in large projects.
3. Managed Capacity model, with which we offer a certain quantity of employee-hours/employee-days at a pre-negotiated rate, including the possibility to ramp up and down.
4. Team extension assumes our engineers joining forces with existing in-house developer teams in-house.
The choice of the engagement model depends on customer needs, budget, team structure and the stage / nature of the engagement.
5. What do you as a leader prioritizes – vertical expansion of your business or the horizontal expansion of your expertise and services? How do you balance both?
Intellectsoft makes strategic emphasis on in-depth knowledge of certain core technologies. It is our priority to stay on top of all the latest trends, versions, new protocols and updates. As a result, I mentioned earlier, we are basically sector- agnostic. However, our professionals are required to have intimate understanding of how given technology stacks apply to various domains: Construction, Hospitality, Healthcare, Energy & Utilities, FinTech, Insurance, Logistics, etc. Most of the lead engineers have specific sector knowledge as one of their onboarding requirements. Therefore, while horizontal approach is a priority, we continue building sector-related savvy with each new completed engagement.
Today virtually any company is as good as its deployed dominant technologies. Companies that do not take advantage of digital are bound to lack in revenues, customer engagement and retention, cost efficiencies or all of the above. Thus, the challenges of Digital Transformation are on the table of every company that wants to thrive. Intellectsoft offers unique expertise and substantial experience in building complex, innovative, and impactful solutions.
6. What is your outlook for 2019?
Given our current project pipeline and gains in market share, I believe the company will continue its growth year over year with a similar 50-60% pace. We are committed to ongoing build-out of our Labs and forging synergistic partnerships with other ISVs and Tier I vendors. We also plan on regional growth in the U.S. through regional expansion to Cleveland that is becoming a technology hub especially for R&D projects within Blockchain.
  Intellectsoft
  www.intellectsoft.net
  [email protected]