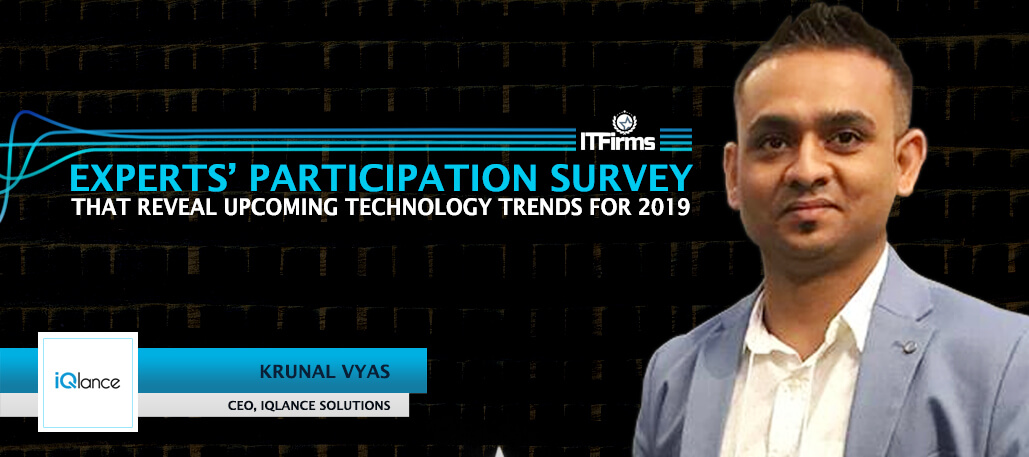 Interview with Krunal Vyas – CEO and Founder, iQlance Solutions Ltd.
Krunal Vyas – CEO and Founder, iQlance Solutions Ltd., presents his views on upcoming technology trends for 2019 as part of ITFirms's Expert Participation Survey.
1. Tell us in brief about your company and the leadership.
iQlance is an award-winning mobile app development company based in Toronto. We are a team of experienced developers, Technical experts and passionate people who love to deliver a high-quality product. We are experts in building mobile apps, web development, custom software solutions, and game development. We also help start-ups and enterprises. I'm Founder of the company and my primary role in the business is to lead the process ensuring growth and high effectiveness for the deliverables.
2. How would you describe your growth trajectory in 2018? Any particular achievement? Any disappointment?
It was great year, we delivered very challenging work with the top quality and hopping to deliver more quality work in 2019 too. We are now team of 28 developers, designers and engineers and looking forward to welcoming more team members to part of our vision.
3. Please describe the operational structure of your company- from the moment a client walks in, to the product deployment.
Once a client reaches for app or web development, we request to complete the initial formality by signing an NDA to give an assurance on data security and confidentiality.  Soon as we complete the initial process, Our Business Analyst/Product Consultant schedule an online or one to one meeting with client to discuss the product idea.
Based on the discussion and meeting (One to one or E-meeting), we schedule an internal meeting to analyze the scope/product idea and based on brainstorming and discussion, we design first level scope of development plan along with features list, high level milestone details and team management. Once it gets approved by project manager, we share with client to review our project understanding.
If we get any feedback or correction, we shall redesign the plan and get an approval.    Once we get a confirmation, we kick-off the project and complete the initial formality to start the designing phase.
To set up the transparent and smooth process, we share clear project agreement along with milestone release date, along with Payment milestones.
4. What engagement models do you offer? How should a client choose?
We have flexible development model and payment structure. Fixed Cost Development with the Pay Per Milestone, which gives full assurance to clients that they are paying for what they have received. Our many clients work on a Dedicated model with having monthly billing cycling.
If client has fixed scope and timeline, we recommend and prefer work on Fixed cost model; however if client likes to work on on-going base, we suggest to have Dedicated model for better performance and management.
5. What do you as a leader prioritizes – vertical expansion of your business or the horizontal expansion of your expertise and services? How do you balance both?
Our aim is to build an innovative product with the standard quality and that's why our client likes to work with us. We shall continue to provide quality service, build an innovative product and inspire the new ideas.
6. What is your outlook for 2019?
Our aim is to bring an idea into an innovation.  We shall certainly explore new technologies, challenge ourselves to build a product idea and deliver the top quality work.  We shall keep our moto (ideas, Innovation &Integrity)
7. Any particular technology or industry you would be targeting? How do you plan to prepare your workforce for the upcoming technology upgrade?
iQlance is an award-winning app and web development agency in Toronto, Canada. Our professionals have already delivered business solutions, Fintech Apps, On-Demand Business Applications.
In terms of Technology, iQlance is a leader in app development and we are experts in React Native App (Cross Platform) and Native applications, along with Web Technologies, such as Ruby on Rails, Node JS/React JS/Angular JS, PHP, and Laravel. We shall continue to provide the best solutions; however in 2019, Team iQlance is planning to deliver the AI, VR and Blockchain solutions.
8. With technologies like React and Node that can be used for both web applications and mobile apps, how do you envision the development methodology to be in the future?
Team iQlance is a leader in React Native and Node.JS Applications. In fact, we have successfully delivered more than 10 applications on React Native and Node JS.  However, we have also delivered native applications with the different backend technology.  React Native and Node JS has certainly changed the market trend, but we shouldn't not ignore the native application.  Platform selection completely varies based on idea, concept, business finance and preference.
9. Other than technical expertise, what traits you believe are essential for any app development firm to succeed in this rapidly evolving industry?
Team iQlance believes in Standard Project Management and Development Methodology along with Right team member at right time.
10. How do you assess the role of research agencies like ITFirms in bridging the gap between clients and service providers?
ITFirms and other research agencies provide a platform for clients to find the reliable tech partner(s) to bring their idea into reality.
ITFirms also gives an opportunity to app development companies to demonstrate work capabilities, skills and potentials to stand out from the competition. Team iQlance really appreciate for provide such a wonderful platform.
  iQlance Solutions Ltd.
  www.iqlance.com
  [email protected]