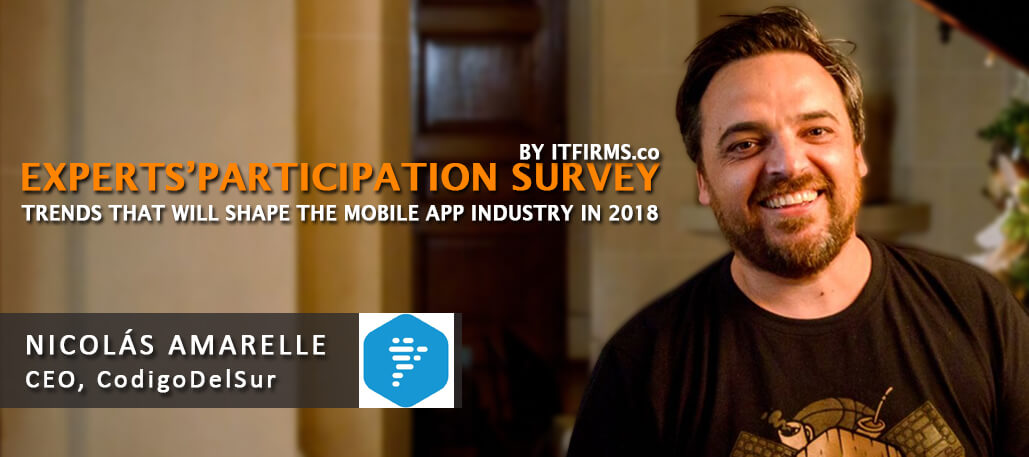 Interview with Nicolás Amarelle – CEO, CodigoDelSur
Experts' Participation Survey – Trends That Will Shape The Mobile App Industry In 2018
Few lines about Nicolás Amarelle –  CEO of CodigoDelSur
Nicolas Amarelle, a career-long software engineer founded and currently heads CodigoDelSur- a  Uruguay based mobile technology company since 2007. Having more than a decade of experience serving US-based clients with app development and strategic solutions, Nicolas has under him working a team of over 80 professionals and has pushed the company to be among the top 2 Agencies.
1. Tell us about your company in brief.
CodigoDelSur is a 10-year-old digital product creation agency. Always excited to incorporate the latest technologies into the more than 200 top-notch applications created so far, the company provides outstanding digital products to US enterprises and startups some of them reaching the 220+M users!
As a high quality service provider, clients are also helped with usability, growth hacking, engagement, monetization, and other non-technical knowledge which is paramount when developing for revolutionary startups.
2. How do you describe your mobile app development team in terms of experience and expertise?
Our team is one of the most experienced in Mobile App development worldwide, given the number and quality of projects we've worked on as well as our approach towards technology. Our team has been undertaking mobile projects for over 10 years, which is ever since the first iPhone came out. We've developed over 200 mobile apps, some of them with 300 million users, almost 20 apps which are currently ranked among the best apps of their categories, be it in the App Store or Google Play. So our team is indeed one of the most experienced mobile app development teams in the world.
3. How would you drive your team to meet technology demands of 2018?
It would be more accurate to say that it is our clients who drive our team to meet technology demands, they motivate us. We mainly work for startups creating new products, and those startups are in the most innovative ecosystems in the world, San Francisco, New York, Los Angeles, in touch with highly competitive incubators or accelerators, receiving VC funding. Consequently, when they want to create a new product, they demand having it developed in the latest technologies available and it is therefore necessary for us to be updated with the state-of-the-art regarding technology. That's what drives us.
Regarding how we do it, we have all sorts of technical activities; we go to the main tech conferences in the USA and the world, we follow the main tech leaders in the world. For example we went to Google at the Progressive Web Apps workshop in London, in San Francisco taking the Advanced React.js workshop, at Apple's WWDC, etc. And then bringing all the knowledge and sharing it with the team, creating a solid internal Knowledge Base which we also share on our blog and hosting local tech events.
4. How do you help your clients in choosing the right yet profitable platform for app development?
The preferred platform will always be the one preferred by our client's target audience, of course. That's defined by market research when it comes to mobile app development. Anyways, we keep our tech stack quite updated and we build a robust experience in it. This leads to having a stack that will adapt to most the demanded products, unless they are technically challenging projects for example those projects incorporating hardware or those which a special performance or stability requirements. In those cases we tend to evaluate different options but in general given our experience in these past years, the stack in which we're most comfortable with and the one we think adapts best to a specific moment, tends to be useful for most projects. For example our main stack nowadays is Node.js for backend, React.js for frontend and then of course native iOS, native Android and React Native for Multiplatform projects.
5. What all services do you think you would add to your offerings in 2018? 
In fact this isn't a service we'll add in 2018 but it's a service that has been maturing throughout the years and has this year consolidated to its maximum expression, which is Integral Product Creation. This is what has been propelling our growth year after year and making our services more valuable each day. We don't only provide development services but also UX/UI, growth hacking, engagement, monetization, bringing together a highly valuable final product for its users. So this year we find we've consolidated like a digital product creation company instead of just a development shop.
6. How are you going to differ in processing solutions and applying methods in the coming future?
We have the strong conviction that what drives our activity is in constant change and that what propels our success is that we're always striving towards improvement. Dynamism will always be the core of our company and we won't change it. That's in our DNA.
7. How do you scheme your pricing model? How do you fix your budget?
Our pricing model is very straightforward. We work by the hour, dividing our work into two week sprints. CodigoDelSur along with the project owner define the required team according to the project's needs and this will have an hourly cost per sprint. We never work and never will work on a fixed budget or fixed timeframe as we think it's a system that doesn't work for a proper digital product creation.
8. Define your future prospective and vision regarding new technologies like Artificial Intelligence, Chatbots, IoT apps, Augmented Reality apps and Virtual Reality apps?
As usual we're always attentive to the upcoming technologies and how our clients and their products can leverage the potential of these technologies. As 10 years ago something like the smartphones came out, and though nobody knew how that would turn out, we followed our conviction of trying to be at the vanguard of such technologies, and how to work in such platforms; which led us to our success. Nowadays we have projects and prototypes of Virtual Reality, Artificial Reality and Artificial Intelligence, Chatbots, we have POC of all of them including IoT, we're following the development of these technologies very closely and evaluating how to incorporate them in our client's projects. There are two of these areas in which we're highly experienced which are drones and IoT. We've been working with drones for over 2 years now, working with DJI drones and with the main drone companies in the world, mobile app integration with the drones' SDK, so we're very well-positioned to continue following the growth of drones. Regarding IoT, we must be one of the companies which has integrated the most devices with our apps. Thermometers, toys, gloves and lights for cyclists, 360º cameras, sensors in factories, and many more.
9. What are your favorite industry verticals for 2018 and why?
In general we don't have a favourite vertical but we do prefer those projects with a mission towards society. Healthcare for instance is an area in which we've developed many projects and where it's more likely to notice we're helping society in some way, but we've also created projects like Sprokit which helps re-entering prisoners deal better with their probation time; or for example Toymail which helps children communicate with relatives who are far away; or Bikelite which is an app to promote the cyclist community to create safe bike routes. We love working on projects that apart from business itself can make a change on people's lives. We've developed some apps on our own with such purpose, for example we developed Fun Time Timer which is an app for autistic children to deal better with time management, and we're currently developing an app for deaf-mute people to generate a community dictionary to communicate with those who don't understand hand language. Those are the types of projects we prefer.
10. What product/service and in which category you would like to build/offer to establish or redefine your authenticity and expertise in your operational domain?
We'd probably like to aim at working for large companies that want to develop new products. Nowadays, most of our clients are startups which are starting to develop their ideas from scratch and though that's pretty cool, the potential for failure of these projects is rather high. However, when working with medium-sized companies developing new projects, the degree of success they have given market research, monetary backup and market validation, is higher. So even though we've worked for companies which develop spin-offs, different product categories and so on, this is something we'd like to continue growing at. Participating of the creation of new, innovative products; for middle and large sized companies; that have a high success potential and that may have a high impact.
  CodigoDelSur
  codigodelsur.com
  [email protected]