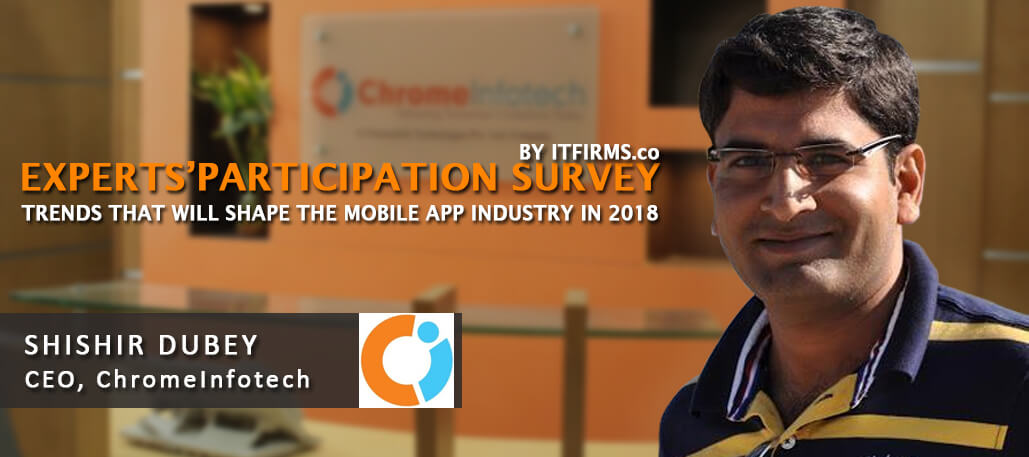 Interview with Shishir Dubey – CEO, ChromeInfo Technologies
Experts' Participation Survey – Trends That Will Shape The Mobile App Industry In 2018
Few lines about Shishir Dubey –  CEO, ChromeInfo Technologies
Shishir Dubey is the CEO of ChromeInfo Technologies, a leading Mobile App Development Company Headquartered in India, with offices in Australia, USA, and UK. Having rich experience of more than a decade in the Software Industry, he helps other businesses including SMEs and Innovative Startups achieve their goal by providing them affordable result-driven App Development Services and Solutions.
1. Tell us about your company in brief.
ChromeInfotech is client's trusted Technology Partner, working with a professional team of highly-skilled App Developers, Testers, and Designers with expert-level knowledge of the market trends in the Software Industry. With years of rich experience and High-end tools & Software, our team provides fast efficient software solutions and App Development Services at competitive pricing.
Our team is also getting huge exposure of the Emerging Technologies like VR/AR, Beacon Technology, Big Data, IoT (Internet of Things), Blockchain, Chatbots, and Artificial Intelligence (AI). Over the past 8 years, we have successfully built more than 650 Android and iOS applications, out of which many apps have also been featured on App Stores. We Make Apps and we are really good at what we do!
2. How do you describe your mobile app development team in terms of experience and expertise?
Our Mobile App Development team is very versatile in order to adapt to new technologies entering the market and each of our employees consists of a wide array of technical skills. We expertise in Native Mobile Application Development Services including Enterprise App Development, Internet of Things (IoT), Beacon Technology, Cloud Computing, Blockchain, and much more.
Each and every member of our Designer and Developer teams hold years of experience ranging from 2 to 8 years. They are highly qualified professionals in their respective field of expertise with a Master's Degree in Computer Science from Grade 'A' renowned Universities. Some of the many technologies that our team has worked on are stated below:
For Web Development – JavaScript, MySQL, PHP, HTML, Python, MongoDB, Dot NET, Node JS, and Angular JS.
For Mobile Development – Android SDK, Android Studio, Kotlin, JAVA, Swift, iOS SDK, and Xcode.
3. How would you drive your team to meet technology demands of 2018?
For specifically this purpose, a few years back ChromeInfotech started a special Research and Development segment called Innovation Lab where the R&D members constantly are on a lookout for the latest market trends and emergence of new technologies or tools related to them. Further, the R&D team shares their insights of the various industries to other teams on a monthly basis through several meeting and other discussion sessions. With this valuable research data, we are able to predict the course up to some extent which helps us in offering more precise software solutions to our clients with respect to the future.
4. How do you help your clients in choosing the right yet profitable platform for app development?
This entirely depends on the client's project and its requirements, so the initial step is to get a clear understanding of 'what the client expects from the project',  and 'what are the goals to achieve by it'. Factors like the Target Audience, Location, Upcoming Technologies, and Technical Challenges are also considered to suggest the right yet profitable platform for App Development to the client.
5. What all services do you think you would add to your offerings in 2018? 
For the year 2018, we have added a wide range of trending services in our offerings and some of them are mentioned below:
> Blockchain Technology
> Augmented Reality
> React Native
> Virtual Reality
> AI-based Applications
And we will continuously add more services to our offerings as per the market demand in various Industry Sectors.
6. How are you going to differ in processing solutions and applying methods in the coming future?
Here at ChromeInfotech, our main objective as always been to 'Never Compromise with the Quality'. We opt for solutions and methods that are efficient, secure, and result-oriented. We closely follow the current trend in terms of tools and software used for technologies and provide services that are stable, robust, and scalable to our clients globally.
7. How do you scheme your pricing model? How do you fix your budget?
We do not have a pre-fixed budget for our every client because it depends on the client's project requirements. Once the Vision and Objective of the client are clear, the next step involves platform studying and analyzing the UI challenges. After completing the Back-end Development analysis and R&D for the project, we then decide to select a pricing model – Hourly, fixed or Monthly. But we are always flexible as per the client's project requirements.
8. Define your future prospective and vision regarding new technologies like Artificial Intelligence, Chatbots, IoT apps, Augmented Reality apps and Virtual Reality apps?
The team members from our Innovative Lab keeps a close eye on such Emerging Technologies including Artificial Intelligence-based apps, Chatbots, Internet of Things, Augmented Reality, and Virtual Reality. These technologies hold the caliber to change the tech world completely and also the user's perspective to do his/her daily tasks. We are embracing the constant changes taking place in the IT industry and that's why many of our current projects are based on these emerging technologies keeping in mind the vision and future perspective.
9. What are your favorite industry verticals for 2018 and why?
The Healthcare and Real Estate Industry Verticals have some real potential over the period of the last few years. As both of these industry verticals are not completely digitalized but are slowly digitalizing, to witness this technology shift is interesting and empowering at the same time. One of the key involvement factors here is the 'On-Demand Economy' which is estimated to have a worth of $300 Billion by the end of 2018.
10. What product/service and in which category you would like to build/offer to establish or redefine your authenticity and expertise in your operational domain?
Since the very beginning, our main focus has been building Mobile Applications and in the future as well we are looking forward to grooming ourselves more. This will be done by identifying the future scope and bring more updates according to the on-demand economy. We want to make sure that no stones are left unturned by us in the field of Mobile App Development.
  ChromeInfotech
  www.chromeinfotech.net
  [email protected]