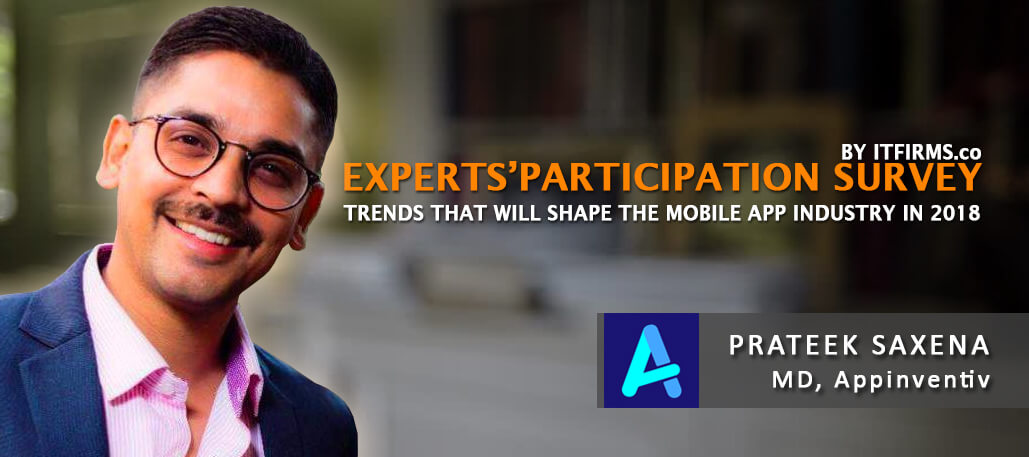 Interview with Prateek Saxena – MD/Co-Founder, Appinventiv
Experts' Participation Survey – Trends That Will Shape The Mobile App Industry In 2018
Few lines about Prateek Saxena – MD/Co-Founder, Appinventiv
Prateek Saxena is the Co-founder of AppInventiv, one of the fastest-growing mobile application development companies, based in Noida, India. He is an inspiring technologist and a learned IT leader. His passion lies in not just maintaining long-term relationships with businesses and startups alike, but also in helping them reach their business goal through the help of result-oriented mobility solutions.
His profound experience with the mobility world mixed with his sound business skills has helped AppInventiv close over 200 projects deals, globally, all the while making Appinventiv the long term mobility partner of a number of startups and Fortune 500 companies.
He's an energetic leader, effective communicator and strong motivator, with a commitment to relentless improvement and innovation. He has, so far, mentored more than 100 startups and entrepreneurs worldwide, and is eager to help many other in planning their mobility roadmap.
1. Tell us about your company in brief.
Appinventiv is a top-rated mobile app development company that has set a new standard of technical innovation and services' quality in the app market. Founded in 2015, we have gained a remarkable position in the world with our vast expertise in Mobile Technologies. We have designed and developed 500+ apps, out of which more than 50 apps went on to top the charts and over 25 apps got funding. We have worked with a range of different industries, including travel, healthcare, real estate, enterprise, entertainment, and finance.
We have a team of 300+ highly-skilled, experienced and innovative mobility experts who have sound knowledge of the market needs as well as have strong exposure to the latest technologies like Artificial Intelligence, Blockchain, Internet of Things, Chatbots, Beacon technology, Augmented Reality, and Virtual Reality.
While this is on the team's skill front, on the interpersonal front, we have established ourselves as a brand that has a distinct creative edge, an unmatched customer service and a consultancy service that is more focussed on client's success.
We put the best of our knowledge and experience in offering earliest, reliable, top-quald result-oriented services on time and within budget, through which you can surpass the competition and reach on the top of your industry.
Below are some stats of Appinventiv:
Offices: 3 (Head Quarter in India, Sales Office in Dubai and New York)
Number of Apps Successfully Delivered: 500+
Global Clientele
Current Revenue: $ 4 Million Revenue Annually
2. How do you describe your mobile app development team in terms of experience and expertise?
Our key app development team includes not just developers but a strong team of designers, Business analysts, QA/testing. Our development team strength looks something like this –
iOS – 45 experts
Android – 42 experts
Web Technology – 38 experts, who work across PHP, NodeJS, and Python.
Every team that we have in-house is made up of diverse experience range. We have members who joined us with 3 years of experience and we even have developers who have come in as a major resource with their 8 to 10 yrs of experience.
Our team of developers is skilled at working around the new disruptive technologies like Blockchain and Gesture Mechanism. Here is the technology stack that our team has an experience in –
Android – Java, Kotlin, Android Studio, Material Design, Android SDK, and Android Native Dev Kit.
iOS – Swift, Xcode, Flat Design, SQLite, iOS SDK, and iOS Native Dev Kit
Web Development – HTML, JavaScript, CSS, Linux, Apache, MySQL and PHP
With this extensive set of technical capabilities, the development team has helped brands across a range of different industries like Healthcare, Banking and Finance, Real Estate, Entertainment, On-Demand, and Travel expand their businesses by exploring the various benefits that comes with going mobile.
3. How would you drive your team to meet technology demands of 2018?
We keep our team up to date with the latest technologies through a number of in-house and offshore training sessions. We have also been very fortunate to get on board with Google as their preferred agency technology partner, which enables us and our developers to get trained by google experts about various latest technologies and trends and stay updated with latest best practices and benchmarks to ensure we stay ahead in competition while providing excelled quality service.
We also have a Technical R&D team here, at Appinventiv, which learns and work around all the latest technologies and then have sessions across teams, sharing their insights.
4. How do you help your clients in choosing the right yet profitable platform for app development?
We start by understanding their business requirements, objectives, and expectations. Once we get the grasp on their business needs, we help them finalize a platform – a decision that is based on their users' demographics, target audience, budget, and app category etc, other elements.
We evaluate the business requirements of our clients on the basis of a number of functional and technical parameters, which help us identify the right technology platform for them. We extend the understanding of our client's business requirements into creating a roadmap of for the scope of features and functionalities that are to be built, the complexities that are associated with the project, and their user growth projections – All of which together gives us a clear picture of which platform would be right for them.
5. What all services do you think you would add to your offerings in 2018?
In addition to our extensive list of services which includes AR/VR apps, AI based applications, Progressive Web Apps, and On-Demand apps, amongst others, we will be adding a whole new range of services in our Mobile App Development bouquet.
BlockChain, React Native, and Google Cloud are the services that would play a very prominent role in our 2018 service offerings.
6. How are you going to differ in processing solutions and applying methods in the coming future?
While we will continue with our current work model of taking time to understand the business requirement and then advising the clients of the steps and technology stack to follow that would meet their time and budget standards, we will try a series of different approaches to make the development and delivery experience even more beneficial.
While providing our clients with weekly status reports and updates, we work with them more closely to provide with real time status updates and more interesting ways to seek feedback.
We are looking forward to making our clients holistically informative of the bones and soul of their mobile application. Apart from this, we will continue updating our skill set with the latest technology stacks while continuously helping our clients adopt new technologies – the ones that would keep them on track of their long term business goal.
7. How do you scheme your pricing model? How do you fix your budget?
We follow two pricing models – Time & Material and Fixed Pricing Model. The option to choose among the two is given 100% to our clients.
We spend time in understanding the exact technical requirements, which we then convert into man hours and then we attach our average charges which range somewhere around 20 – 25$ with those hours. These charges vary on the basis of the skill set and the experience level of resources who would have to be involved in the project.
While Proposing an appropriate business model, we customise it based upon needs of startups or enterprise. For Startups, we recommend getting an MVP developed first, so that they can test the waters before the actual launch, but same approach is not followed by us when it comes to developing apps for Fortune 500 level companies.
8. Define your future prospective and vision regarding new technologies like Artificial Intelligence, Chatbots, IoT apps, Augmented Reality apps and Virtual Reality apps?
The modern tech market is continuously introducing the world with new set of disruptive services and products that was once seen only in highly funded Sci-Fi movies and shows. A decade from now, the mere idea that a machine can hold such a powerful voice in our life and that we could live in a parallel universe while sitting on our couch was unimaginable.
Now, we are staring at a time where chatbots have moved out of website support page and are helping us make important purchase decision, (mixed with AI it knows exactly what we need). And the AR/VR technologies are also showing similar signs of disruption, by stepping out of their gaming comfort zone into the world where they are tested PTSD solutions and a mode of redefining the restaurant and hospital wait time.
Our team of developers are prepared for the connected and data rich world. We have already been working on a series of applications that have brought AR/VR to the life skills market and then some apps that bring Chatbots and AI together in an enterprise system.
Our R&D team has done market research and has come up with different plans for these set of disruptive technologies. Like, we will be focusing on the Automotive and Consumer Electronic industry in our IoT service suite and as for the AR/VR technology, we will be putting our entire focus on finding ways to incorporate them in the Healthcare domain. And, on the AI front we would be focusing on incorporation of the technology for making enterprise processes smoother.
9. What are your favorite industry verticals for 2018 and why?
In 2018, we are putting our entire focus on Healthcare and On-Demand industries. Although, entirely different from each other, both the domains have a very bright future ahead.
What started with Uber as an on demand taxi service has slowly seeped into a number of domains including the once traditional grocery shopping, and at home services like tuition and grooming services.
On-demand economy is the one that is on a constant rise, with the industry favoring both – the service providers and those who are availing them. Even in developing nations like India, the on-demand market holds the capital ranging to around $100 – $400 Billions.
Another potential industry vertical for us would be Healthcare. Incepted as steps and calorie monitoring technology, one can now monitor their health to a huge extent with a tap off their finger. People can now book appointments, monitor their health records, and keep track of their health while taking care of their post operative diet/health, all by just unlocking their devices.
The rate at which both the domains are expanding, both in terms of innovation and revenue growth, has made it an ideal time to become a part of them.
10. What product/service and in which category you would like to build/offer to establish or redefine your authenticity and expertise in your operational domain?
As highlighted before, we are our strong focussing on the blockchain technology for the coming future and plan on using our extensive Blockchain experience in developing mobile app based solutions specifically across the Healthcare domain. We have keen interest in utilising our experience and building something interesting and meaningful for the industry.
We know that there's an urgent need to address key challenges of health care industry which revolves around providing an efficient and secure system to manage medical records, recording transactions, pre-authorizing payments, settling insurance claims etc. and Blockchain provides a secure mechanism to record and maintain a medical history of every patient for use by physicians for precise drug recommendation.
While ensuring a tamper-resistant means of strong medical history, it also ensures reduced time in resolution of insurance claims. Hence Blockchain presents a very strong use case for Medical industry – something we plan on capitalizing upon with the right opportunity.
Appinventiv
appinventiv.com
[email protected]