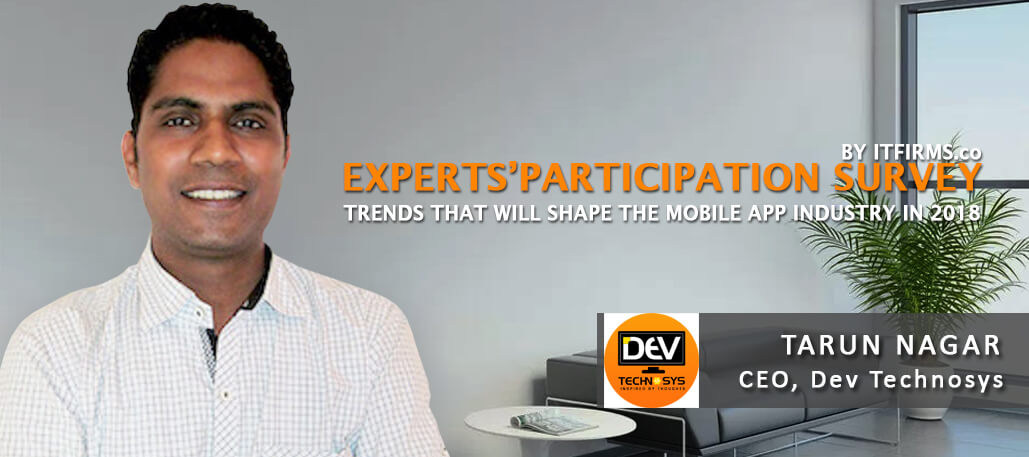 Interview with Tarun Nagar – CEO, Dev Technosys
Experts' Participation Survey – Trends That Will Shape The Mobile App Industry In 2018
Few lines about Tarun Nagar – CEO, Dev Technosys
Tarun Nagar is the Founder & CEO of Dev Technosys Pvt Ltd, a global ranking Mobile, and Web Development Company. With 10+ years of experience of enabling then Startups which are now global leaders with creative solutions, he is differentiated by out-of-the-box IT solutions throughout the domain. He is known for his visionary qualities and adaptability for technology and trends, passionate as he is he is in every aspect dedicated to making IT simple, accessible and approachable for business enterprises.
1. Tell us about your company in brief.
Dev Technosys is an ISO 9001 : 2015 certified Mobile and Web Development Company. We began our journey with extensive knowledge of IT and a motto to make technology understandable, reachable and accessible. Since our first step, we have continually along with our international partners delivered optimised solutions that best meet the modern technology problems. Our bespoke, customer-centric Web/ Mobile App Development Services cater to digital needs with ground breaking technology, globally functional personalised software that boost the growth and earning potential of a business.
Till date, we rendered 950+ projects, with 450+ satisfied clients. Dev Technosys is a team of 80+ experts with great experience of their fields, determined to serve nothing but the best to their clients.  The dynamic of the Company Statistics is to constantly innovate, improve the products and services and serve for customer satisfaction.
2. How do you describe your mobile app development team in terms of experience and expertise?
Team of 80+ IT professionals, delivering world-class web and Mobile App Development Solutions, here at Dev Technosys you will find versatility and expertly picked skilled software product developers for web and mobile delivering products that fit your enterprise perfectly.
We have a team of seasoned developers of in various Mobile and Web development segments, here you will find expert developers with extensive knowledge in Objective-C, Swift, Java, PHP, MySQL and other leading syntax. Our Mobile App Development stretch is across diverse Mobile App Development Frameworks used for Hybrid and Native App Development.
We have unparalleled expertise and a naturally in-built sense to get our clients relevant solutions that are well aligned with their needs, plus we are we invest a lot of time in researching products that makes us procurators of high-end websites, software products and, web and mobile apps (native and cross).
3. How would you drive your team to meet technology demands of 2018?
Dev Technosys thrives on its team, and we have since our inception invested into expanding our team's technical knowledge. For which we participate in various tech-events, hold seminars, attend global developer conferences and workshops. We discuss various aspects of technology and their trends on weekly basis to keep our team and infrastructure upright with the global technical scenario. We try to make Dev Technosys a place where innovation and creativity take lead and technicality supports our clients dreams to give away amazing results.
4. How do you help your clients in choosing the right yet profitable platform for app development?
We ensure that there is a free-flow of information that is genuine and relevant to our clients. Firstly, we make ourselves well acquainted with their needs and thus, provide them sublime solutions and various options that without a doubt get them to the top-end of their industrial domain. Also, what we keep in mind is what the size of their enterprise is, what are he challenges its is going to face, the current and future competition and what can be done to tackle them, and many other businesses related close analysis are done, which help them understand their needs better. We keep a transparency in our working model and choose to be at clients help in each respect from brainstorming to development to implementation to optimization we stand next to our clients.
5. What all services do you think you would add to your offerings in 2018? 
We already started working with few latest trends like IOT, Voice Command Search and recognition, Virtual Reality, Data Intelligence, Blockchain, ICO,Mobile App Marketing etc. We are versatile and ready to adopt any new technology or service coming in trend.
6. How are you going to differ in processing solutions and applying methods in the coming future?
We started off with a singular motto of making IT comprehensive to the enterprises, and that is how we are going to proceed into the future. Our industry is very much confusing and incomprehensible to the world outside. So here at Dev Technosys we will continue our pursuit to cut short the technical fissure for enterprise.
Also, we have believed in making long-term relationships with our clients and for which we have tried and achieved to meet the technical demands of our clients, while technical enabling them for their future needs. Our team of experts have always strived for something new, something innovative, for which we have a base of experts that researches and analyses various projects and come up with a robust technology strategy. One thing which is going to be an essential element of Dev Technosys development project is upgrading our communication model, we are implementing new ways to keep us in ultimate contact with our clients so that we can coordinate the project better.
7. How do you scheme your pricing model? How do you fix your budget?
Firstly, I want to get you known to the fact that our pricing model is not curated in competition to our competitors but is expertly designed as per the hard work, time and extending technical assistance we are all going to render in it. Our hiring model is quite simple we have divided the hiring of our developers on hourly, weekly and monthly basis. Also, we extend our services in the projects that run on a strict budget, where we provide them our services and technical guidance and help them take a strong technical forefront towards the challenges.
8. Define your future prospective and vision regarding new technologies like Artificial Intelligence, Chatbots, IoT apps, Augmented Reality apps and Virtual Reality apps?
The future of IT lies within these upcoming technologies, in fact it has already doomed upon many industrial segments and they have been continually making investments into getting applications that support AI, Chatbots, IoT and of course AR / VR.
Dev Technosys has always been a pioneer when it comes to new technology, we harness great potential and possibilities from these amazing technologies to get out clients something very refreshing, relevant and out of the box. With time we have, and we have been adopting technologies of the new world and thus, been always able to maintain an upper hand in the industry. technology is an expanding entity and the only key that can help us behold some benefits is being creative and innovative, in short, we tried to use our knowledge in building something, better and futuristic for our clients and always.
9. What are your favorite industry verticals for 2018 and why?
See, we are a service based company and have covered most of the industry verticals as we have to develop solutions according to client business needs, no matter which industry it belongs but few of them are Automotive, Large E-commerce Marketplaces, On-Demand Services, Online Education, Live Streaming and Video On Demand Streaming, Data Science and Business Intelligence. These industries are really performing well and going to have great fortune.
10. What product/service and in which category you would like to build/offer to establish or redefine your authenticity and expertise in your operational domain?
Technology is evolving with each passing day and so is Dev Technosys, we are team of expert developers of contemporary and classic development syntax such as Java, PHP, Python also we have creative designers team that help us renders best and authentic solutions to our client's web and mobile app development needs. Thus, we will be continuing to grow with time in respect to team, infrastructure, know-how knowledge and much more.
  Dev Technosys Pvt. Ltd.
  devtechnosys.com
  [email protected]