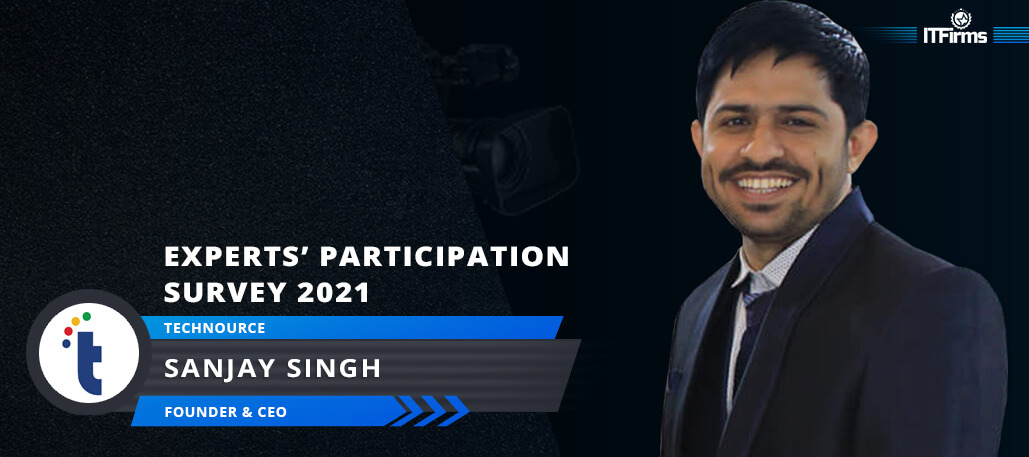 Interview With Sanjay Singh Rajpurohit – CEO & Founder, Technource
Here is the exclusive interview of Sanjay Singh Rajpurohit – CEO & Founder, Technource only on ITFirms. In this exclusive interview, he shared his insights on upcoming technology trends for 2021 and many more things.
Let's check his success story and thoughts.
1. Tell us in brief about your company and the leadership.
We are currently in the 9th year of serving the IT service industry. Our company Technource has a lot to offer when it comes to web and mobile app development. Ever since our inception, it has been our solemn pledge to treat each inquiry in a confidential and professional manner.
We have a team that is a pool of talented individuals who master all industrial portfolios such ranging from web development, mobile app development for iOS, Android, and hybrid techs, to Industry 4.0 techs. We have managed to create a harmonious rapport with our clients as well as colleagues over the years.
We started off small but today with our perseverance we have cultivated our expertise in developing on-demand web and mobile apps. We strongly believe in the quote "A leader is someone who knows the way, goes the way, and shows the way". Adhering to the same our company likes to share opportunities with individuals that help them cultivate leaders within themselves.
2. How would you describe your growth trajectory in 2020? Any particular achievement? Any disappointment?
2020 presented us with a huge set of challenges in the form of the pandemic. We complied with all government rules from the start and strictly adhered to the "employ first" policy. We believe that our company is on a constant learning curve and to make the best of the cards we're dealt with. Hence, we implemented new systems to fill the communication gaps that can hinder our progress and workflow.
You would be happy to know that it was the year 2020 that helped us spread our wings to Australia and Dubai. We also explored one of the Industry 4.0 techs i.e. Machine Learning. We can also proudly announce that for the first time Technource was a part of the Gitex event that was held in Dubai last year. A huge opportunity for us to explore new upgrades introduced by tech enthusiasts all over the world and showcase our expertise to clients that are a part of the event.
Apart from this, we started refining our old content and started writing other interesting industry-related content by hiring an in-house content specialist. Our aim with the same is to educate our clients with the latest tech and updates that surround the IT service industry.
3. Please describe the operational structure of your company- from the moment a client walks in, to the product deployment.
The foremost thing that our company offers to our clients as they share their business idea is 100% IP protection and NDA since 2012. Our core mantra that is applicable to all our clients is 'Quality'. Our religious belief lies in the saying "Quality is not an act; it is a habit". Hence, we try to inculcate the same not only in every day's work but in every minute's work.
As a client gets in touch with us we first sit with our project managers and senior developers to understand the idea completely. Our next is to break down the business idea into various subtasks and brainstorm solutions for the same. Our primary aim is to run our imaginations to a point from where we can best pursue our client's perspectives and design software solutions that cater best to them.
Then comes the research and development phase. In this phase, we narrow down our target audience and map their expectations. Along we this we also try to validate the business idea from our experts and suggest the client opt for an MVP if our experts feel that our client has a budget constraint and the idea is a bit too experimental.
But we like to respect our client's choice at the end. As we don't have a customer trainee department, we function as a whole company. From our CEO to our interns or trainees, everyone works for the same boss i.e customers.
Our planning for a fully-fledged project starts from determining:
How the app will be used?
What our competitors are offering and what the consumer expects?
Offering a quotation keeping the client's budget in mind.
A tentative timeline on how the project will be completed.
Business models and marketing techniques will be followed once the app is launched.
In addition to this, you must know that we follow the Agile-Scrum methodology that helps us maintain complete transparency in the app development process. It allows all our clients to intervene and share their thoughts on any changes they wish to inculcate.
4. What engagement models do you offer? How should a client choose?
The engagement models we offer are dependent on time, project, client requirements, and budget. We offer 3 types of engagement models for a client to choose from. Here's a list of the same:
Dedicated Resources:
This engagement model has 3 sub-types for a client to choose from. They are as follows.
Hourly Based:
A model that is best suitable for short-term projects. Choosing this developer would work on your project for 5 days/week for a maximum of 8 hours a day. The communication related to the same would be done using Skype, Email, or via Phone. The price for the same is calculated on an hourly basis.
Weekly Based:
This development model is best suitable for short/mid-term projects. The model follows the preceding standards but is managed by a dedicated project manager and a developer who will exclusively work on your project.
Monthly Based:
This engagement model is best suitable for long-term projects. Including the preceding benefits of the above models, your project will be monitored personally by a dedicated account manager. The cost of this project is carried out on a monthly basis due to the length of the project.
Fixed Budget Project:
One can also opt for this model if they have a short/mid-term project. You will receive a fixed-price quotation for this project. Clients can make payments when the project reaches certain milestones. If your project has a well-defined scope and you want the same delivered on a fixed timeline, this model suits you best.
Time & Material Model:
If a client has an undefined scope and wants to embrace change while creating the project, then they can choose this model. Choosing the same a client can buy say 160 or 80 development hours as per the hourly rate and a team of developers can work on the same until the purchased hours get exhausted.A model that is best suitable for MVPs.
5. What do you as a leader prioritize: – the vertical expansion of your business or the horizontal expansion of your expertise and services? How do you balance both?
We believe that the IT world is an ever-changing one and this keeps on a constant learning curve. When we start working on a new project our sole aim is to deliver what our client demands making use of our existing skills and inculcating new ones wherever needed. And it has been our experience that whenever we've focused on customer satisfaction and knowledge enhancement it has given our business a boost in terms of revenue and recognition.
6. What is your outlook for 2021?
Our target for 2021 is enhancing our expertise in the subjects we excel at and replicating success. We also look forward to identifying the areas where we need to improve and find feasible ways to achieve the same.
7. Any particular technology or industry you would be targeting? How do you plan to prepare your workforce for the upcoming technology upgrade?
We have offered our services to numerous niches, but observing the current trends and our expertise, we will focus on on-demand mobile app development. We will look forward to opportunities to work with native and cross-platform mobile and web techs. In addition to this, we would cherish every opportunity we get to work with Artificial Intelligence (AI), Augmented Reality (AR), Block chain Technology, and Data Analytics.One of our prominent projects that ranks among the top firms in the US makes efficient use of AR.
8. With technologies like Machine Learning and Artificial Intelligence (AI) that can be used for both web applications and mobile apps, how do you envision the development methodology to be in the future?
We plan to develop apps such as rapid PWAs and CMS, instant integrations, instant localizations, and other scalable technologies. Using the preceding we can build proficient app development platforms. Adapting to cross-platform techs will reduce our app development time and offer faster time to market.
9. Other than technical expertise, what traits you believe are essential for any app development firm to succeed in this rapidly evolving industry?
Achieving success in any business industry is a by-product of the sincerity and hard work on exercises on any project they're working on. All our efforts are always targeted towards achieving maximum client satisfaction. In order to achieve the same, we're always working on refining our existing processes. This includes working on things like optimizing resources and time, meeting deadlines, improving client communication, offering necessary assistance until a client is completely satisfied by our service, and more.
10. How do you assess the role of research agencies like ITFirms in bridging the gap between clients and service providers?
Agencies like ITFirms have made it very simple for clients to reach the right business without many hassle. Here, not just the clients gets the advantage, but even the companies like ours also gets to eat the fruit.
Research agencies such as ITFirms work as a bridge between service providers and service seekers. They select authentic and reputable service providers that meet strict criteria and add value to a consumer's life. We are forever grateful for such services and how they help us reach our desired client base.
---
  Technource
  https://www.technource.com
  [email protected]