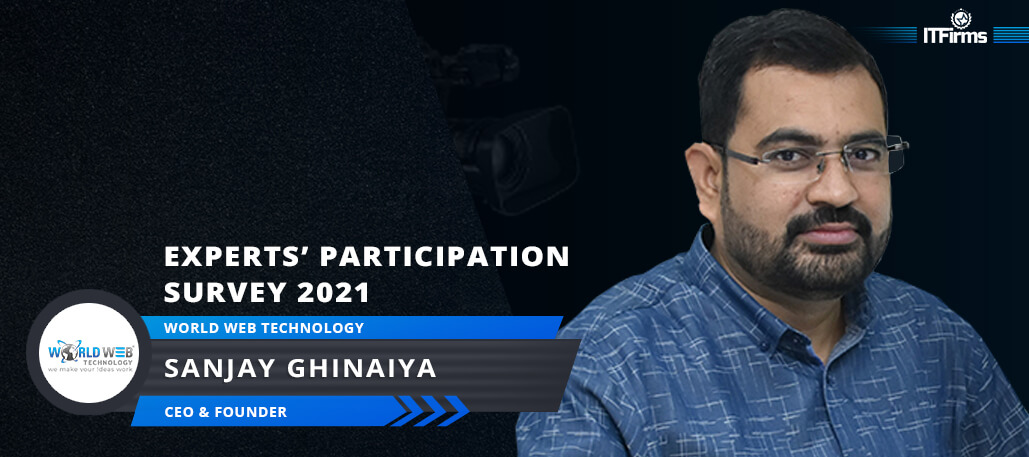 Interview With Sanjay Ghinaiya – CEO & Founder, World Web Technology
Here is the exclusive interview of Sanjay Ghinaiya – CEO & Founder, World Web Technology only on ITFirms. In this exclusive interview, he shared his insights on upcoming technology trends for 2021 and many more things.
Let's check his success story and thoughts.
1. Tell us in brief about your company and the leadership.
World Web Technology is a preeminent and end to end IT solutions provider based in India & US. We are known for our glorious journey, proven track record and happy clientele in the area of Web/Mobile App development with a diversified tech stack (WordPress, PHP & JS frameworks, AI, IOT, Machine Learning, Blockchain, Big data, etc.) A company delivering to the needs of brands, enterprises, and start-ups in transforming their raw ideas into real world solutions.
The advent of the internet had opened doors to millions of new opportunities. With such high competition, one needs to make an outstanding online presence for their business. And that's how World Web Technology was born with a sole intention to deliver the best quality of services to the global market.
2. How would you describe your growth trajectory in 2020? Any particular achievement? Any disappointment?
We have always given importance to individual growth and organizational growth over simply competing in the business world. This approach has always helped us achieve consistent growth and deliver some great results to our clients.
We've been experiencing an exponential growth over the last few years, and this year was no exception. Our efforts have resulted in 2X in Revenues and Profit generation.
Within a span of 10 years, World Web Technology has become one of the top choice for Enterprise Level WordPress development projects all around the world. And that's something, on which gives me an immense level of satisfaction.
Some of our recent achievements:
Clutch recognized WWT as India's Top Web Development Firm for 2021.
WWT was named as an industry leader on SuperbCompanies.
WWT was recognized by Techreviewer as Top WordPress Development Company.
Also, after working with several Start-ups & Enterprise level clients, we have a client retention ratio of almost 80%, which I believe needs to be taken pride of in this competitive market.
3. Please describe the operational structure of your company- from the moment a client walks in, to the product deployment.
We at World Web Technology follows a fully agile process in delivering a complete tested & bug free Web/Mobile Apps to our clients.
We divide the entire project into various milestones, where each individual milestone is further divided into several small weekly sprints. So in this way, even if there is some delay of from our side in development part, we make sure to cover that by the end of the week in order to deliver the weekly sprint on time. This way the entire process remains smooth, and the project stays on the track as planned.
4. What engagement models do you offer? How should a client choose?
We at World Web Technology have various different pricing models depending upon the client's needs.
Fixed Price Model
Hourly Model
Monthly Dedicated Model
If a client has a definite set of requirements, and he is clear with the entire features/functionalities he/she want in their Web/Mobile App, then the fixed price model is the best way to move ahead.
On the other hand, if a client is not clear with the overall requirement, then we suggest them to go with an hourly model where we can brainstorm various different ideas, implement few things, and keep on working towards the final results. The monthly dedicated model is best suitable for those clients, when determining the full requirements and features to be included at an initial stage is tough. At that time clients requires the freedom to utilize the dedicated resource as per their requirements. Here, we fix a monthly price for that dedicated resource, who works for the client, and deliver work progress reports and raise invoices on a regular monthly basis.
5. What do you as a leader prioritize: – the vertical expansion of your business or the horizontal expansion of your expertise and services? How do you balance both?
As a leader, I always try to keep balance in between both of these, as we understand horizontal or vertical growth individually could never be sustained.
However, I personally believe that Horizontal expansion in terms of expertise & improving the quality of your services always have an upper hand, as it sets the tone for the process, and a well-defined process leads to a vertical expansion eventually.
6. What is your outlook for 2021?
Client's growth along with new markets & service expansion will be the main focus moving forward.
The year 2021 has begun with lots of positive news for us. With the teams performing incredibly well, and with many interesting projects in our pipeline at the moment, we feel amazing and all charged up for the upcoming future.
7. Any particular technology or industry you would be targeting? How do you plan to prepare your workforce for the upcoming technology upgrade?
The Hybrid Mobile App technology, along with AI, IOT, Machine Learning, Block-chain, etc. is something we would be targeting, and within the Ecommerce market segment, as we sense a huge potential for the profitable business here.
We know if we don't keep ourselves updated with the fast paced technological advancements, we can easily be thrown away from our business.
Having worked in this industry for over a decade now, we have made it a regular practice to have a weekly knowledge sharing sessions on the latest technology trends & implement that in our company.
This way all the employees stay fully updated on the recent trends, and prepare themselves for their upcoming future.
8. With technologies like React and Node that can be used for both web applications and mobile apps, how do you envision the development methodology to be in the future?
I don't think with an advancement in the technology, the development methodology is going to be affected or changed. The development methodology is just a set of well-defined process, which eventually leads to a successful execution of the project.
These 5 factors will always going to be the key for success:
Crystal clear understanding of client's goals.
A well-defined development practice.
Daily updates/Progress reports
Weekly Demos
Client's Feedback
9. Other than technical expertise, what traits you believe are essential for any app development firm to succeed in this rapidly evolving industry?
The future is about innovation and improvisation. We got to include these two in our approach to app development in order to present the world with an astounding mobile experiences.
Over the years, we have witnessed a huge transformation in which the mobile technology has gone through and believe me "The best is yet to come".
10. How do you assess the role of research agencies like ITFirms in bridging the gap between clients and service providers?
Agencies like ITFirms have made it very simple for clients to reach the right business without many hassle. Here, not just the clients gets the advantage, but even the companies like ours also gets to eat the fruit.
The valuable market insights to help clients & guide the business decisions are often limited and much disorganized. With several thousand agencies worldwide, choosing the right one is pretty much crucial and difficult at the same time.
World Web Technology feels great to partner with such agencies that are taking the clients in the right direction.
---
World Web Technology
https://www.worldwebtechnology.com
[email protected]